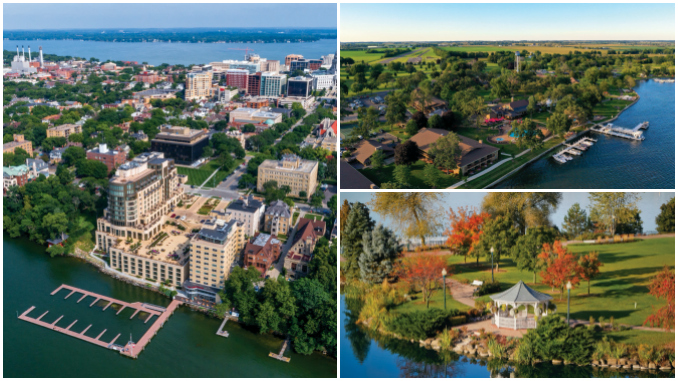 Just Add Water: Wisconsin Lakeside Venues
04/13/2020
By Shelby Deering | Photos (L to R): The Edgewater, Lake Lawn Resort, The Osthoff Resort
This year more so than in the past, planners will be looking to host their events outdoors as much as possible, as the comfort level of their guests begins to normalize and they return to attending events. And Wisconsin is the perfect destination for gorgeous outdoor scenery. Dozens of properties across the state are located directly on the water and offer outdoor facilities. Here we highlight a few and offer some tips to help you with your planning.
The fresh breeze. The sound of waves. The glistening water touched by sunlight. Although this may sound like a vacation wonderland, it is also a place where people can make professional connections and employees can better their careers. A lakeside venue brings a relaxed, eye-catching ambiance to any meeting or event. It's a feel that Daniel McCluskey, marketing services specialist/event planner at National Guardian Life Insurance Company, experiences firsthand while planning events for 10 to 300 people at The Edgewater in Madison.
"The advantage is being right on the water, which gives a vibe and atmosphere you can't get anywhere else. I am into experiences, and the experience you get by the lake is amazing," McCluskey says.
He believes planning a lakeside event differs little from planning a traditional, indoor event since the process is smooth and the property accounts for every detail. "The Edgewater makes it easy," he says. "They have plenty of indoor and outdoor water- facing event spaces where you can really impress whomever you are entertaining."
On Lake Mendota in Madison, the 72-year- old Edgewater offers The Grand Plaza outdoor space that accommodates up to 350 guests along with eight indoor meeting rooms and private dining spaces.
Elkhart Lake is home to The Osthoff Resort, famed for its 38,000 square feet of functional indoor space plus the idyllic lawns, lakefront and 500 feet of sand beach made for outdoor events.
Nestled alongside a Geneva Lake harbor, The Abbey Resort is a Fontana mainstay that provides Harbor Patios and lawns readied with stunning views and a variety of indoor spaces, one located inside the tallest A-frame in North America.
Head north to Trego's Heartwood Resort & Conference Center. It has several types of indoor and outdoor meeting spaces, from decks, patios, and green space to bars and a full-scale lodge; all offering pristine lakefront views.
Lake Lawn Resort has resided on the shores of Delavan Lake in Southeast Wisconsin since the 19th century. Today, it's known for 32,000 square feet of flexible meeting space, including a conference center that's receiving a floor-to-ceiling renovation and outdoor spaces like a charming paver courtyard.
For a truly unique lakeside experience — on an island! — plan an event at Birchwood's Stout's Island Lodge on Red Cedar Lake.
With rooms seating 24 to 70 people and the ability to top the outdoor South Lawn with a tent (complete with power and lighting), it's guaranteed to be an event that attendees won't soon forget.
Things to Consider
Lakeside events, while beautiful and memorable in many respects, can carry additional considerations.
First, factor in the weather. Chad Buros, director of sales and marketing at The Osthoff Resort, says, "Although it could be sunny and pleasant earlier in the day, summer storms can form quickly, so you need a backup location for all outdoor events."
Before the event, find out when the venue consults with planners about changing to an indoor space. Dan Dolan, director of sales and marketing at The Abbey Resort, explains, "Our standard is to consult with our customers and make a change at least three hours before an outdoor event."
Mosquitoes and other bugs are a given in Wisconsin, but they need not bring down an event. For instance, at The Abbey, event banquet managers keep insect repellent on hand for guests. Dana Morlock, director of sales and marketing at Heartwood Resort & Conference Center, adds, "While Heartwood uses insect-repelling techniques to reduce outdoor pests, the indoor backup space is an insurance policy for happy guests during occasional [pest] outbreaks."
Many venues cover their bases with nearby indoor restroom facilities and power to provide lighting and heat. Dolan advises, "It's better to have an overnight site visit than a quick tour. For outdoor events, you can see the venue you might have in the evening and can test the lighting and get ideas to enhance the venue."
Lastly, with the proximity to the water, you want to keep guests' comfort and safety in mind. For example, Heartwood Resort & Conference Center holds events on a private lake which means motorized vessels won't create noise. Terri Bain, director of sales at Lake Lawn Resort, suggests, "Review the guest list and check for any attendees that may have mobility issues to make sure they are safe and have the best possible experience."
A Lakeside Paradise
Carly Dubek, event coordinator at Stout's Island Lodge, shares that lakeside events provide "opportunities to catch a breath of fresh air." They also offer experiences you cannot replicate anywhere else.
Each resort carries its own unique activities for lakeside events. At The Osthoff, guests enjoy the same AAA Four Diamond menu relished indoors — savoring dishes buffet-style — then finish the evening with a bonfire and s'mores. The Abbey showcases historic boat cruises and sunrise yoga sessions. Heartwood Resort & Conference Center not only features flawless Northwoods views but also offers a lakeside lawn for outdoor games like croquet and bocce ball.
Lake Lawn Resort has its fair share of watersports along with its own 76-foot private tour boat called the Lake Lawn Queen. Stout's Island Lodge strives for "complete tranquility," as Dubek calls it, resulting in a "Limited Connectivity" policy (Wi-Fi is available for groups, but the resort encourages guests to keep phone use to a minimum). The Edgewater's outdoor space magically transforms into an ice rink every winter.
The bottom line is that lakeside vistas create a sense of calm that's hard to come by in traditional event venues. Amy Supple, chief operating officer and senior vice president of The Edgewater, puts it best, saying, "Nothing awakens your sense of creativity or peace like a view of the lake."
If You Need a Plan B…
Rain. Lightning. Wind. No one can control what Mother Nature does on the day of a lakeside event. That's why it's key to have a "Plan B" in place. Our experts are here to share info and advice.
Amy Supple of The Edgewater: "All outdoor events at The Edgewater include an indoor backup space and/or a large tent that covers The Grand Plaza."
Chad Buros of The Osthoff Resort: "We always reserve inside space as a backup for any outdoor events. Our conference services managers work with each planner and together we decide if it is best to go ahead with the outdoor event or move it inside."
Dan Dolan of The Abbey Resort: "One consideration when thinking about an outdoor event is asking how you can duplicate as much of the experience if you need to move it indoors."
Dana Morlock of Heartwood Resort & Conference Center: "The outdoor spaces at Heartwood Resort are next to an indoor backup that features the same lake views and services to ensure poor weather doesn't cause plans to alter much."
Terri Bain of Lake Lawn Resort: "Having a well-thought-out backup plans for your event is crucial for a successful event outdoors. Working with our experienced team of professionals makes it easier to identify the 'must haves' for the event backup space inside."
Carly Dubek of Stout's Island Lodge: "I cannot stress flexibility more when hosting an event at Stout's Island. You are on an island; therefore, you should plan for it. There may be limited options during storms, in excessive heat or if the power goes out."