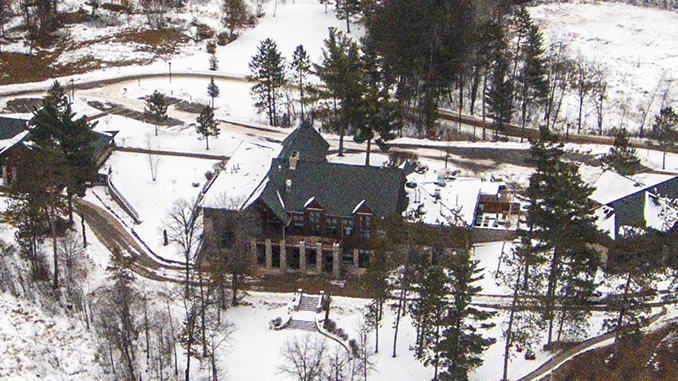 Heartwood Conference Center Sells to New Owner with Wisconsin Ties
02/10/2020
Heartwood Resort & Conference Center kicked off 2020 with a new name and a new owner. Previously owned by Thrivent Financial and formerly known as Heartwood Conference Center and Retreat, the resort now belongs to business owner Mark Wallskog and two longtime Twin Cities area real estate investors. Wallskog also owns a large national hospitality services company that works with all the hotel brands.
"The mission of Heartwood remains the same," Wallskog says. "I hope that the resort continues to grow as a place for family and friends to gather together — an environment where everyone feels welcome. I also want people that are visiting the area to experience everything that this amazing region has to offer."
Wallskog is a Minnesota born and raised resident with a heart for the Northwoods of Wisconsin. It started in 2005 when Mark and his daughter wanted to find a place to ride their new ATVs — finding themselves in Burnett County. They both had such a great experience they were back the next weekend staying at The Lodge at Crooked Lake and wanting more. At the end of each trip, Wallskog would feel homesick, longing for a place of his own in the area.
When the opportunity arose, the Wallskog family rented a home on Fish Lake in Webb Lake for the summer. By the fall, knowing that the desire to keep coming up was so strong, they purchased a cabin on nearby Big Bear Lake. The family made fast friends with neighbors and local business owners, and Burnett County soon became a home away from home. Wallskog currently co-owns Bump's Lakeside and Devil's Lake Resort in Webster, as well as Big Bear Lake Condos in Webb Lake. The family enjoys spending time in the area ATVing/UTVing, snowmobiling, and fostering relationships with people as they stop by the small town cafes and businesses.
"One thing I've always admired about northwest Wisconsin is that, when you pay a visit to one of the local businesses, you almost always see the owner out and about chatting with customers and serving others. It's unlike any other place in the world. I hope to operate this tremendous resort with that same commitment and presence," says Wallskog.
The 700 acres of natural woodlands in Trego is ideal to escape for a short, yet scenic drive to your next weekend getaway. It also serves as a gathering place to host a business retreat, a romantic setting to exchange vows and the place to be if you're looking to grab a quick bite to eat.
Thrivent Financial has spent the last 14 years helping to create a truly unique destination in the Northwoods of Wisconsin.
"The property has significant improvements, all maintained immaculately," says Wallskog. "There are so many activities on site at the resort and in the immediate area, our family has been up in the area for the last 14 years and we still have more to experience!"
The management team plans to keep the same staff that Thrivent originally hired, stating, "The management team and staff are very skilled, have experience offering guests platinum service and are very loyal to the property."
As we move toward the future, Wallskog's goal is to create a destination that draws visitors to come and experience all that the Northwoods has to offer.
"We look forward to packaging a full Northwoods experience, encouraging our guests to enjoy the abundant selection of activities on site at Heartwood and in the area at neighboring businesses. We are excited to share the best area fishing and trail guides, top golf courses, lakeview taverns, ATV/UTV trails and more for our guests. Whether you are visiting Heartwood for a wedding, a meeting, a conference, a weekend or simply having dinner at Pine Lodge Restaurant, we want you to enjoy all of the Northwoods fun," says Wallskog.