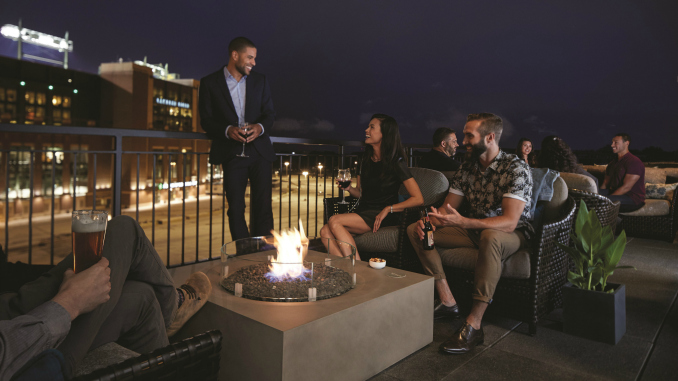 Great Motivations
07/12/2018
By Betty W. Stark | Photo: Lodge Kohler/©Kohler Co
What powers a successful corporate incentive program? Vibrant towns and cities, of course.  Stunning scenery counts too. Add wow-worthy, cushy lodging with an edgy vibe, or a rustic classy cabin in a setting so serene that utter silence is the reward. Food, drink, sports, prime lodging, experiences—Wisconsin has it all.
How do you start? Think about the big picture, the overall package—especially the themes of opportunities that might seem exciting or fulfilling. Woven into an incentive tapestry, a unique and memorable program emerges with the following ideas—all available in Wisconsin.
Think "active."
Tee off on a meticulously groomed golf course or paddle a canoe down an Up North river roiling with spring run-off. Slap on a helmet, slide into a go-kart and careen around a faster-than-it-looks paved and dirt motorplex. Cheer on a nationally ranked sports team from an exclusive skybox. Pilot a sailboat on a Great Lake with a your-team-against-the-other-guys agenda.
Meet the locals.
Connecting to a destination's history, culture and people pays incentive program dividends. Explore Wisconsin's music and arts venues, festivals that showcase diversity and the vast talent of locals. Join music fans moving to a rhythm, soothing and mellow or loud and ear shattering. Peruse artsy creations and meet their makers in funky neighborhoods verging on discovery. Gallery-hop, exploring the works of established artists.
Survey the food-and-drink scene.
Seek out local fare with excursions into ethnic neighborhoods where tiny tucked away establishments reveal culinary riches from the homeland. Sniff out mom-and-pop bakeries on side streets that lure with fresh-from-the-oven aromas too compelling to resist. Cruise local taverns and craft breweries to sample the latest launches. Look for the unique: For example, at Sobelman's Pub and Grill in Milwaukee, order a Bloody Mary topped with a whole fried chicken for a 'You-gotta-be-kidding-me!' experience. (Dubbed "The Beast," it's $60, serves 4). sobelmanspubandgrill.com.
Promote unique—or surprising— factors when arranging the specifics.
Madison-based Sandra Daniel, president & CEO of FIRE Light Group and Wisconsin Meetings & Events says there are so many qualities that set Wisconsin apart.
"You know what's really special about Wisconsin—what impresses so many of my clients? Our friendliness! It's a feel-good quality not always found in destinations and it makes Wisconsin incentive programs even more memorable.
"We are welcoming and gracious, down to earth. People remember that. I have heard that comment so many times. 'Everyone is so friendly here,' they say.
"Wisconsin is a very cool destination for incentives and meetings, especially in the spring, summer and fall," Daniel continues. "Winter is beautiful, too."
"First-time groups unfamiliar with Wisconsin are often surprised at our sophistication— we're more cosmopolitan than they expect. Take Madison, for example. We have dozens of great restaurants. So many choices, classy to casual, and a top chef, Tory Miller, who beat Bobby Flay in an Iron Chef Showdown. His beautiful restaurant L'Etoile is a favorite for very special clients. The setting on the Capitol Square is amazing and so is the food. For contrast, food carts on the Capitol Square can be a fun food option, too."
Wisconsin offers classy digs, as well. "We have fine hotels and event spaces throughout the state," says Daniel. "For Madison groups I use the Concourse Hotel—a great downtown property, friendly staff that makes everyone feel welcome. For events and rooftop celebrations the lakefront Monona Terrace Community and Convention Center is a classic, and the rooftop space at Ovation 309—corner of Johnson and State streets—is a dramatic introduction to Madison's fabulous city views. The Madison Club makes a fine impression, too," she adds.
"North of Milwaukee, Kohler's American Club is perfection, an exceptional destination. Any Kohler PGA event there is a big draw. Even a round of golf on any of their courses is a bucket list item, a top award."
The food scene statewide is a big hit with our clients in both our small towns and big cities, Daniel points out.  "Milwaukee is a star! Farm-to-table experiences, classic beer-cheese-and-brats pre-game tailgating at Miller Park—they do it like nowhere else. Milwaukee's Third Ward restaurants are a must, too, for local fare to fine dining. Milwaukee's ethnic, food and music festivals are outstanding," she says.
Go hands-on.
According to a recent study by the Society for Incentive Travel Excellence (SITE), 42 percent of incentive travel managers are increasing the number of "experiential rewards" in their portfolio. Today's attendees want to dive into the local scene—mix and encounter, not simply observe.
The Kohler Experiential Learning Center in the Village of Kohler offers more than 20 programs that focus on hands-on experiences. Their Sailing Synergy program requires not only participant teamwork but also facing the ever-changing natural conditions of Lake Michigan during prelaunch lessons and after-session regattas.
The Center's "Cookin' for Hunger" program lets participants get their hands dirty at a local farm by transforming fresh produce into a healthful meal big enough to feed themselves and people at a local shelter through a partnership with Nourish Farm to Family Philanthropy. kohlerlearningcenter.com.
Sports and active options count.
For a memorable group outing, it's hard to top Wisconsin sports, a unique experience shared with fevered fans. Launch the party with a Wisconsin-style brats-cheese-and-brews parking lot tailgate party, and then take in a Milwaukee Brewers game. mlb.com/brewers.
Check out a smaller-town game-day experience, complete with a woodsy Leinie Lodge, at the Timber Rattlers baseball stadium in Appleton. Join the frenzy as red-clad football fans rock Madison's Camp Randall Stadium. For an unprecedented party perched high above the North End Zone, reserve Camp Randall Terrace; it serves groups up to 100.
Lambeau Field in Green Bay, home to the venerable Green Bay Packers, is a win-win-win option even on non-game days. Event spaces like elegant sky-high box suites and an expansive Atrium turned classy for stylish dinners and awards ceremonies make it far more than home to a revered team. Game day, the Miller Lite Party Deck offers a private bar, exclusive concessions and great views from high in the South End Zone. packers.com/lambeau-field.
For heart-pumping, one-of-a-kind excitement, Road America in Elkhart Lake offers a variety of activities for groups through its Adventure Program. Karting, racing and driving are popular with groups, but options for zip lining, geo caching and many other activities are available as well. roadamerica.com
Where you lay your head at night counts too.
Milwaukee, Madison, Green Bay, La Crosse, Racine-Kenosha, the Lake Geneva area, Door County, Green Lake County—all, along with plenty of other Wisconsin cities and towns, offer fine lodging options. Milwaukee's elegant Pfister Hotel located just three blocks from Lake Michigan is an iconic landmark and architectural jewel. Green Bay's classy new Lodge Kohler holds down a prime location right across the street from Lambeau Field.  Madison's new AC Hotel just off the Capitol Square is edgy-modern with a spectacular top-floor bar-restaurant and terrace showcasing wow views of the State Capitol.
Wisconsin's lodging options are as varied as the landscape. In the Northwoods, incentive groups can find serenity and luxury, with exclusive lodges tucked into pristine forests, sequestered lakeside Prairie-style cabins, and historic compounds on private islands.
Canoe Bay, a Relais and Chateau property, features 27 guest cabins on a picturesque spring-fed lake near Chetek. Designed by a protégé of Frank Lloyd Wright, Canoe Bay is about an hour north of Eau Claire. As an incentive award, it is unique in its woodsy seclusion, with a highly rated set-menu dining room and uniquely individual cabins. canoebay.com.
Stout's Island Lodge near Birchwood was built in the early 20th century on an island in the middle of Red Cedar Lake. Frank Deming Stout, a wealthy Chicago lumber baron, named the sprawling family retreat "The Island of Happy Days." Modeled after early upper New York State Adirondack camps, the Lodge is about as "Up North" as they come. Open from May to October, it is still a fi ne-rustic showplace, with four-inch-thick plank floors, cedar logs, massive carved beams, several cabins, a main lodge and a restaurant. Guests arrive by launch from the lodge dock. stoutsislandlodge.com.
Minnesuing Acres is tucked at the end of a gravel road off Wisconsin Highway 53 about 35 miles north of Hayward. The Northwoods lakefront lodge owes its existence to Curt Carlson, the founder of Gold Bond Stamps and a national lodging empire. It was long the Carlson family retreat. With 35 recently refreshed, individually designed guest rooms, a highly acclaimed food service, dedicated staff and plenty of gathering places, the Lodge, expansive grounds and access to all lake activities can be reserved exclusively, one group at a time. minnesuingacres.com.
Remember the bottom line.
There's another important reason Wisconsin is a strong contender for an incentives package. "Last but not least," Daniel adds, "my clients tell me they are surprised that Wisconsin is so affordable." Indeed Wisconsin offers experiences of value, in more ways than one.