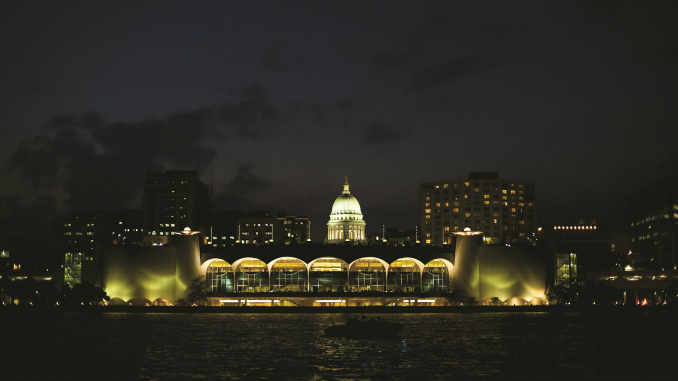 Venues with a View
07/12/2018
By Mary Bergin
When the American Psychological Association reports that "green is good for you," it is a reference to the power of nature to soothe and inspire. Not everyone gets to work outdoors or in a room with a beautiful view, but you compensate with a stunning landscape during business gatherings or corporate retreats.
Researchers say a room with a pleasant view helps reduce stress, tension and blood pressure while stoking productivity and a sense of well-being. That applies to meeting and event settings as well as the cubicle and boardroom.
Gorgeous scenery invites favorable vibes, builds positive memories and enriches any agenda. Consider these breathtaking settings for getting down to business in a unique, picturesque and rewarding way.
MONONA TERRACE
Revel or ruminate in the sunshine-filled and curvy convention center in Madison that Frank Lloyd Wright designed in 1938, nearly 60 years before the structure was built and two decades after the architect's death.
Marquee indoor spaces—Lakeside Commons (accommodating 224), Community Terrace (312) and Grand Terrace (360)—feature floor-to-ceiling, halfmoon windows that face glistening Lake Monona and its boaters. Expect similar but condensed views in the Wisconsin and Dane rooms, executive board chambers that seat up to 15.
Also bookable is the structure's open-air, rooftop garden of 68,000 square feet. Face west for a front-and-center State Capitol view. Turn around, and there's lovely Lake Monona again. In between is the city at work and play. At ground level is a lakeshore bike path.
Traditional exhibit, ballroom, theater and meeting spaces are available too, making a Monona Terrace rental intimate or spacious. Schedule an architectural tour of the building too.
THE IRISH BARN
In the tranquil Sheboygan County town of Mosel, population 490, is one of Wisconsin's biggest showstoppers: Whistling Straits, which will host the 2020 Ryder Cup, whose competitors are the best professional golfers of Europe and the United States.
Perched above holes 9, 10 and 18 of the Straits Course is a fieldstone barn that smoothly blends into the rugged terrain. Also within view, beyond the wavering fescue, dunes and bunkers: Lake Michigan. Eight holes line two miles of the lake's shore.
Two sides of the Irish Barn open or, in cool weather, stay covered with canvas panels that have windows. The structure accommodates up to 120 for buffet dining and has a built-in bar. Furnish it with picnic-style seating or tables with linens.
Add to the "wow" factor by renting the nearby Championship Locker Room for insider peeks at the spacious lounge that Tiger Woods, Bubba Watson, Jason Day and other golf greats have used. Locker nameplates show who's used what during each round of championship play.
The 36-hole, links-style Whistling Straits was designed by Pete Dye and is a Destination Kohler property, associated with the five-diamond American Club resort. The property is no stranger to elite golfers, having hosted the PGA Championship three times.
THE EDGEWATER
An historic hotel with modern amenities overlooks Madison's other liquid jewel, Lake Mendota, and special event spaces at The Edgewater accommodate small to mega gatherings. Sunset views are spectacular from this shoreline.
Major renovations at The Edgewater preserved the original 1948 building and added a new tower for a total of 202 guest rooms. Between the two structures is a plaza for music concerts, festivals, ice skating in winter and other community events.
The plaza also is a flexible space for private events, seating up to 500 in an open-air or tented environment that is a short stroll from the water and hotel pier. Adjacent is the Grand Ballroom, whose 16-foot-tall windows show off the lake; doors open onto the plaza and terraces.
It's easy to feel on top of the world here. Consider a reception for 100 or dinner for 50 at The Red Crown Club, a beacon with big windows that is perched on the original building. Or take a gander at the lake, State Capitol and University of Wisconsin antics from The Sky Bar, an indoor-outdoor space for up to 70 and atop the new hotel tower.
HINTERLAND BREWERY
Consider a different interpretation of "green" value, blended with gold. Hinterland, whose beer brewing began in a converted cheese factory, then a meatpacking warehouse, now calls the Green Bay area's new Titletown District home.
What does that mean? The window-rich brewery and restaurant with a Northwoodsy décor offers the greatest view of all, from the perspective of ardent Green Bay Packer fans, because Hinterland is next to Lambeau Field.
Private dining rooms accommodate up to 300; choices range from the Beer Hall with fi replaces in winter and garage doors that lead to a beer garden in summer. Or book a quiet group meal in the High Gravity room, for above-ground views of the stadium.
The brewmaster aims to please, arranging brewery tours and beer tastings, appetizer receptions, family style dining. Windows in some dining areas show brewing equipment. Add access to an 80-inch television for business presentations…or the game of the day.
MILWAUKEE ART MUSEUM
The most famous pair of wings in Wisconsin may well be the brise soleil designed by Santiago Calatrava in his Milwaukee Art Museum addition, which opened in 2001 and quickly became a stylish symbol of the city. The butterfly-like sunscreen with a 217-foot wingspan opens and closes twice a day unless it's too windy.
These wings are a defining feature of glorious Windover Hall, whose floor-to-ceiling windows reveal Lake Michigan, a recreational path that shadows the shoreline and boating activity at McKinley Marina. The structure's glass roof is 90 feet tall, making it a powerhouse of light and energy.
The magnificent space can be rented for private and after-hours events. Rates can include guided tours of the museum and, weather permitting, an opening and closing of the wings during your time there.
Calatrava's edgy masterpiece with 72 steel fi ns is his modern interpretation of a Gothic cathedral. Especially impressive are the museum's collections of decorative arts, folk and Haitian art, German Expressionist and post-1960 American art.
DISCOVERY WORLD
A five-minute walk south of the art museum is a second lakefront attraction, which aims to entertain as it teaches children to adults. Science and technology are specialties at Discovery World, which opened in 2006 and is undergoing an $18 million expansion and upgrade.
Additions will include a 9,000-square-foot pavilion with floor-to-ceiling windows on all sides; the venue for up to 800 replaces tents erected for seasonal outdoor events and should be completed before summer ends. Doors will open onto patios that have lake and city views.
Also fetching: the third-floor Pilot House, a circular ballroom with 360-degree views of skyline, shoreline and the S/V Denis Sullivan, a Great Lakes schooner with room for 50. Tour it while docked, or set sail for two hours.
Other subsets of Discovery World accommodate 20 to 2,000 guests during, before or after business hours. The Bartolotta Restaurants, one of the state's most respected names in the business, is the venue's exclusive caterer.
A second phase of Discovery World improvements will double as exhibit and program space, enough to add health and medical research exhibits.