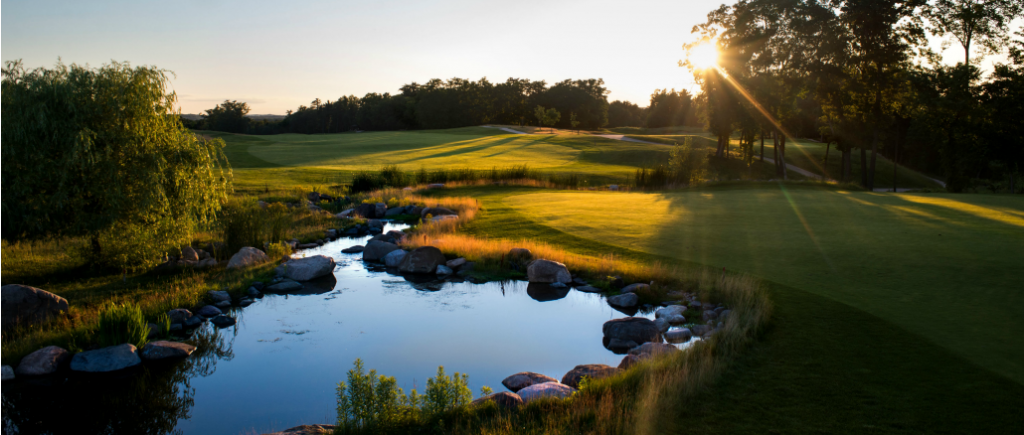 Wisconsin golf resorts deliver group outing experiences that stand out
By Melanie Radzicki McManus | Photo Credit: Wild Rock Golf Course

Golf has long been the sport of business. So siting your company's next conference or outing at a golf resort is an obvious choice. And since Wisconsin is powered in large part by tourism, the Dairy State has a wide variety of golf resorts from which to choose. Here are four solid choices.
GRAND GENEVA RESORT & SPA
The four-star Grand Geneva Resort & Spa sits just outside the popular tourist community of Lake Geneva, which is snugged around sparkling Geneva Lake in southeastern Wisconsin. The 575-guest room resort offers 62,000 square feet of meeting space, including 35 breakout meeting rooms, a 7,680-square-foot Grand Ballroom, a 12,000-square-foot conference center and a 13,500-square-foot convention center.
Golf enthusiasts will appreciate Grand Geneva's two championship courses, each of which boasts a new GPS yardage system. The Brute, 7,000+ yards, is a rolling, par-72 course with 68 bunkers that is considered to have one of the most challenging layouts in the Midwest. The Highlands is a Scottish-style course originally laid out by Jack Nicklaus and Pete Dye, then updated twice, once by Bob Cupp and once by Bob Lohmann.
A special teambuilding staff is on hand to assist with activities off the course, such as the Catapult Competition, where groups design, build and test their prototypes, then compete with each other for distance and accuracy. In the Clean the World program, teams take part in certain mental and physical challenges before assembling kits containing basic hygiene products for people in need.
When not golfing or team-building, guests have access to a spa, salon and fitness center; at the latter, you can play basketball
and tennis, take a yoga class or scramble up a 35-foot-tall indoor climbing wall. Dining options include the Geneva ChopHouse, known for its hand-cut steaks and seafood, and Ristoranté Brissago, serving Italian cuisine, including regionally made pastas, cheeses and olive oils. grandgeneva.com
WILD ROCK GOLF CLUB AT GLACIER CANYON LODGE
In the Wisconsin Dells area, one of the state's most popular tourist destinations, Wild Rock Golf Club's 18-hole championship golf course was designed by Michael Hurdzan and Dana Fry, the same team that designed Erin Hills, site of the 2017 U.S. Open. The course was crafted through woodlands and over farmland — one of its signature landscapes is a red barn — and around and through a former quarry, making it one of only a handful of quarry courses in the U.S. On a clear day, you can see 30 miles to the towering quartzite Baraboo Bluffs from the sixth tee, a vista the designers purposely incorporated. In 2015, Wild Rock was named one of America's best resort courses by Golfweek magazine. The resort also features an executive nine-hole course, The Woods, for those new to the sport.
"This was the fourth year that we have had our June event at the Wild Rock, and everything has been consistently fantastic," says Ryan Robinette of Ball Corporation. "The staff is great and the food, drinks and golf are a treat as well. We certainly look forward to years five and beyond."
When it's time to gather for business, the 56,000-square-foot Glacier Canyon Lodge Conference Center can be divided up into numerous configurations and seats 1,200. The resort can accommodate 1,151 via a variety of lodging options — hotel rooms, villas, condos and cabins — and this being the Dells, your lodging comes with entry into the resort's eight indoor and outdoor waterparks. Resort amenities also include a spa, laser tag, indoor mini-golf and indoor go karting, plus a zip line spanning six towers and a sky ropes course featuring 42 "challenges" of varying degrees of difficulty. New this year are two Room Escapes; teams of up to 12 have an hour to solve various riddles, clues and puzzles to release themselves from the room. The zip line, laser tag, sky ropes course and escape rooms are also used for team-building.
"Escape Rooms are hugely popular right now all over the United States and have been featured on the Today Show, Big Bang Theory and even The Bachelorette," says Chris Ebben, Wilderness Resort attractions director. "They offer a fun, challenging environment that encourages you to work closely with your whole team, learning and using each other's strengths."
Dining options at The Wilderness include Sarento's, offering Italian cuisine, and the upscale Field's at the Wilderness, an awardwinning steakhouse set in an impressive Frank Lloyd Wright-styled building. glaciercanyonlodge.com
LAKE LAWN RESORT
Lake Lawn Resort is nestled against the northern shore of Delavan Lake in Delavan. With two miles of shoreline fronting 250 wooded acres, you'll be treated to plenty of prime views wherever you go. The 130+-year-old resort offers 32,000 square feet of meeting space in 22 meeting rooms, with venues accommodating groups up to 500. Lodging is spread among 271 guest rooms, including lofts and suites.
Lake Lawn's 18-hole golf course, first opened in 1921, is lauded by golf aficionados for its deep sand bunkers, numerous tiers and subtle undulations. In addition to golf, guests can indulge in an enormous variety of activities such as swimming, tennis, mini golf and sand volleyball. But the big attraction here is the lake; pontoons, jet skis, speed boats, kayaks and paddle boards can all be rented.
The property is also home to the full-service Calladora Spa and fitness center, plus several places to nosh, including Frontier Restaurant, featuring New American dishes accented with resort-grown herbs and fresh honey, and the Isle of Capri Café, which serves wood-fired, made-to-order pizzas.
Team-building is a priority here; Lake Lawn offers a long list of possibilities, from glowin-the-dark mini-golf and a photo scavenger hunt to specialty activities like the Lake Lawn Regatta, where participants design, build and race a seaworthy watercraft. lakelawnresort.com
THE AMERICAN CLUB
The most opulent golf resort in Wisconsin is The American Club, a posh five-diamond, five-star property. The property's main facility is a 1918 Tudor-style brick building that once housed the immigrants who worked at Kohler Corporation. Its associated facilities are all either within walking distance in the quaint, quiet village of Kohler or available via complimentary shuttle.
Four award-winning, Pete Dye-designed championship golf courses (all 18-holers) are part of the resort, two each at Whistling Straits and Blackwolf Run. Both sites have hosted numerous golf championships. Whistling Straits, which sits along two miles of the blustery Lake Michigan shore and is accessible by shuttle, features The Straits and The Irish (and a flock of Scottish blackface sheep that wander the 560-acre property during golf season). The Straits affords views of the lake from all 18 holes, and is accented by four stone bridges. The Irish boasts a 10.5-acre "lake" on its back nine, which doubles as a hazard for three holes. Over at Blackwolf Run in the village of Kohler, The River and The Meadow earn accolades for their playability and two railroad car bridges.
For the business that needs to be handled off the course, The American Club offers more than 20,000 square feet of flexible space and can accommodate groups up to 500. Lodging for 361 is spread between rooms at the main American Club facility and the Inn at Woodlake, two blocks away.
Owned by esteemed bath and kitchen products company Kohler, it's no surprise what feature of the guest rooms has most talking about. "Groups are always blown away with the bath and showers," says Justin Gephart, director of sales for Destination Kohler. "Discussing them is generally a hot topic at breakfast the first morning."
Business gatherings are easily enhanced by activities such as wine tastings, murder mysteries and wellness discussions. Teambuilding possibilities include cooking competitions with help from a master chef, assessments such as StrengthsFinder and leadership retreats. When it's time to unwind, favorite spots are the Kohler Design Center, where you can browse the inspiring kitchen and bath displays, and the Kohler Waters Spa, famed for its water-based treatments. americanclub.com