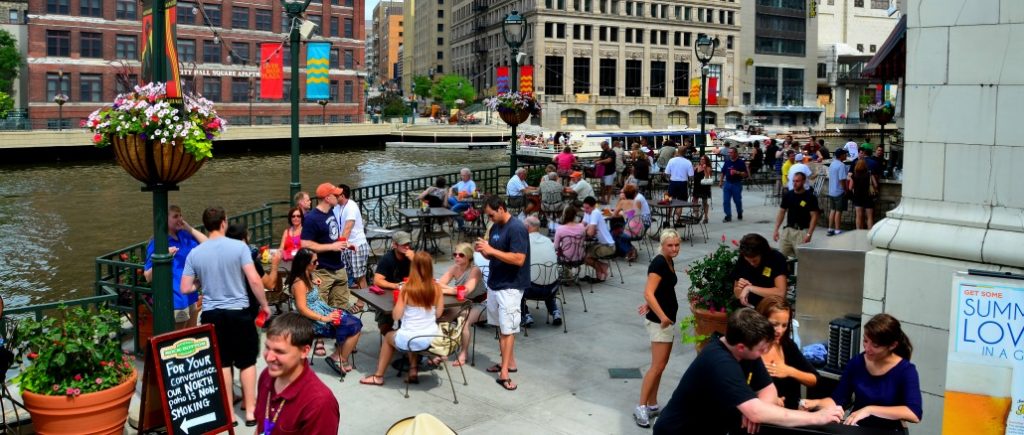 Destination Milwaukee: All the amenities and energy of a big city without the logistical challenges and price tag
02/15/2017
By Nancy A. Herrick | Photo Credit: Visit Milwaukee
Milwaukee is Wisconsin's biggest city with the state's largest convention facility, but it takes an almost small-town approach when it comes to welcoming visitors – rolling out the red carpet with a friendly and helpful attitude.
"From the hotel and convention center staffs to the personnel at Visit Milwaukee to the people we met on the street, everyone was so eager to help," says Jane Svinicki, president of Svinicki Association Management. She helps plan and organize gatherings for member groups, including the Wisconsin State Fire Chiefs Association, which held its annual conference for 700 to 800 people in Milwaukee in 2014 and 2015.
"Milwaukee has so much to offer, especially in summer, and we received so much support for our event," she says.
Milwaukee welcomes hundreds of groups and hundreds of thousands of meeting-goers each year. Visit Milwaukee, the city's convention and visitors bureau, booked 531 future events in 2015, with an anticipated attendee number of almost 400,000.
CONVENTION CAMPUS
Much of the meeting and convention activity centers on an eight-square-block area downtown, west of the Milwaukee River between Wisconsin and Juneau avenues.
That's where the Wisconsin Center is located, along with the University of Wisconsin-Milwaukee Panther Arena, the BMO Harris Bradley Center and the Milwaukee Theatre. (The latter was in the national spotlight last November as the setting for one of the Republican presidential debates.)
The Wisconsin Center is the largest convention facility, with 189,000 square feet of display and exhibit space. Its Grand Ballroom has more than 37,000 square feet and another 39,000 square feet of flexible space can be divided into more than 25 smaller meeting rooms.
A block away is the Panther Arena, a basketball venue that seats 12,700, but also offers meeting rooms and 41,000 square feet of exhibit space. Just north of the arena is the Bradley Center, which was built for the Milwaukee Admirals hockey team and Milwaukee Bucks NBA team. It seats 19,000 for sporting events and concerts and also has meeting space in its two atriums.
The Milwaukee Theatre is a smaller entertainment venue that accommodates 2,500 to 4,000 patrons in sloped seating that faces the stage. It also has a grand rotunda, outdoor terrace and five meeting rooms, including a VIP reception room for 500.
Many of the city's most popular convention hotels are within walking distance, with two of them – the Hilton Milwaukee City Center and Hyatt Regency – attached to the Wisconsin Center via skywalk so that convention-goers needn't venture outdoors in inclement weather. Soon a third, the Springhill Suites, will join them.
Of the three, the Hilton is the oldest and largest, and often serves as convention headquarters. A classic art déco hotel with a rich history, it has 729 guest rooms and 23,800 square feet of meeting space in 18 rooms. The largest is 6,800 square feet.
The 21-story Hyatt has 480 guest rooms and 19 meeting rooms, the largest of which is
9,900 square feet. Opening later this year will be an enclosed rooftop event space with a 360-degree view of the city.
The Springhill Suites, located in the converted 97-year-old Commerce Building, will offer another 150 guest rooms and 2,000 square feet of meeting space.
In all, Milwaukee has a total of 3,447 hotel rooms within one-half mile of the convention center and 165 meeting rooms in Milwaukee's downtown hotels to accommodate gatherings of all sizes.
UNUSUAL VENUES
Milwaukee also boasts an array of meeting venues that stand apart. Here are some of the most unusual.
The Milwaukee Art Museum overlooking Lake Michigan has become the new visual symbol for the city and is a popular destination for meetings, banquets and indoor-outdoor events. Below the building's dramatic, sweeping wings designed by Santiago Calatrava are 25,000 square feet of meeting space, with the largest area some 10,000 square feet.
Directly south is Discovery World, a science and technology museum with aquariums and interactive exhibits, which also boasts a circular, 6,400-square-foot meeting and banquet area on its top floor with stunning views of the lake and the city.
The Harley-Davidson Museum, just south of downtown, celebrates the iconic motorcycle that was born more than 100 years ago in Milwaukee. The museum provides 35,000 square feet of meeting space on site, the largest of which is 10,400 square feet.
Miller Park, home of the Milwaukee Brewers baseball team, has 6,000 square feet of space for private events for up to 300, but also can accommodate much larger groups.
Potawatomi Hotel and Casino is well known for slot machines, poker and gaming, but has 55,000 square feet of meeting space, with the largest at 27,000 square feet.
UNIQUE TO MILWAUKEE
But it is more than convention facilities and meeting spaces that draw groups to Milwaukee. It is a major city that offers experiences that are authentic and memorable.
Milwaukee's brewing heritage lives on. Miller, a major brewery, offers public tours, as do two popular micro-breweries, Lakefront Brewery and the Milwaukee Brewing Co.
A beer history tour is offered at the old Pabst Brewery. And the impressively restored Pabst Mansion, built in 1892 as a private residence for the famed brewing family, is open for tours daily.
Milwaukee has a thriving cultural scene, which includes the Milwaukee Symphony Orchestra, Florentine Opera, Milwaukee Ballet, Milwaukee Repertory Theater, First Stage Children's Theater and many touring theatrical productions.
The Milwaukee Public Museum, Art Museum, Discovery World, Betty Brinn Children's Museum and many other museums are all popular destinations for visitors as well.
Milwaukee loves sports, and is home to the Brewers, a Major League baseball team; the Bucks, an NBA basketball team; the Admirals, a minor-league hockey team; and the Wave, a professional soccer team.
The Marquette Golden Eagles and University of Wisconsin – Milwaukee Panthers college basketball teams also play downtown.
Milwaukee is safe, walkable and clean. Most of the frequently visited downtown destinations can be reached on foot.
The Riverwalk runs along the Milwaukee River and connects restaurants and pubs, parks, water taxi landings and office buildings. The Art Museum, Discovery World, parks and beaches overlooking Lake Michigan also can be reached by hoofing it.
If you prefer to get to your destination on wheels, Bublr Bike Share has 10 bike stations, most of which are downtown, or you can use public transportation, taxis or Uber to get around.
Milwaukee is an affordable and accessible destination.
The Milwaukee airport is eight miles and a quick cab ride from downtown and Visit Milwaukee reports that average airfares in Milwaukee are lower than those at 77 of the 100 biggest airports in the nation. The city is just 90 miles from Chicago and is within a day's drive of one third of the U.S. population.
Room rates, facility rental, catering and entertainment costs also tend to be less expensive than many major cities. Visit Milwaukee says the city offers a big-city experience at small-town prices.
Milwaukee's thriving food and beverage scene focuses on establishments that are locally owned, operated and often locally sourced.
Braise was named one of Fodor's 10 Best Farm to Table Restaurants in 2014 and several other restaurants and chefs have been recognized in the annual James Beard competition.
Several coffee roasters, including Colectivo and Anodyne, got their start in Milwaukee and the city also is home to the Clock Shadow Creamery, an urban artisan cheese factory.
And  while many new and notable foodrelated establishments have come on the scene recently, others have withstood the test of time. On Old World Third Street downtown, Mader's, a family-owned restaurant, epitomizes Milwaukee's German heritage. It has served authentic Bavarian food for more than 100 years. Across the street, visitors will find Usinger's, the family-owned sausage shop that dates to 1880 and is the home of more than 70 sausage varieties. Just to the north is the Wisconsin Cheese Mart, established in 1938, that sells 200 varieties of cheese.
Speaking of its heritage, Milwaukee was, and is, home to many ethnic groups.
Festivals are held throughout the summer celebrating Irish, Italian, German and Mexican culture, with memorable food and entertainment. The festivals are held on Milwaukee's lakefront at Maier Festival Park, which also is home to Summerfest, an 11day music festival that attracts 800 bands and almost 1 million visitors from around the area, nation and world each year.
Leslie Murphy is president of Raybourn Group International, an association management firm based in Indianapolis. She helped plan a conference in Milwaukee for the Society for Nutritional Education and Behavior. Some 800 members of the group gathered for the four-day conference in July.
She says Milwaukee was friendly, memorable and in many ways a perfect destination for her group.
"There was so much to do, there were outstanding restaurants nearby that are part of the locavore movement and we also visited Growing Power," she says, referring to the urban agricultural organization that operates a working farm within Milwaukee's city limits.
"People like to be able to go out and do things when they're visiting a new city and with the Riverwalk and lakefront so accessible, Milwaukee provided that.
"We just thought it was wonderful."