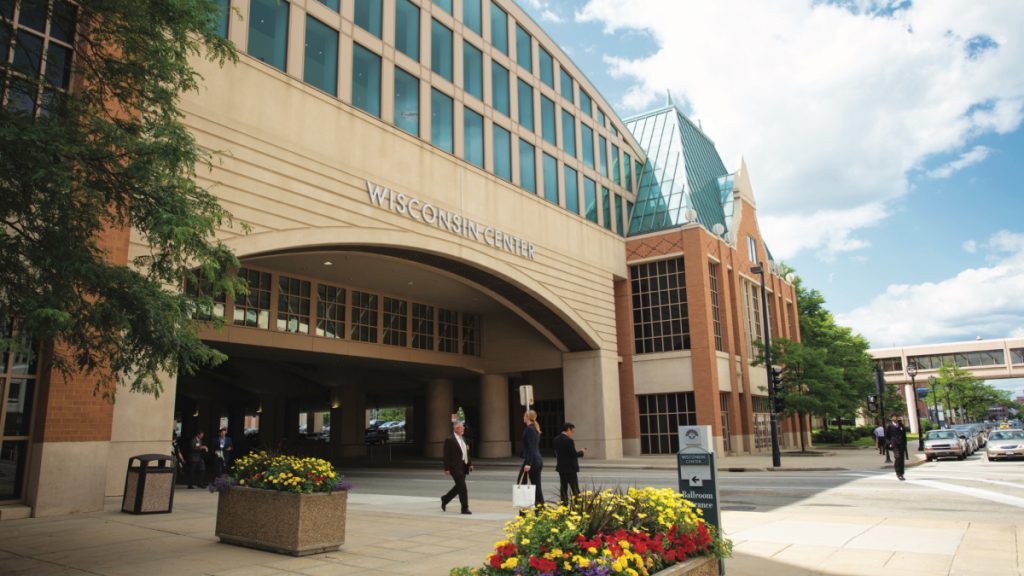 Milwaukee Moves On
05/28/2021
By Ronnie Wendt | Photo ©Wisconsin Center
March 6, 2020, marks a date that Marty Brooks, CEO of the Wisconsin Center District, will not soon forget. It represents the brightest day of his career, followed by some of the darkest.
"On March 6, I shared one of the biggest presentations of my career," he says. "We were excited about what 2020 looked like for our organization and the city. We were preparing for the Democratic National Convention (DNC) and expanding the Wisconsin Center."
Seven days later, COVID-19 pulled the rug out from underneath the city's tours, and meetings and events industries. The Cream City, population 587,721, went from having everything going for it — winning sports teams, happening venues, tasty eats and hyper-local experiences — to a ghost town overnight.
"A week after my big presentation, the National Basketball Association (NBA) cancelled its season and businesses began to shut down," Brooks says. "COVID-19 put a placeholder on tourism and hospitality in Milwaukee." A barrier that only recently began to lift.
In 2020, Milwaukee suffered an estimated $1 billion economic impact to its tourism industry and saw over 100 events cancelled, reports Tara Wurtz, director of sales and marketing for the new Cambria Hotel Milwaukee Downtown. She recently testified before Congress about the pandemic's impacts on the state's hospitality and tourism industry. A major hit was losing the DNC convention. VISIT Milwaukee predicted the once-in-a-lifetime event would draw over 50,000 people to the city and generate $200 million in revenue. But because of COVID-19, the DNC held a mostly virtual event that generated just $3 million in economic impact.
But even amid the bad news, a glimmer of hope is shining. The city now bustles with talks of recovery and Brooks reports that securing financing for the Wisconsin Center expansion in December 2020 is one of the brightest stars of that recovery.
"I don't think any of us imagined a year as bad as 2020, but we are seeing a light at the end of the tunnel," Brooks says. "If everyone is smart, thoughtful and diligent, by this time next year, I'm hopeful that we'll be at 100% capacity or close to it."
The true test comes in August — the date most downtown firms are setting for their return to the office. "We should see things start to improve by that date," says Wurtz. "But I don't think we will see things really start to bounce back until the end of the year. Even then, gatherings will be smaller."
Keeping People Safe
Milwaukee suffered greater effects than neigh- boring cities during the pandemic. The City of Milwaukee Health Department capped gatherings at 10 people until February 5. Months earlier, other communities, like Brookfield and Waukesha, allowed meeting sizes of several hundred, drawing business away from the city.
"This presented real challenges," says Leslie Johnson, vice president of sales, VISIT Milwaukee. "We had groups that wanted to put together a plan, but struggled because we didn't know if, or when, our city would allow larger groups to gather. The new order gives our customers the confidence and hope they need to plan events again." Phase 6 of the COVID-19 public health plan from the City of Milwaukee Health Department lifted limits on indoor gatherings to the lesser of: 75% of the total occupancy of the location established by the city, if any; one person for every 30 square feet of floor space open to the public; or 750 individuals in addition to any employees or contractors required to operate.
VISIT Milwaukee is leading the charge to bring business back. The organization released a video encouraging planners to choose the city for meeting essentials, health and science expertise, and the fun of it.
"Milwaukee is an extremely special place," VISIT Milwaukee President and CEO Peggy Williams-Smith says in the video. "I don't think I can overstate how important the safety of customers and staff is to the business owners in the city of Milwaukee. [Businesses] want to provide a world-class experience to everyone who walks in their door, but they also want to make sure they're doing it in a safe environment."
David Caruso, an award-winning event planner, designer and founder of Dynamic Events, narrates the video, which brings together members of Milwaukee's hospitality community to share their work in making the city a safe destination for meetings and conventions. The video includes appearances from representatives of the Wisconsin Center District, Medical College of Wisconsin, Lakefront Brewery, Potawatomi Hotel & Casino and Milwaukee Mitchell International Airport.
"We at VISIT Milwaukee felt it was important for us to lead the charge and work with our partners, so that travelers, when they come to Milwaukee, know that we care about them," Johnson says of the video.
VISIT Milwaukee's communications strategy hones in on how the city continually works to enhance meeting and event safety. Every event over 200 people must meet health department guidelines. But for those meetings under 200 attendees, VISIT Milwaukee wants planners to know hotels, restaurants, venues and caterers operate under strict protocols to keep people safe. "We work in lockstep with the City of Milwaukee Health Department to make sure planners have the needed information to book with confidence," Johnson says.
In fact, some Milwaukee hotels and venues attained Global Biorisk Advisory Council (GBAC) certification to show they are prepared and genuinely care about public health, according to Johnson. The performance-based, accredited program helps venues launch a comprehensive cleaning, disinfection and infectious disease prevention effort. Venues are also investing in GBAC-recommended technologies, such as electrostatic cleaners and touch- less technology to mitigate risk.
Some venues even installed Global Plasma Solutions' plasma air filtration systems, which use needlepoint bipolar ionization (NPBI) to clean the air. The patented technology employs an electronic charge to create a plasma field filled with high concentrations of positive and negative ions. As these ions travel through the air, they attach to particles, pathogens and gas molecules to filter out contaminants.
The Wisconsin Center was among the first Milwaukee venues to achieve GBAC certification, mentions Brooks. "This certification is the gold standard for infectious disease [prevention] and cleanliness. We share this benchmark with planners to instill confidence in our ability to hold a safe event. It shows we put the safety and wellbeing of their attendees first."
Cambria prides itself on being a proactive vs. reactive company, according to Wurtz. The hotel not only added electrostatic disinfectant sprayers to its cleaning arsenal, but the facility also has 132 separate heating, ventilation and air conditioning units, ensuring that each room operates off its own heating and cooling system. "This way, we are not recycling air and spreading pathogens throughout the building," she says. "We can isolate and protect guests and attendees."
All these changes help safeguard health at meetings and events. "Before COVID-19, you never knew what really happened behind closed doors," Johnson says. "GBAC certification says that venues have taken steps to keep visitors safe and that they have a lot of behind- the-scenes safety measures in place from the entry point of that building to every individual who works there. It shows they have trained employees to hold sanitation and health safety to the highest standard."
Growth within the Chaos
When President Joe Biden came to Milwaukee for a CNN town hall event on February 16, Brandon Drusch, general manager of Saint Kate – The Arts Hotel, reports that downtown Milwaukee came alive again. "It was an incredible night to be downtown,
just the excitement, the energy throughout the hotel, in the heart of the theater district. It's great to see the arts community, the partnerships within the neighborhood, everything come together to put a spotlight on Milwaukee. It was great to see it come back to life," he told Milwaukee Business Journal after the event.
The town hall sparked a return of meetings and events to the city. The Wisconsin Center started hosting safe and successful youth sports events beginning with the Wisconsin Juniors Volleyball Club and Bad- ger Region Volleyball Association championships in March. The center, designated a Federal Emergency Management Agency (FEMA) type 2 federal pilot community vaccination clinic, also vaccinates over 1,000 people a day.
Wurtz says venues are seeing requests for proposals coming in for the rest of the year, but she admits event sizes are smaller. "Historical statistics would tell you the event would be this size, but it's half that," she says. "We are seeing events come back, but we're not totally there. To further promote safety for our associates and guests, we continue to enforce wearing masks and encourage our team to become vaccinated."
Confidence in a triumphant return reigns supreme. Milwaukee's Deer District recently approved plans for a nine-story, 205- room Marriott Autograph Hotel just north of Fiserv Forum. The development will feature a two-level restaurant and lounge on one corner, and street-level retail space on another. Both areas will activate the street on either side of the hotel's main entrance. In addition, Marriott plans to add a second restaurant and bar with indoor and outdoor space on the ninth floor.
Construction on the new hotel will begin this fall, with a targeted completion date of late 2022 or early 2023. The new hotel will create about 100 hotel and restaurant jobs, and its new rooms will bring the downtown area hotel room total to 5,708.
The feather in the cap that's producing the most excitement for a Milwaukee rebound, however, is the forward movement of the $420 million Wisconsin Center expansion after being on hold for over a year.
This long-awaited project will add 112,000 square feet to nearly double the center's size. The project, which will open in 2024, creates 300,000 contiguous square feet of exhibition space and adds 24 flexible meet- ing rooms, a ballroom with seating for 2,000, six loading docks, an executive kitchen and 400 parking spaces.
Johnson reports the slower pace of the past year led the city to invoke an advisory council to offer feedback on the center's expansion. The council is made up of a long- standing group of meeting planners that VISIT Milwaukee has summoned annually to advise on sales and marketing strategies. The members zeroed in on bathrooms, work- spaces, lighting and flexible meeting space. Furthermore, a group of executives from the Wisconsin Center District, VISIT Milwaukee and more toured other convention centers in comparably sized cities, like Louisville, Nashville and Indianapolis, for inspiration.
"The silver lining of having this approved during the pandemic is that we could bring in planners and ask them what's important to them in a building like this," she says. "Because of the pandemic, we can incorporate things no one considered before. We have more air walls and the ability to be very flexible very quickly."
"Expanding our convention center will attract larger groups than we could accommodate before," continues Johnson. "Historically, larger groups could not come to Milwaukee because of the limited foot- print of our convention center."
A pandemic doesn't happen every day, nor does a citywide shutdown. But with resiliency, planning and preparedness, Milwaukee shows it's possible to overcome challenges and return to business as usual.