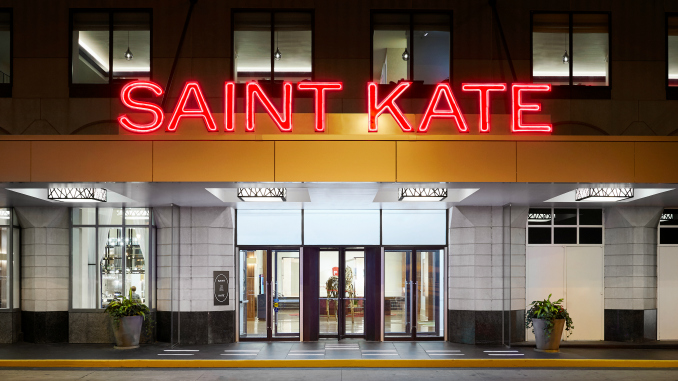 Saint Kate – The Arts Hotel Named a Best New Hotel by USA Today
01/17/2020
Saint Kate – The Arts Hotel, a property owned and managed by nationally recognized Marcus® Hotels & Resorts, recently announced that the property was named one of the country's best new hotels by USA Today's 10Best Readers' Choice travel awards. The one-of-a-kind arts hotel finished second in the awards' public voting and was the only hotel in the Midwest to receive this recognition.
Positioned at the center of Milwaukee's vibrant theater and entertainment district, Saint Kate is a unique, boutique arts hotel created by artists for artists. From professional business travelers looking for a coworking space in downtown Milwaukee to local creatives seeking a source of inspiration for their next project, Saint Kate blends hospitality with artistic expression. The 219-room arts destination features five unique culinary experiences, a 95-seat black box theater for rotating performances, multiple gallery and exhibition spaces, and 11,597 square feet of flexible meeting and event space.
"We are thrilled to be named by USA Today as one of the best new hotels across the country after opening our doors to the public earlier in 2019," said Michael Evans, president of Marcus Hotels & Resorts, which owns and manages Saint Kate. "A recognition of this magnitude by industry experts and the voting public is an incredible honor, but it is truly a reflection of the amazing team at Saint Kate and the exceptional service it provides. We take great pride in having created an artistically bold and imaginative concept that is being so well-received by both leisure and business travelers who are looking for a hotel and entertainment experience that is unlike any other in the city. We look forward to continuing to showcase this one-of-a-kind destination to Milwaukee visitors and locals alike for years to come."
The USA Today 10Best Readers' Choice Awards are compiled by a panel of experts and various 10Best editors who pick the initial 20 nominees, with the top 10 winners determined by popular vote.
For more information and a full list of the USA Today 10Best Readers' Choice Awards, please click here.
Photo credit: David Mitchell