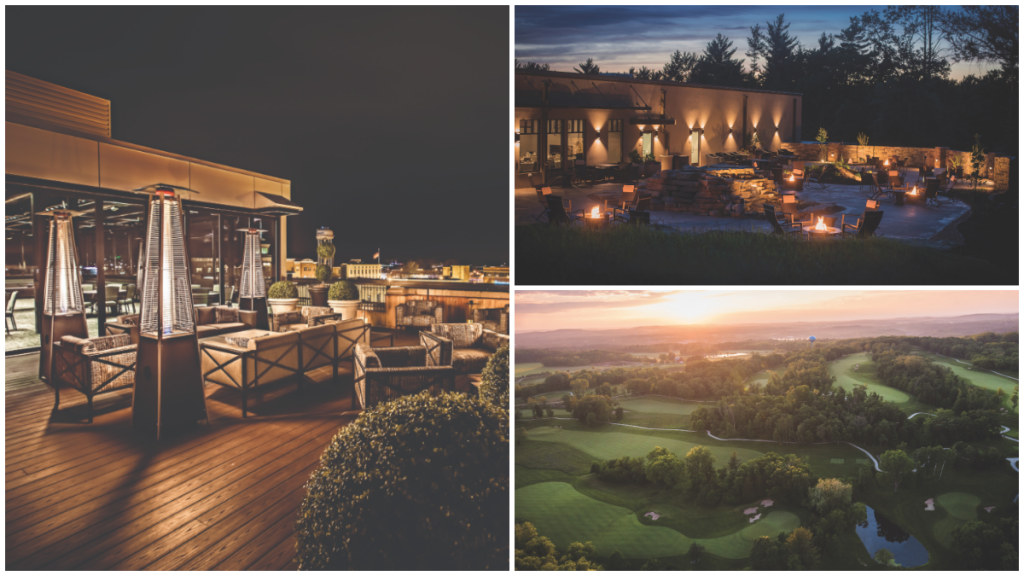 Elevated to a Life of Luxury
02/08/2021
By Kristine Hansen
Wisconsin is home to several high-end hotels — from Sundara Inn & Spa's health and wellness environment in Wisconsin Dells to The American Club's traditional elegance in the company town of Kohler, as well as properties in Lake Geneva and Door County. Whether it's a boutique hotel just outside of Milwaukee or a sprawling resort surrounded by hundreds of acres of blissful nature, many of these properties offer plenty of outdoor space to plan events year-round. The following are just some of the luxe properties the state has to offer.
Hotel Goodwin, Beloit
A new year-round lounge on the rooftop — decked out with heaters, a fire pit and hanging ball lights — at this boutique hotel accommodates up to 48 people for a seated event and 75 for cocktails. Reserving the 1,000-square-foot lounge includes access to an additional 775 square feet outdoors. Meanwhile, the Velvet Buffalo, the hotel's dinner-only restaurant specializing in modern Italian cuisine, can be contracted to serve food and drink.
"It's flexible for how we can set it up and perfect for small groups," says Carly Malacina, manager of Geronimo Hospitality Group's lodging and event sales. A local health-care group, she says, recently booked all 34 guest rooms and utilized the rooftop space. The event also included a shareholder meeting at the nearby Beloit Club and an activity at the Ironworks Hotel, Hotel Goodwin's sister property that's located a short walk away. As a matter of fact, flipflopping between the two hotels is "a nice change of scenery so you're not in the same meeting room all day," Malacina says.
Sundara Inn & Spa, Wisconsin Dells
General manager John Morris reports that, despite the pandemic, bookings for leisure guest stays and small-group events are up. Tucked into a pine forest already set up for social distancing, this property boasts a vast indoor space of 80,000 feet. Its more than 30 guest rooms are spacious (some with two stories and all with balconies), room-service dining is available and there are three pools (two of which are outdoors, heated and open year-round). Group options include snowshoeing, hiking or gathering around fire pits.
For meetings, "Our sweet spot is in the 10- to 20-person group," says Morris. Another sweet spot? "People who want to make wellness part of the meeting," he mentions, referring to a roster of fitness classes, a world-class spa and a therapeutic salt chamber. "You really don't see anything like this in the upper Midwest. You've got to go to Colorado, California or Arizona."
Delafield Hotel, Delafield
In this tiny, charming and walkable town of 7,552 residents — only a 30-minute drive from downtown Milwaukee — there are a variety of experiences offered through its only boutique hotel.
It's a one-stop shop as the hotel owns the gym next door (for team-building exercises, private yoga sessions or simply sticking to a fitness regime), as well as the Blue Collar Coffee Company a few blocks away. With only 38 guest rooms, a group buyout is a breeze.
A glass wall recently installed at I.d., the hotel's contemporary- design dining room, ensures deeper privacy and folds in access to a veranda warmed by heaters. "Sometimes we'll have cocktails out there or lunch," says Kim Ash, the catering and sales manager. Two indoor rooms are also available: the Wine Room (up to 11 people) and Cushing Room (between 24 and 60 people). Guest rooms are larger than 400 square feet, and include whirlpool tubs, Kohler rain showers and Keurig coffee makers. Hiking, cross- country skiing or snowshoeing at Lapham Peak are popular group activities.
Destination Kohler, Kohler
Most people know Kohler — the company town that's home to the luxury-plumbing manufacturer — for The American Club (including The Immigrant Restaurant), but now there is a less traditional meeting site that overlooks Lake Michigan. Unveiled in 2020, the minimalist, very modern and nondenominational Straits Chapel, designed by a Milwaukee-area architecture firm, The Kubala Washatko Architects, features a high-end sound system and preprogrammed lighting options. The cross can be removed and pews rearranged for a more secular feel.
Another ideal spot to host a meeting is at Blackwolf Run, with two levels of outdoor dining heated by lamps as well as a fire pit. Caverna (which replaced Cucina Italian restaurant recently) additionally installed new heat lamps and a small tented area, plus five geodomes for private groups. Moreover, a group can rent out The Greenhouse, a stained-glass structure imported from England, within the courtyard for serving coffee drinks or cocktails.
Winter Wonderland, just like it sounds, is a Norman Rockwell- esque scene of snowshoeing, cross-country skiing, a warming barn with a bar and televisions, and curling and ice bowling (in another barn). "It would be a great location for a group where they could rent out the whole facility," says Christine Loose, vice president of lodging and wellness at Destination Kohler. "This is Wisconsin, right? How else do you compete with the beaches in Florida or Mexico?" Kohler's team can also arrange outdoor yoga classes in the woods and candlelight walks.
Grand Geneva Resort & Spa, Lake Geneva
This luxe property's amenities can easily pack in a few days of socially distanced experiences. This includes 62,000 square feet of meeting space with access to outdoor lawn and patio areas, plus the 2,900-square-foot Chalet and 5,400-square-foot Pavilion. "Additionally, we have 1,300 acres where we can place outdoor tents in unique areas to take in the views of the Wisconsin countryside," says Brad Lyles, the resort's director of sales and marketing.
"The Mountain Top at Grand Geneva offers guests a variety of outdoor winter sports experiences," he continues. "During meeting breaks, guests may enjoy some of the best skiing, snowboarding, sledding and ice skating in Wisconsin. Extreme sled-building is another popular outdoor winter team-building activity." For this activity, teams construct a sled out of commonly found materials and household items, then compete in the areas of distance, speed and creativity. Another team- building opportunity that Grand Geneva Resort & Spa staff can organize for a group is an outdoor Grand Race, a scavenger hunt of sorts.
Moreover, groups don't have to leave the property to eat because all three of the resort's eateries offer private dining: Geneva ChopHouse (with an outdoor terrace featuring a hearth), Ristorantè Brissago (every dish is an ode to a different region of Italy) and Grand Café (serving healthy cuisine in a casual environment).