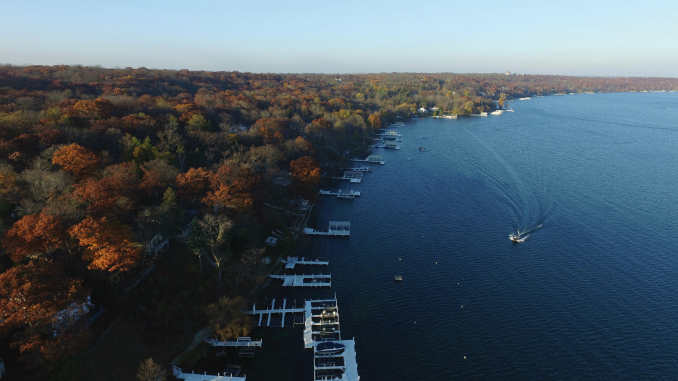 Destination Lake Geneva
10/04/2019
By Melanie Radzicki McManus | Photography by Holly Leitner
Small knots of tourists lazily wander around the city's picturesque downtown. Some methodically duck into the eclectic boutiques lining the streets, while others are more interested in scoring a steaming latte or frosty ice cream cone. An orderly queue of people stretches out from the Walworth, one of the tour boats in the Lake Geneva Cruise Line fleet, while a small group of people begin circling sapphire Geneva Lake on foot to check out the Gilded Age mansions ringing the shore.
It's just another pleasant day in Lake Geneva, a southeastern Wisconsin city with a long history as a resort town, especially for the nearby Chicago crowd. Today, folks from Wisconsin, Illinois and beyond flock here every summer, continuing the tradition. Yet, while the city of 8,000 will likely remain a storied vacation spot for years to come, it's also a prime place to hold a meeting or convention.
Facilities Abound in Lake Geneva
Thanks to the city's resort-town roots, Lake Geneva has plenty of meeting and lodging space, especially for a town of its modest size. Twenty hotels, resorts and mansions are tucked into the scenic area, with some 2,300 guest rooms among them. The area is also home to 10 golf courses, 10 spas, one ski hill and three lakes: Geneva Lake, Delavan Lake and Como Lake.
Susan Smolarek, group sales manager at VISIT Lake Geneva, says one of the city's biggest assets when it comes to the meetings and convention market is its unique venues. "We offer more than square-box hotel rooms," she says.
A prime example is the Grand Geneva Resort & Spa, the area's largest resort and conference facility. Brad Lyles, director of sales, says the Grand Geneva has 746 guest rooms, including 225 condominiums at Timber Ridge Lodge & Waterpark. It also boasts more than 62,000 square feet of meeting space, including its newly renovated Forum Convention Center, which contains 13,770 pillarless square feet of space and seats up to 1,800. The facility also contains four ballrooms, boardrooms, breakout spaces, a ski chalet, an outdoor pavilion and two 18-hole golf courses.
But perhaps its biggest attraction is its setting. The Grand Geneva sits on 1,300 acres of wooded countryside, and showcases this lovely environment in many of its meeting spaces, restaurants and lodging. The bucolic parcel of land also contains 5 miles of mountain bike trails and numerous hiking paths, among other offerings, making it easy for guests to get a nature fix.
"Guests are often impressed by the large amount of outdoor space we have," says Lyles. "And one group recently held an activity on our plane runway. There's always something new to discover."
The Ridge sits 7 miles southwest of the Grand Geneva, a few paces from the shores of Lake Como, just outside the city. Rebranded and renovated a few years ago, the former Geneva Ridge Resort is now a sleek, modern facility with 146 guest rooms and 10,000 square feet of flexible event space via four venues. The meeting spaces can hold up to 500, and all boast natural light and easy access to the outdoors.
"We really encourage people to get outside," says Barbara Karabas, marketing manager at The Ridge. "You're not meant to be in meeting rooms." Thus, the facility also has an outdoor bar area, putting green and fire pit.
Karabas says meeting planners like the fact that they may buy out the hotel and take over the entire property, a rare offering. "We're one of the smaller resorts in the area, but a lot of customers appreciate our small size," she says. "If you're a 40- or 50-person group, you're a big deal to us."
Another 6 miles to the southwest in Fontana, The Abbey Resort is tucked onto 90 acres of land snugged against the west end of Geneva Lake. The Abbey offers 334 guest rooms and 40,000 square feet of flexible indoor/outdoor meeting space, including a 10,000-square-foot ballroom and up to 14 breakouts. The resort's seven Geneva Rooms were recently stripped down to the studs, says Dan Dolan, director of sales and marketing, then redesigned and modernized with features such as LED halo lighting and magnetic dry-erase boards.
But what meeting guests especially love is the fact that, when their work is over, they can easily stroll down to enjoy the lake, head to the marina to rent a boat or start walking on the city's famous Geneva Lake Shore Path, which runs right past The Abbey in its 25-mile circuit around the lake. They also appreciate the resort's serenity.
"One of the big surprises for meeting attendees, especially during the summer, is that the west side of the lake is much more laid-back," says Dolan. "The whole Lake Geneva area isn't overrun with people during the summer."
Also located on the scenic shores of Geneva Lake is The Geneva Inn. It offers panoramic lakeside views from the hotel and restaurant. The inn offers planners a charming location and award-winning cuisine options. Its seasonal lakeside patio grants a quaint setting for an outdoor cocktail event complete with dazzling views of the lake.
The Baker House and Maxwell Mansion are great venues for smaller groups seeking the unique. The Baker House is right across from Geneva Lake, offering attendees sweeping views of the water from its English-style lakefront gardens, which can hold up to 150. Inside 75 people can be seated for corporate events.
The Italianate Maxwell Mansion hotel was built in 1856 and has the distinction of being the first mansion constructed in Lake Geneva. The luxe facility contains a ballroom, cocktail bars and even a speakeasy, plus perennial gardens with a croquet lawn and fountain. Up to 120 business guests can be accommodated here for a reception, with the ballroom seating up to 40 for dinner.
A short distance away, along 2 miles of Delavan Lake's shoreline, Lake Lawn Resort's beautiful facility and historic grounds provide a picturesque backdrop for meetings and events.
Lake Lawn Resort offers 32,000 square feet of adaptable and flexible meeting space. Its 22 meeting rooms can accommodate groups of up to 500. Planners can host a board meeting in an executive boardroom or a corporate retreat with a golf outing at the 18-hole championship golf course.
The 271-room resort also offers boat and water sport rentals, two outdoor swimming pools, an indoor swimming pool, a 170-slip marina and a fitness center for guests to enjoy. Its Calladora Spa provides a perfect setting for peace and relaxation after a long day of meetings. Its three restaurants provide ample opportunities to dine on site.
Fun and Team Building Easy to Achieve
When a city has easy access to three recreational lakes, meeting and convention attendees have plenty of opportunities to relax and enjoy. The lakes offer boat tours and rentals, jet skiing and fishing services. And, of course, customized options. "You can put your group on a cruise boat heading to a dinner location on the lake, complete with cocktails on the way there and dessert on the way back," says Smolarek.
But the city offers more than water-based fun. The Tristan Crist Magic Theatre provides Vegas-style illusion shows, for example, while The Dancing Horses Theatre features artistic equestrian performances. Lake Geneva Canopy Tours is known for its heart-pumping zipline tours and furnishes meeting space for groups of up to 50.
Not surprisingly, when it comes to team building, groups have no shortage of options either. In addition to utilizing the lakes, zipline and other commercial amenities, the resorts each offer an incredible and diverse array of team-building activities. Over at Grand Geneva, meeting attendees can participate in everything from extreme sled-building and pizza challenges to laser tag and kickball, says Lyles, adding the list of options keeps growing.
Dolan says The Abbey has more than 100 team-building ideas for meeting planners and also creates activities based upon a group's goal. One of his personal favorite team builders involves giving teams cardboard, bubble wrap and duct tape, then 90 minutes to create a seaworthy boat that can carry a passenger.
Stephanie Klett, the new president and CEO of VISIT Lake Geneva, wants planners to know the resort town is open and active year-round, and embraces winter, offering ice skating, snowshoeing, skiing, sledding and ice fishing. In addition, the U.S. National Snow Sculpting Competition is held here annually during the city's Winterfest celebration and, last year, the award-winning Ice Castles tapped Lake Geneva to become its sixth North American location. The wintertime attraction boasts LED-lit ice sculptures, frozen thrones, ice- carved slides and more.
The resorts celebrate the cold weather, too. "One thing we did last winter that went over very well was to put up igloos," says The Ridge's Karabas. The plastic-domed structures were set up in the resort's outdoor patio area, and furnished with couches, benches, tables and blankets. Meeting attendees relaxed inside the unique structures, where they enjoyed food and drink. This winter, The Ridge is considering erecting larger igloos that can be used for meeting breakouts.
Klett, former secretary of the Wisconsin Department of Tourism, says the tourism bureau's goal is for meeting planners and attendees to enjoy their Lake Geneva meeting so much that they'll want to come back.
"We know of people who have moved here because of their good experience at a conference," she says. "Talk about the ultimate compliment!"
Did You Know?
Lake Geneva was …
Named for Geneva, New York.
A site for gristmills and sawmills in the early days.
Known as "Newport of the West," a popular year-round resort for wealthy Chicago residents who built summer homes and estates on the lake and in the wooded hills.
Populated by many Chicagoans living in these homes year-round after their homes were destroyed in the Chicago Fire.
A shipper of ice to Chicago until the onset of World War II.