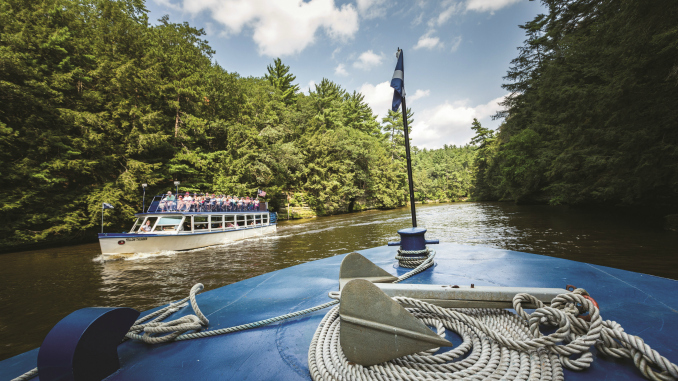 Destination Wisconsin Dells
01/29/2018
The Wisconsin Dells Visitor & Convention Bureau (WDVCB) might have to rethink its moniker. Several decades back, the group dubbed itself a "VCB" instead of a "CVB" to emphasize its laser-like focus on visitors rather than conventioneers. After all, the organization represents one of the most popular tourist destinations in the entire Midwest. But today, change is afoot.
Yes, tourism is still thriving in the Dells. Some 4 million visitors annually flock to the region, comprised mainly of the city of Wisconsin Dells and the village of Lake Delton. Just a few short years ago, those visitors would have been almost exclusively vacationers. Now, an increasing share are meeting and convention attendees.
Exactly where are they gathering? Tucked in among all of the area's waterslides, go-karts and mini-golf courses are a variety of meeting and convention spaces. Tifani Jones, director of sales and services for the WDVCB, says the community is home to a whopping 400,000 square feet of meeting and event space, not to mention 8,000 guest rooms.
"A lot of people in the industry do understand we're not just fudge shops anymore," she says, "but we're still delivering that message every day to people who are surprised. The Dells is still considered to be a hidden gem [in the meeting industry]."
The Dells' nearly half-million square feet of meeting space is spread among facilities of varying size. On the larger end of the spectrum are sites such as the Kalahari, Chula Vista, Glacier Canyon Lodge and Ho-Chunk Gaming. On the intimate side are sites like Sundara Inn & Spa, Woodside Ranch Resort & Conference Center and the Inn at Wawanissee Point.
The soon-to-be largest conference center is the Kalahari. The facility currently has 100,000 square feet of flexible meeting space via two large ballrooms and smaller break-out rooms, and is in the midst of adding another 112,000 square feet. The new space will include a 57,000-squarefoot ballroom, which can be subdivided, plus a wealth of pre-function space that can be used for exhibits, meals, receptions and more, says Kevin Shanley, corporate director of sales and revenue management. "With the addition, we'll be by far the largest independent and/or hotel-based convention center in Wisconsin."
Besides a wealth of meeting space, the Kalahari also contains 750 guest rooms, restaurants, shops, a spa, golf course, an indoor theme park and, yes, indoor and outdoor waterparks, making it a fantastic spot for groups with spouses and families in attendance. In fact, Shanley says groups see a 20 percent spike in attendance when they hold their events at the Kalahari.
"We make what people had to go to in the past to what they want to go to now," he says. "The Kalahari really drives attendance for meeting planners."
While attendees can easily be entertained for a day or two (or more) at the Kalahari, the resort encourages them to explore the entire Dells area. To help nudge them off the premises, all guests receive passes to the Tommy Bartlett Show and Timbavati Wildlife Park. The Tommy Bartlett Show has been a Dells staple for more than 60 years, entertaining millions with its waterskiing performances, stunt shows and comedy acts. Timbavati Wildlife Park is a newer attraction that quickly captivated guests. (How can you resist cuddly lion cubs, bouncy kangaroos and curious giraffes?)
Over at the Wilderness Hotel & Golf Resort, its Glacier Canyon Lodge facility is the designated spot for meetings. The building contains a 56,000-square-foot conference center, perfect for meetings in the 300- to 350-person range, says Shannon Timmerman, director of sales. The biggest perk to holding your event here, she says, is that Glacier Canyon Lodge is separate from the main Wilderness facility, although conveniently connected to it via a skywalk.
"This means guests still have the luxury of a fun waterpark atmosphere when they're not in meetings, but it's not right in their face when they're conducting business. It's the best of both worlds."
While the conference center lies within Glacier Canyon Lodge, attendees aren't limited to staying there. They can elect to stay at any of the 1,100-plus rooms spread around the extensive Wilderness property. That includes its cabins and condos, which Timmerman says are perfect for small groups seeking an intimate retreat experience.
Another perk of holding a meeting at a large resort like the Wilderness is that it's easy to put together team-building experiences, says Timmerman. The Wilderness can offer groups activities such as ziplining, escape rooms and laser tag right on-site. And if you're looking for something really creative, just ask; the resort recently put together an activity for one group based on the TV show "The Amazing Race."
Chula Vista, another major Dells resort, is popular among meeting planners because it sits in a secluded, wooded spot right on the Wisconsin River, just a few miles north of downtown Dells. In addition, it's home to 200,000 square feet of flexible convention and meeting space. Its Wisconsin Dells Center offers 90,000 square feet of meeting space, plus another 13,000 square feet of pre-convention space. There are also two 14,000-square-foot grand ballrooms on an atrium level, affording prime river views, an 8,000-square-foot conference area and more than two dozen additional meeting rooms. Executives especially enjoy Chula's boardrooms, which are equipped with recliners and fireplaces.
On the other end of the spectrum is Sundara Inn & Spa, tucked into 90 wooded acres behind the Wilderness. The facility has won numerous national accolades over the years for its serene spa and posh inn. Now, after many requests for corporate retreats, it's in the midst of building a 1,750-squarefoot designated retreat space that can comfortably hold up to about 40 guests, in addition to more lodging via villas.
"We're still staying true to our spa nature," says Heidi Michel, Sundara marketing manager. "We won't be holding large, full-on retreats, but instead more intimate gatherings like yoga retreats, team-building events or motivational speakers."
Because the spa is focused on healthy living, Michel says retreat guests will definitely be able to take advantage of wellness-based activities. Specific events are still in the planning stages, but she says options may include guided hikes, morning meditation cruises on the scenic Upper Dells, painting classes, and wine tasting and cooking demonstrations. And, of course, guests will always be free to experience the spa.
For groups who like to take chances, HoChunk Gaming Wisconsin Dells is located just down the road. The facility offers 30,000 square feet of convention space, 302 guest rooms, plus onsite entertainment, dining and table games, bingo and slots.
Woodside Ranch Resort is located north of the Dells in Mauston. The more than 100-year-old dude ranch wows with homecooked meals, cabins, horseback riding and a rustic, yet elegant meeting venue for smaller groups. One of the most intimate spaces of all may be the Inn at Wawanissee Point. Hidden in a wooded patch of land near Devil's Lake, the beautiful inn-home includes the Lombardi Conference Room, perfect for groups of about a dozen. When business is over, guests can relax in the sumptuous inn or enjoy hiking, birding or snowshoeing on the peaceful, wooded property.
While most of the Dells' conference facilities offer attendees various meal options, another draw to holding your event here is that the Dells is home to numerous popular restaurants such as Field's at the Wilderness, Ishnala, the Del-Bar and Monk's. Field's, housed in a Frank Lloyd Wright-styled building, is known for its quality steaks and seafood, while the Del-Bar is a famous supper club dating to 1943. Ishnala, another long-time supper club that opened in 1953, sits on the edge of scenic Mirror Lake. Its claim to fame, in addition to great food, is that live Norway pines are growing through the roof. Monk's is known for its burgers–and for cooking them on the same seasoned grill for more than half a century.
The WDVCB's Jones says meeting planners shouldn't overlook the bureau when planning an event. While the local conference facilities offer plenty of programs for meeting attendees, the VCB is happy to put together packages as well. The group is often tapped to provide spousal activities; some of its popular packages are wine and craft beer tours, plus a visit to the International Crane Foundation, the only spot in the world where you can see all 15 crane species.
Sometimes, it's not even necessary to plan any events. Because the Dells is such a tourist hot spot, it's plenty easy for guests to explore the area on their own. After all, it's home to such notable entertainment options as the Original Wisconsin Ducks, the Dells Boat Tours and the Rick Wilcox Magic Theater.
Of course, every locale has its downside. For the Dells, the main drawback to meeting here is that it's 45 minutes away from the closest airport. That fact will always be a hindrance to some groups, but Timmerman believes that view is shortsighted. "Granted, we're 45 miles from the closest airport," she says, "but it's all Interstate driving, so it just takes 45 minutes to get here. Downtown Chicago might be only five miles away from your venue, but it may still take 45 minutes to get there!" Touché.