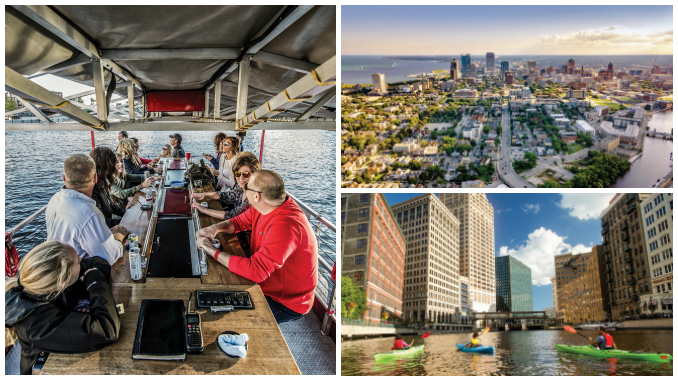 Destination Milwaukee
07/11/2019
By Ronnie Wendt | Photos courtesy Visit Milwaukee
Milwaukee has a long and storied history as a powerhouse for manufacturing and machining. Today, the Cream City, home to seven Fortune 500 manufacturers and second in the nation for the highest percentage of workers in manufacturing, still proudly waves its manufacturing flag.
But just as there is more to the state of Wisconsin than brats, beer and cheese, there is more to Milwaukee than iron, aluminum and steel. In recent years, Milwaukee began a downtown renaissance that continues to this day. No part of the downtown remains untouched. Areas like the Historic Third Ward, Menomonee Valley, the Deer District, the Brewery District, the Wisconsin Center District and Walker's Point are seeing both new construction and revamps of existing buildings come to life.
This urban renewal has led to a growing interest in Milwaukee as a premier meetings and events destination for groups of all sizes. The crown jewel in the Brew City's downtown revitalization is its selection as host city for the next Democratic National Convention (DNC) at Fiserv Forum, the 17,500- seat arena that the NBA's Milwaukee Bucks call home.
Milwaukee campaigned against larger Sunbelt cities to win its bid for the July 13-16, 2020, event. It's selection as the DNC host city marks the first major-party convention in the city's history and is a true testament to what Milwaukee offers the meetings and events industry.
This city has it going on, with everything from winning sports teams; beautiful and unique venues; a food and beverage scene complete with culinary delights prepared by 10 James Beard nominated chefs; a natural setting for outdoors enthusiasts; and a large selection of hyper-local experiences.
"We've had over $5 billion in development in recent years; Fiserv Forum alone was a $524 million development. We added the city's streetcar, The Hop, and we've seen a 30% growth in hotel rooms in the downtown alone," says Laura Lutter Cole, convention sales manager for VISIT Milwaukee.
Lutter Cole reports she previously worked in the hotel industry, and once said, "I can't sell my hotel, unless I can sell my city." Milwaukee sells itself; she says. "We have everything a top-tier city has to offer, but on top of that, we have Midwest hospitality, affordability, accessibility and experientiality," she says.
Though VISIT Milwaukee, Fiserv Forum and other organizations that helped bring the convention to Milwaukee are exceptionally proud of their efforts, Lutter Cole says the DNC, which will bring more than 50,000 people to the city, is really an extension of what Milwaukee's meeting and events industry has done all along, just on a larger scale. "This is a regional, once-in-a-lifetime event," she says, "and one that speaks very well to the collaborative, welcoming and enthusiastic efforts we make for every organization that chooses Milwaukee for its meeting, convention or event."
VARIETY OF VENUES
Fiserv Forum opened in 2018, as the Bucks basketball team skyrocketed to national attention. The NBA team made it to the playoffs this year, narrowly missing a chance at the finals.
The new sports and entertainment arena hosts up to 200 sporting and entertainment events a year, but its 730,000 square feet also houses a plethora of unique and dedicated meeting spaces, something many people are unaware of.
"The building was created to be as flexible as we could make it," reports Jonathan Zuckerbrod, director of business strategy and platform development for Milwaukee Bucks. "While it has an open design concept, there are rooms and pockets we can scale down for a smaller meeting or event."
Mallory Brigman, manager of private event sales for Milwaukee Bucks, agrees, highlighting a handful of the meeting spaces available. The arena floor, the building's "most flexible meeting space," she says, can accommodate up to 2,000 people, reception style, or be transformed for a 1,000-person seated dinner. The Panorama Club sits at the top of the arena and offers extraordinary views into the bowl, while an expansive outdoor patio provides a panoramic glimpse of the city. Brigman says this space works well for a business meeting of 60-70 people, but also can accommodate up to 450 guests for a reception. The facility's atrium doubles as meeting space for approximately 280 guests while outdoors, an open-air plaza is available and connects to the entertainment block, which features fare from tenants that include Good City Brewing, the Mecca Sports Bar and Grill, Punch Bowl Social and Drink Wisconsinbly.
While Fiserv Forum is certainly the newest venue, Milwaukee has a veritable treasure trove of meeting spaces. The Potawatomi Hotel & Casino, which is putting the final touches on an $80 million construction project and is the largest entertainment destination in the Midwest, offers comfortable and flexible meeting spaces that can accommodate events up to 3,000 people.
"Potawatomi has really great meeting rooms," reports Lindsey McKee, communications manager for VISIT Milwaukee. "The rooms make up an entire floor. There are also smaller rooms available for break- out sessions. There is ample parking and it is connected by skywalk to the building."
The Wisconsin Center, part of the Wisconsin Center District, which operates the center as well as the UW-Milwaukee Panther Arena and Miller High Life Theater, offers 188,694 square feet of exhibit space, but also has smaller ballrooms and meeting rooms to accommodate groups of all sizes.
"The Wisconsin Center is one of the few convention center you see that has tons of natural light, along with art and poetry on the walls outside the meeting spaces, a palm garden and more," Lutter Cole says. "And, more than 1,300 hotel rooms are connected to it by a skywalk." SpringHill Suites, Hilton Milwaukee City Center and the Hyatt Regency Milwaukee all offer meeting space as well.
The UW-Panther Arena and Miller High Life Theater provide beautiful spaces for a meeting, adds Lutter Cole. "The Miller High Life Theater offers gorgeous architecture and murals," she says. "I've taken groups there as an option for an off-site dinner or meeting and they are just blown away by the artwork. The facility can be used for everything from a day-long corporate meeting to a beautiful reception or dinner."
Harley-Davidson Motor Company also dishes up some unique meeting and event venues on its 20-acre museum campus. The Harley-Davidson Museum offers indoor and outdoor spaces that can accommodate meetings and events of 10 people up to 10,000. It offers customizable banquet options as well. Available spaces vary in size from the Bolt, which accommodates up to 30 guests, to the Garage, which holds up to 1,000 people (600 guests seated). Planners can even arrange to have motorcycles brought into the space and tours of the museum as part of the event. Guests can also purchase Harley-Davidson memorabilia at the large gift shop.
The Pfister Hotel has a reputation for offering some of the best meeting space in Wisconsin. The luxury hotel has 15 meeting rooms on the seventh floor that can accommodate groups from 15 to 1,500. The Rouge on the Pfister's lobby level provides a distinctive atmosphere styled with European flavor, appoint- ed with crystal chandeliers and marble accents. For a unique meeting space, the Executive Meeting Room offers a private oasis on the 23rd floor with breathtaking views of Milwaukee's cityscape.
It's impossible to list every available space; there are just so many, laments Lutter Cole. For the unique and unusual, she suggests the Pabst Mansion, which can be rented out for events from up to 30 guests to 300; Turner Hall, which can hold up to 500 guests; or the recently renovated Italian Community Center, which makes its grand ballroom, private conference rooms and an open-air courtyard available for events.
"The Historic Pritzlaff Building is also a great space. It is an old warehouse that has been transformed into a premier event venue," reports McKee. "They have an old safe in the building that gets used a lot for tastings and other really unique spaces."
HAPPENING HOTELS
As the Democratic National Committee found, there is no shortage of hotel rooms within the city limits. In fact, the greater Milwaukee area offers 17,791 rooms, with 5,503 in the downtown alone. "This is what we have to date, but it's going to increase as the new hotels open," Lutter Cole says. "People are really seeing the value in investing in the Milwaukee hospitality industry."
Among the notable openings expected this summer are the Potawatomi Hotel & Casino's second tower with additional hotel rooms, meeting space and a spa; the Cambria Hotel & Suites in the Third Ward; and Drury Plaza Hotel, a historic renovation of the 15-story First Financial Centre.
Saint Kate Arts Hotel, formerly Milwaukee's Intercontinental Hotel, led the summer openings in early June. It is the city's first independent arts hotel focused on celebrating the arts and the creative process. This hotel offers 219 art-inspired guest rooms, a champagne bar and black box theater.
The hotel, owned by Marcus Hotels & Resorts, offers three permanent spaces for art: An area featuring works from the Museum of Wisconsin Art, another showcasing the Marcus family's art collection and a small space called The Closet, which offers patrons immersive art experiences. The hotel also maintains a staff of artists in residence, including dancers, acrobats and musicians, who entertain guests throughout the hotel.
The one-of-a kind destination also offers 11,597 square feet of meeting space and five culinary experiences including the Aria Café & Bar, which specializes in simple, classic American cuisine; Proof Pizza, offering Neapolitan-style pizzas; The Bar, which is the main gathering area of the hotel; and the Giggly Champagne & Wine Bar.
The Drury Plaza Hotel is a revamp of a 154,000-square-foot building built in the Art Deco style in 1928. Once open, the new hotel will have 200 upscale rooms, a business center, a limited-service restau- rant and over 5,000 square feet of meeting space on the second floor. The lower level of the building will feature a fitness center, pool and more meeting rooms.
Cambria Hotel is a new construction that will bring 132 rooms spread across four floors to the city. The project includes a first-floor pool and fitness center as well as a coffee house and meeting room.
Potawatomi Hotel & Casino's 19-story addition adds a second tower housing 119 rooms to the 381-room hotel and increases its footprint by 180,000 square feet. Owned and operated by the Forest County Potawatomi Community, the tower also includes additional meeting space.
The Iron Horse Hotel is also a wonderful lodging option, adds Lutter Cole. The century-old repurposed warehouse is redoing its lobby area and restaurant, and creating a covered outdoor patio, which when complete will be a great outdoor meeting space. This posh boutique hotel can accommodate events of a variety of sizes, from 10 to 200 guests.
The charming Kimpton Journeyman Hotel is also an ideal stopping spot. The hotel features a sumptuous lobby lounge, conversation pieces made by local artists in every room and Tre Rivali, an acclaimed rooftop restaurant and bar. Here, there are also several types of meeting spaces to choose from—a ballroom, flexible meeting rooms and the rooftop itself.
Planner Kathryn Gleesing, MBA, CMP, president and CEO of DM-Connection & Events, organizes meetings from 100-400 people and banquets from 75-150 people every year. She reports the hotel scene is one of the reasons she chooses Milwaukee year after year.
"Most of the hotels have undergone renovations or are in the process of completing projects to keep the inventory fresh," she says. "And, I love the convenience of the skywalks connected to the convention center and throughout downtown. With new inventory [3,000 new rooms] coming online by 2020, Milwaukee will continue to be an attractive meeting spot."
LOTS TO DO AFTER-HOURS
"Milwaukee offers so much for attendees outside of their meeting schedule," states Gleesing. "From the arts, museums, food tours of Milwaukee, and lakefront activities such as biking, kayaking and boating, there is so much to pick from at a reasonable price," she says. "Milwaukee is also a very walkable and family-friendly city."
A lot of recent development has been tied to the city's brewing history with many old brewery buildings being restored. "Development has exploded around the former Pabst brewing complex," says Kristina LeVan, senior communications specialist at the Wisconsin Department of Tourism. "It's no longer just a place where beer is brewed; it's become a community gathering space."
For a unique downtown food destination, visitors can trek to the Milwaukee Public Market. The destination bursts with high quality selections of artisan products and freshly prepared foods. There is also an upstairs area available for smaller meetings, reports Lutter Cole.
"We arranged for one group to get $25 gift cards for their attendees at the public market," she says. "They went to the market to use their gift cards and reserved the upstairs for a meeting. It was fun seeing everyone compare their goodies and taste all the local flavors."
The Bartolotta Restaurant Group kickstarted the city's restaurant scene, when brothers Paul and Joe Bartolotta opened their first restaurant in 1993. Downtown Milwaukee now boasts 150 locally owned restaurants. The Bartolotta Restaurant Group still ranks toward the top of the fine dining scene, with Bacchus, Lake Park Bistro and Ristorante Bartolotta landing on dining critic Carol Deptolla's Top 30 list every year. Other can't miss places include Bavette La Boucherie, Ardent Restaurant and DanDan, reports Lutter Cole.
If you want to stay in, Lutter Cole recommends the restaurants at local hotels. "The Iron Horse Hotel's restaurant is fantastic, as are the Pfister Hotel's Mason Street Grill, the Milwaukee ChopHouse in the Hilton, Stella Van Buren in the Westin and The Fitz in the Ambassador Hotel," she says. "You don't have to leave your hotel for fine dining."
She adds, "There are so many choices, it can be hard to narrow it down. We help groups by asking questions like: How much time do you have? What kind of group is it? What do you want to show attendees?"
After hours there is a plentiful selection of urban outdoor activities, including a three-mile riverwalk and 130 miles of bike trails. "There is a state park in the heart of Milwaukee, where you can get on the trails. It's along the lakeshore so it's beautiful scenery," states LeVan. "Bike paths can take you around the city and even beyond the city limits. Kayaking on the Milwaukee River is also very popular."
Because the downtown is situated at the confluence of three rivers and Lake Michigan, Lutter Cole says, "You can take guests on a boat dinner cruise on the lake or brewery tours along the river." There are even pedal and paddle taverns that allow visitors to enjoy a beer or a Bloody Mary while pedaling on the pavement or paddling on the water throughout the city.
Taking in a game is also a possibility; six professional sports teams call Milwaukee home. There's Brewers baseball, Bucks basketball, Admirals hockey, Wave soccer, Aces women's basketball and the Brew City Bruisers women's roller derby.
The museum scene overflows with 17 museums located throughout the city. The Harley-Davidson Museum tops Lutter Cole's list as a must see. However, there is also the new National Bobblehead Hall of Fame and Museum, the Milwaukee Art Museum, Discovery World and the Pabst Mansion available to give visitors a peek at Milwaukee's rich history.
If shopping is more your thing, the city offers plenty of that too. Access Boutique sells jewelry, handbags and other accessories; while Alive and Fine features vintage selections; ModGen puts a modern twist on a general store stocking stylish homeware and houseplants; The Brass Rooster is a modern-day hattery; and Stephanie Horne is a boutique featuring women's clothing. For traditional name brands, there is always Bayshore Town Center, Mayfair Mall and the Mayfair Collection, just a short drive away.
A mix of new and old development has made Wisconsin's largest city bountiful in its offerings for the meetings and events industry. From the sparkling water of Lake Michigan to the rich heritage of its historic neighborhoods, planning a one-of-a kind meeting or event filled with food, music and fun is made easy in the Cream City.