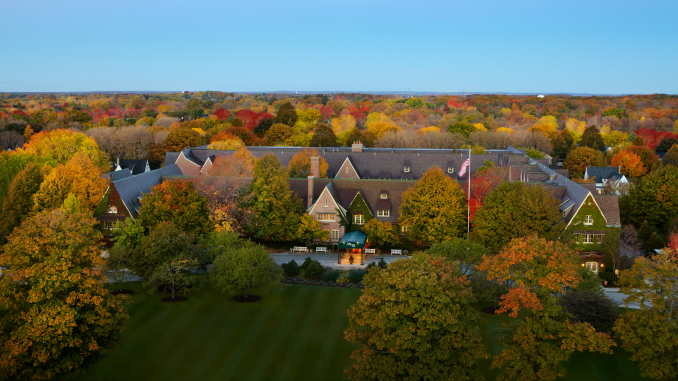 Making History
10/24/2018
By Nancy A. Herrick | Photo ©The American Club
A successful corporate event can be informational, educational and even inspirational. If you choose the right venue, it could be historical, too. Most full-service hotels across Wisconsin offer event space that accommodates a range of needs. Here are five that stand apart, however, by taking a page from the past. They provide up-to-date amenities in a setting that hearkens back to another era.
The American Club, Kohler
In many ways the American Club in Kohler is a story of the American Dream. The Kohler Co. began as a manufacturer of plumbing fixtures and has grown into a multifaceted global group of well-known brands. It was founded by John Michael Kohler in 1873, in this small community about an hour north of Milwaukee and just west of Sheboygan.
"Sheboygan was a small community and didn't have enough workers for the Kohler factory, so he sought out foreign workers," explains Christine Loose, group director for lodging for the American Club. "When they came over from Europe, he built a dormitory in 1918 that provided a place for them to live, three square meals a day and a hot shower."
The company also provided English lessons, instruction about citizenship and more than adequate wages for the time.
"Kohler and his family originally were immigrants, too, from Austria. And John Michael Kohler wanted to offer others a better life and to be able to participate in the American Dream," Loose says.
In 1981, another vision was realized. The immigrants' former dormitory was converted into a full-service boutique hotel that has achieved Five Star and Five Diamond ratings and is on the National Register of Historic Places. The impressive complex also includes a destination spa, health and racquet club, design center, access to nationally known golf courses and a 500-acre wilderness preserve.
The 241 guest rooms include 186 in the original dormitory building and another 55 at the Carriage House. Each room is different and distinctive and, not surprisingly, many boast spa showers, whirlpool tubs and more.
Meeting facilities are abundant, ranging from the Founder's Board Room that accommodates 14 to the Grand Hall of the Great Lakes, which totals 7,500 square feet that can be divided into spaces ranging from 720 to 2,300 square feet. The Appley Theater offers 2,100 square feet of tiered seating for up to 88.
More unusual settings for meetings include the Kohler Co. pottery center, hangar and office building, Loose says.
There are five food and beverage venues on site and the banquet staff can serve up to 850 people at a time.
The American Club recently underwent a major upgrade to its parking garage and adjacent spaces in anticipation of its centennial, and beyond. It will take its place in the international spotlight when it serves as host for the Ryder Cup golf competition at nearby Whistling Straits (also a Kohler Co. property) in 2020.
The resort keeps an eye toward the past, too.
"We offer tours to guests that tell the story of how we came to be," Loose says. "For our centennial we have converted space in our library into a display that speaks to our history. Plus the entire lower level of the Design Center tells the story of how the company started and grew into what it is now."
If you love history and are planning a visit, Loose says, "be sure to visit Waelderhaus, a replica of the type of home the Kohlers came from in Austria. It's within walking distance."
The Pfister Hotel, Milwaukee
The Pfister is considered by most to be Milwaukee's premier hotel. Celebrating its 125th year, this grand establishment features bronze lions imported from Rome, a four-story frescoed ceiling, massive marble columns and a grand staircase – and that's just in the lobby! It also boasts what is considered to be one of the world's largest Victorian art collections located in a hotel.
Almost all of the U.S. presidents from the past century until today – from McKinley (who referred to The Pfister as the "western White House") to Trump – have stayed there. Most professional sports teams have stayed at The Pfister, and so have many famous bands and musicians who play in Milwaukee while on tour. In fact, Elvis has both entered and left this building. The hotel keeps the presence of luminaries a secret and is careful to protect their privacy.
Of The Pfister's 307 guest rooms, 122 are in the original historic building and another 185 are in the tower that was added in 1962.
Most of the meeting rooms are concentrated on the seventh floor and can be configured in multiple ways, from 400 square feet to 9,000 square feet in the Imperial Ballroom for weddings, galas and annual meetings.
"Milwaukee has become a respected destination in the Midwest and we hold events representing local, statewide, national and even international entities," says Sarah Banach, account manager for Marcus Hotels and Resorts, which owns The Pfister. "We can accommodate groups ranging from as few as 10 to up to 700 people."
If you love history and are planning a visit, Banach recommends guests "talk to our chief concierge, Peter Mortensen… He has been with The Pfister since 1986 and has a wealth of stories to tell about the hotel and its past."
Legendary Hotels bought Hotel Retlaw out of receivership two years ago and is spending $25 million to return this downtown Fond du Lac charmer to its past glory – and then some.
Built in 1923, the hotel was "quite magnificent," says Steve Frantz, a principal partner in the new owner group. It was built by Walter Schroeder of the Schroeder chain.
"He was a self-made millionaire and the Hotel Retlaw was his baby," Frantz says. "Its name is 'Walter' spelled backwards."
But the only hotel in downtown Fond du Lac had fallen on hard times and was closed in December of 2015.
Legendary Hotels is benefiting from the support of the Fond du Lac community as well as state and federal sources that have provided funding and historic oversight for the renovation.
"We are very cognizant of the hotel's history," says Frantz. "Eleanor Roosevelt, JFK, Jack Dempsey and others stayed here. We are preserving all that we can, including the wood flooring and tile work. The chandelier from the Crystal Ballroom is being restored right now."
When it opens in December, the hotel will have 127 rooms, most of which will be single kings, with some double queen rooms. The original footprint remains, except on the eighth floor, which will have signature suites.
Frantz says he anticipates the meeting facilities will draw from around Wisconsin and the Midwest.
"We are an hour from Milwaukee, Madison and Green Bay and will be the only Four Star, full-service luxury hotel in the area," he says.
The nearly 10,000 square feet of meeting space will include the Crystal Ballroom plus breakout areas, all on the second floor.
"We will offer state-of-the-art technology amid an old world atmosphere," he says.
If you love history and are planning a visit, Frantz says, "be sure to check out the mailbox in the lobby. It's original, it's polished brass and it's a perfect reflection of the era when the Hotel Retlaw came to be."
The Charmant Hotel, La Crosse
One of Wisconsin's most unusual hotels, The Charmant is a former candy factory where premium chocolates were manufactured starting in 1898. With the original wood flooring, beams and brick walls intact, it is said that the sweet scent lingers.
Now a 67-room luxury boutique hotel, The Charmant overlooks Riverside Park and the Mississippi River. Its downtown location is just a short walk to dining, shops and the La Crosse Center, where conventions and expos are held.
"We've been recognized as one of the top 25 hotels in the nation by Trip Advisor's Travelers' Choice awards and that's an accolade that means a lot to us," says Stacy Erickson, director of sales for The Charmant. "Experienced travelers who have stayed with us tell us you could take our hotel and drop it in the middle of Chicago or Minneapolis and it would fit right in."
While moving forward, the building's transformation didn't forget about its past. The color scheme replicates the colors of the original candy boxes and the hue on the original wood flooring is said to be a mix of spilled molasses and other chocolate ingredients.
There are eight room styles, including standard kings, two queen beds and some suites. Many rooms have river views and some have walk-out balconies.
Just 150 miles or so from Madison and Minneapolis, the hotel also is a half-day's drive or so from Milwaukee, Green Bay and the Fox Cities.  "We are a central hub and can draw from many larger metro areas," says Erickson, "so when it comes to corporate meetings and events, our location works to our advantage."
Meeting spaces include the Royal Crown boardroom that seats 14 and the Serenada, which holds up to 50 for receptions and theater-style events. The restaurant, which serves French-inspired cuisine, can accommodate 75 for a sit-down meal and a private dining room seats 12.  A rooftop terrace also is available.
If you love history and are planning to visit The Charmant, Erickson says, "be sure to check out the original elevator bell between the lobby and the parlor. It is another special remnant from the original factory."
This small hotel incorporates Lake Geneva's first mansion, its carriage house and stables.
It was built in 1856 for Dr. Phillip Maxwell, an Army doctor from Chicago, whose name also was lent to Maxwell Street in that city. He performed surgery in the basement of the mansion, which originally was on the shore of Lake Geneva but now is a block or so away from the water.
It has six guest rooms in the main house and another 20 rooms in the stable and carriage house, with heated floors and steam showers.
Architecture buffs will appreciate the original hardwood floors, high ceilings, elegant windows and sweeping staircases.
Meetings can be held in the Crystal Ballroom on the main floor, which accommodates 40 or 50 participants, says Lisa Steagall, a member of Maxwell Mansion's hospitality staff. Maxwell Mansion's sister hotel, Baker House, is another historic gem that offers lodging and meeting space. Just a short walk away, it is right on the water.
Bygone glimpse: If you love history and are planning to visit Maxwell Mansion, Steagall says, "be sure to check out the mantel in the main lobby, which was owned by John Walker, who developed Johnnie Walker scotch. It was once in his home in Scotland. It has been placed over the original marble mantel, which is still visible."