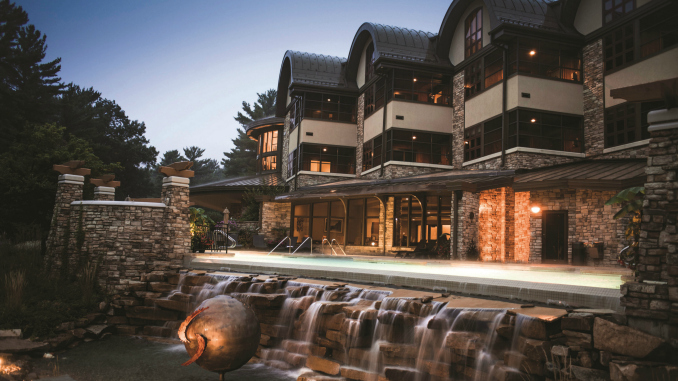 Executive Retreats
04/06/2018
By Nancy A. Herrick |Photo © Sundara Inn and Spa
An executive retreat is a gathering of a company's top decision makers working together to move forward toward a common goal: success.
The best retreats are effective for all the right reasons, allowing participants to refocus, recharge, relax and recommit. The worst? Well, no one wants to waste an executive's time.
Those who plan retreats know that the setting plays an essential role in their success. Here in Wisconsin, there are distinctive venues in every part of the state that can help get the job done.
Northern Wisconsin
Nearly a century ago, the CEO of Standard Oil thought his executives would be happier and more productive if they could get away from it all. So they escaped to the Red Crown Lodge on the shores of Trout Lake in Wisconsin's North Woods to play and learn. Thus, according to the lodge's lore, the corporate retreat was born.
Now other companies can enjoy what Standard Oil execs experienced all those decades ago. Red Crown Lodge still allows just one retreat at a time on its property, and those guests get the sole attention of the very attentive staff, says Sheryl Tharman, resident manager.
Facilities:
The property has 50 spacious rooms with private baths and four lodges, each with fieldstone fireplaces and panoramic views of Trout Lake and the nearby islands. The rooms do not have TVs, adding to the rustic and relaxing ambience, but Wi-Fi is available through the property.
Meeting spaces range from a board room for groups of up to 25 to a lecture hall that seats 85. Break-out areas are scattered around the property.
Meals are made from scratch and served in the Tamarack log lodge that dates to the early 1900s. North Woods cuisine features pan-friend walleye, encrusted beef tenderloin and ripple berry pie, served family style.
Activities:
Recreational and team-building activities include kayaking, paddleboarding, sand volleyball, a putting green, guided canoe trips, guided fishing excursions, pontoon cruises and a links-style golf course adjacent to the resort.
What sets it apart: 
"We pride ourselves on hospitality centered on one group at a time. Every retreat is unique. It starts when you are greeted by Maddie, our friendly black Lab, and continues as you make the most of your time together in our stunning setting," says Tharman.
Eastern Wisconsin
At the tip of Wisconsin's Door Peninsula is Washington Island, accessible only via ferry or private boat. It's Wisconsin's eastern-most location, surrounded by the sometimes calming, sometimes churning waters of Lake Michigan.
"We say we are located above the tension line," says Tracy Johnson, chief operating officer and co-owner of InitiativeOne, a leadership institute based in Green Bay, Wisconsin, that offers executive retreats for up to 16 participants at its Washington Island lodge.
"The travel to the island itself helps reset the mind and the mood," she says. "Those who participate leave the office behind and are ready to embark on real progress."
InitiativeOne conducts the training and facilitates the meetings.
Facilities:
The 5,600-square-foot lodge accommodates 16 comfortably. It has five bedrooms and four bathrooms, one of which is a bunk room that sleeps 10 people in 10 beds.
Multiple meeting spaces are geared toward large groups or smaller break-out spaces, including a retreat room, a great room with a double-sided fireplace, outdoor decks, a screened porch with rockers and numerous nooks and seating areas for one-on-one conversation.
Meals are prepared on-site, usually by chefs, although guests can do the cooking themselves as a team-building exercise.
Activities: 
Sit, swim or sunbathe off the pier or go paddleboarding or kayaking. The scenic road that leads to the lodge is perfect for running or biking. The property also has walking paths, sitting areas and perennial gardens.
What sets it apart: 
"Because of our tranquil island setting and the expertise of our team members, the experience at our lodge is customized and special," Johnson says. "We have 20-plus years of experience working with leaders and executives and can address major challenges that might be holding a team or organization back."
Central Wisconsin
Within an easy drive from Milwaukee, Madison, the Fox Cities, Green Bay, Beloit or Kenosha, the Osthoff is a AAA Four Diamond resort with 38,000 square feet of state-of-the-art meeting space. It can accommodate groups from as small as 10 to as many as 1,500.
It also boasts 500 feet of frontage on Elkhart Lake and a charming downtown within walking distance, adding to the appeal.
"It's close to major population areas, but just far enough away that your people won't want to go home overnight but rather stay to relax and recharge," says Tracie Toth, associate director of group sales for the Osthoff.
Facilities:
The majority of lodging choices are one-, two- and three-bedroom condostyle suites with king beds, jetted tubs and walk-in showers. Some have fireplaces and private balconies. There also are more than 40 king rooms.
A total of 20 meeting facilities can serve almost any size group, but Toth recommends the Crystal Lake Room for executive retreats since it is away from the hubbub and features patios and plenty of natural light.
Resort restaurants fulfill a range of tastes, from Lola's on the Lake with its seasonally fresh produce grown on-site, panoramic views and impressive wine list, to Otto's American cuisine in a casual setting, to the intimate Elk Room, with an inviting fireplace and lounge seating. The Lake Deck with its three-tier bar is open from Labor Day to Memorial Day.
Activities:
Almost every lake sport imaginable is offered, including hydro-bikes, paddleboards and pedal pontoons. The Osthoff has its own cooking school, which is popular for team building. So, too, are activities at the nearby Road America race track, such as professional carting and geocaching. Osthoff guests can golf nearby, cruise on Elkhart Lake or enjoy a bonfire on the beach.
The Osthoff property also includes the award-winning Aspira Spa, with 20,000 square feet, 22 treatment rooms, a private yoga room, a meditation sanctuary, spa café and library.
What sets it apart:
"It's a combination of so many things. The location is picturesque and the lake provides so many recreational possibilities," says Toth. "We have four diamond accommodations, versatile meeting spaces and a world-class spa.
"The Osthoff is just an easy choice. You can arrive, park your car and forget about it. Anything you could possibly need is right here."
Western Wisconsin
"Sundara" is Sanskrit for "beauty," and this nationally ranked destination spa is a tranquil, adults-only escape that emphasizes beauty—inside and out. Common areas are electronics-free, and some spaces in this oasis of calm are designated as "quiet conversation" or even "silent" areas.
It's a 180-degree turn from the raucous water-park part of the Dells, instead providing a sanctuary from stress in its 26acre pine forest.
Sundara is undergoing a $13 million expansion that will add more than 32,000 square feet to the footprint, including more meeting and retreat facilities, according to Alyssa Mullin, guest services manager. The expansion is expected to be completed this summer.
"An executive retreat is a time away from the hustle of the everyday office and corporate world," she says. "Here it also can focus on the executives' well-being and offer a more relaxed environment for free-flowing ideas and agendas."
Facilities:
Lodging includes 26 suites and two villas, with king feather beds, gas fireplaces and spa baths.
Currently meetings can be held in a board room or the Sundara Villa. The expansion adds several new meeting areas, including a 1,750-square-foot space for up to 40 participants, as well as smaller locations such as a wine boardroom and Woodland Reflection room.
The Nava (Sanskrit for "fresh") restaurant is expected to open in May and will offer seasonal menu choices with locally sourced ingredients whenever possible.
Activities:
When the expansion is complete, Sundara will offer yoga, meditation, hiking, an infinity-edge pool, saline pool, purifying bath ritual, fitness studio, hammock retreat and meditation trail. River cruises on the nearby Wisconsin River and team cooking in the demonstration kitchen on site also will be offered.
What sets it apart:
"Sundara focuses on overall wellness, encouraging relaxation and reconnection, which is a welcomed and needed experience for overworked and overstressed executives today," says Mullin.
Southern Wisconsin
Midway between Milwaukee and Chicago and just north of the state line is Lake Geneva, a resort community that exists because of Geneva Lake. The area is dotted with mansions built by industrialists, perhaps best viewed along the 20-mile-plus walking path that circles the 7.5-mile-long lake. At the north end of the path is the Geneva Inn, with its stunning views of the water.
Facilities:
The boutique-style inn has a total 37 rooms, including 17 suites and king rooms with lake views.
Meeting spaces with built-in audio visual hookups include the Port Room, which accommodates as many as 60 participants, and the Starboard Room, which holds as many as 50. The light-filled Clary Room, which overlooks the lake, is a more intimate space for a maximum of 20 people. In warm weather, the lakeside patio is suitable for cocktails and appetizers.
The award-winning restaurant offers a full menu, classic decor and memorable views of the lake. From May until October guests also may dine on the patio.
Activities:
The Geneva Inn's private piers serve as the launch point for kayaking and boating. The staff can arrange for midday, dinner or sunset cruises on the lake, starting from the piers. The entrance to Bigfoot State Park, with swimming, kayaking, canoeing and hiking, is just a few steps from the inn. In addition, arrangements can be made for ziplining, cooking classes and golf. Downtown shopping also is a popular draw, as are nearby spas.
What sets it apart: 
"I like to talk with people planning the event and get background information about the group so that I can convey their needs to our staff and plan for their arrival," says Daneen Soliday, director of sales for the Geneva Inn. "We are attentive and have high expectations so that we can make the experience stand apart. We recognize that the executives are here to get work done, of course, but also to relax and have a good time. We help make that happen."