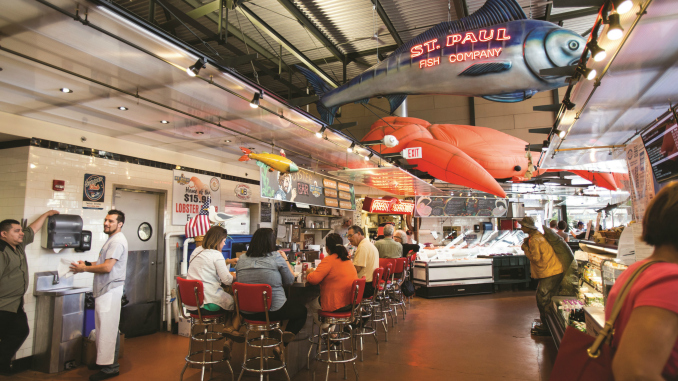 Memorable Outings
07/12/2018
By Mary Bergin  | Photos by Travel Wisconsin
A feeling of connection: That's what helps make an excursion unforgettable. We temporarily immerse ourselves in an activity or tour that sometimes involves all of our senses and may feel like we've temporarily escaped to another world. Plan a memorable outing to break up a lengthy meeting itinerary, build upon a business theme, inspire teamwork or reward a job well done. The perfect choice will simultaneously amuse, invigorate and inform.
ALL IN GOOD TASTE
Burgers and custard? Brats and beer? Churches and chocolates? Ethnic indulgences? Bakery? Good food and drink are easy crowd pleasers, and guides at Milwaukee Food and City Tours blend tidbits about history and heritage with local culture and luscious calories.
Walk a neighborhood or use 30-passenger buses to tour a wider geographic area. The company, established in 2007, accommodates groups of up to 200.
Another option is a food excursion in Madison. How many can participate depends upon the location and whether you walk or use other transportation. Walk and eat via Capitol City Food Tours, which arranges appetizing, three-hour strolls around the Capitol Square. Madison Food Explorers navigates from one lakefront to another, nibbling and sipping along the way, or develops tailor-made tours. A local food writer leads Madison Eats Food Tours on foot, bicycle or bus: The theme can duplicate a neighborhood tour offered to the public or be a customized spinoff.
The Madame Kuony Demonstration Kitchen at Milwaukee Public Market, named after a trail-blazing chef-teacher from France who made Wisconsin her home, is outfitted for hands-on and demo classes of up to 40 students. Featured chefs often are market vendors or from the city's finest restaurants. Kitchen-based events for team building can be arranged too, or reserve the market's second floor for a private reception or dinner for 160-180 guests. On ground level are dozens of market vendors who sell spices, candy, meats and more.
Madison intends to add an indoor-outdoor and year-round public market by 2020. Entrepreneurs will be a mix of permanent and rotating merchants who make salsa to soul food, cured meats and artisan-batch cheeses to unique crafts and sundries. All will find a home at the corner of First Street and East Washington Avenue, whose plaza will make room for live music and pop-up fairs. Inside, plans call for cooking classes and room rentals for events.
OUTDOOR ADVENTURE
Exercise both brain and body during a two-hour sail on the S/V Denis Sullivan, which resembles a 19th century schooner and is docked at Discovery World, on Milwaukee's lakefront. Sails take place rain or shine, but not in stormy weather.
The tall ship with three masts accommodates up to 50 passengers. Simply present it as a fascinating ride along Milwaukee's harbor, or use the time to help set sails, steer the ship or quiz the crew about nautical history.
In Door County, shipwreck exploration via kayak is possible through Lakeshore Adventures, Baileys Harbor. At least one dozen Lake Michigan shipwrecks from the 1800s are less than 15 feet under water. So two hours of kayaking turns into an eye-opening look at maritime history.
Not a paddler? Apostle Islands Cruises in Bayfield uses a glass-bottom boat to provide a 2.5-hour tour of shipwrecks, sea caves and lighthouses on Lake Superior. The vessel is available for private charter for 130 guests.
At Devil's Lake State Park, the state's largest and most visited, guided kayak tours of two hours explore geology and wildlife. Or stay on land for guided hikes to the dramatic, precarious quartzite outcroppings and 500-foot-tall bluffs of the beautiful Baraboo Range.
Uber adventurous? At least six outfitters in the Baraboo-Wisconsin Dells area arrange and lead rock climbing excursions in the state park, whose rangers neither prohibit or promote the activity. Translation: Proceed at your own risk.
ARTSY EXPRESSION
Plentiful in Wisconsin is the paint bar. Let each of your colleagues take a seat in front of an easel and follow a professional artist's step-by-step instructions to mix colors, execute brushstrokes and create a painting. These all-in-good-fun classes for groups typically last a couple of hours and might involve a cocktail or two. Everybody has an inner Rembrandt, and this is one way to release it while building camaraderie and simply unwinding.
Among the options: The Farmhouse Paint and Sip, Milwaukee (for up to 75 to make wooden signs or paintings); Splash Studio, Milwaukee (150 max for a painting class, with catering options); A Stroke of Genius, Waukesha (40 max at the studio, or staff will come to your location); Pinot's Palette, Appleton (max of 48—create individual paintings or have each person contribute to one large one); and The Paint Shack in Eau Claire, Black River Falls, Tomah (paint on canvas, a board, wine glasses, bags; class locations include a brewery, restaurant, art studio or location of your choice).
Hand's On Art Studio, near Fish Creek, is a converted farm with the equipment and materials to produce paintings, mosaics, pottery, fused glass, jewelry, metal sculptures and more. The roomy, funky farmstead is big enough for corporate workshops—or simply show up for a Friday night adults-only gathering for laid-back, freestyle art making. Some types of art projects aren't ready to take home until the day after class.
ICONIC ARCHITECTURE
How fortunate that Wisconsin can count Frank Lloyd Wright as a native son. Harmony between nature and these man-made structures represents organic architecture at its fi nest. Open for tours in the Madison and Racine areas are some of the wily architect's most celebrated accomplishments.
Private group tours of Taliesin, Wright's rural estate and architectural school near Spring Green, last one to two hours. Add lunch at Riverview Terrace Café, staffed by culinary apprentices whose priority is serious farm-to-table dining. Or book a private event—reception, meal, conference, lecture, retreat—on part of the 800-acre Taliesin estate, where up to 180 can be accommodated.
Less than one hour east, in Madison, are two other Wright beauties that are open for tours. Guided explorations of Monona Terrace, a convention center built almost 60 years after Wright designed it, can concentrate on the building, the architect or sustainable building design. Scavenger hunts with riddles and trivia can be arranged too. You also can add post-tour receptions with wine/cheese, champagne/cupcakes or other treats.
Four miles from Monona Terrace is the First Unitarian Society Meeting House, home to a longstanding faith community whose members included Wright. Trained volunteers lead tours of the award-winning campus, which includes the original National Historic Landmark and a 500-seat addition that opened in 2008. See how the sustainable design of this newer atrium syncs smoothly with the 1950s landmark.
In Racine are the 1939 SC Johnson Administration Building and 1950 Research Tower. Both Wright designs are at the heart of the company's global headquarters. Count the administration center among the 25 most significant architectural works of the 20th century.
90-minute tours of the campus also include a gallery devoted to an "At Home with Frank Lloyd Wright" exhibit and Fortaleza Hall, which opened in 2010 and delves into Johnson family and company history.
Add onto the outing with a documentary film, shown in the unusual Golden Rondelle Theater (built for a 1960s World's Fair and resembling a spaceship). Arrange an hour at Wingspread, too: Wright's largest Prairie-style house, built for the Johnson family, is merely five miles from the corporate campus.
WHEELS, WINGS
Meander among 100-some aircraft on display at the Experimental Aircraft Association Aviation Museum in Oshkosh, home to the world's largest annual gathering of experimental aircraft enthusiasts. Exploration begins with a showing of the film "Oshkosh: The Spirit of Aviation." Add a guided museum tour.
Exhibits cover the Wright Brothers to outer space exploration. Flight simulators give non-pilots a you-are-there hint of what it's like to do a 360-degree aerobatic loop. Inside Pioneer Airport, a short tram ride from the museum, are aircraft from the earliest years of man-made flight. Flights in restored biplanes are possible, as weather warrants.
Invest a couple of hours, or much more. The EAA's unorthodox campus, on 1,600 acres, provides myriad settings to add a cocktail hour, meal or overnight retreat. Example: In Air Academy Lodge are 16 guest rooms (12 are bunk rooms with shared restrooms), classrooms, rec and dining areas.
If a whirl among wheels seems more suitable, consider The Automobile Gallery in a revamped Green Bay car dealership. About 50 beautifully restored vehicles, most from one private collection, are arranged like art masterpieces.
The nonprofit gallery mixes the flamboyant, historic and ordinary. That includes a 1917 Milburn Electric car, 1959 Cadillac Coupe de Ville and 1957 Buick Caballero. Between two galleries is a catering kitchen and private space large enough for a 160-guest meal.
Upstairs, a 20-seat executive conference room with multimedia access has a wall of glass that looks onto the colorful showroom. Across the street is Captain's Walk Winery, which can accommodate up to 75 for private tastings in an Italianate Victorian house.