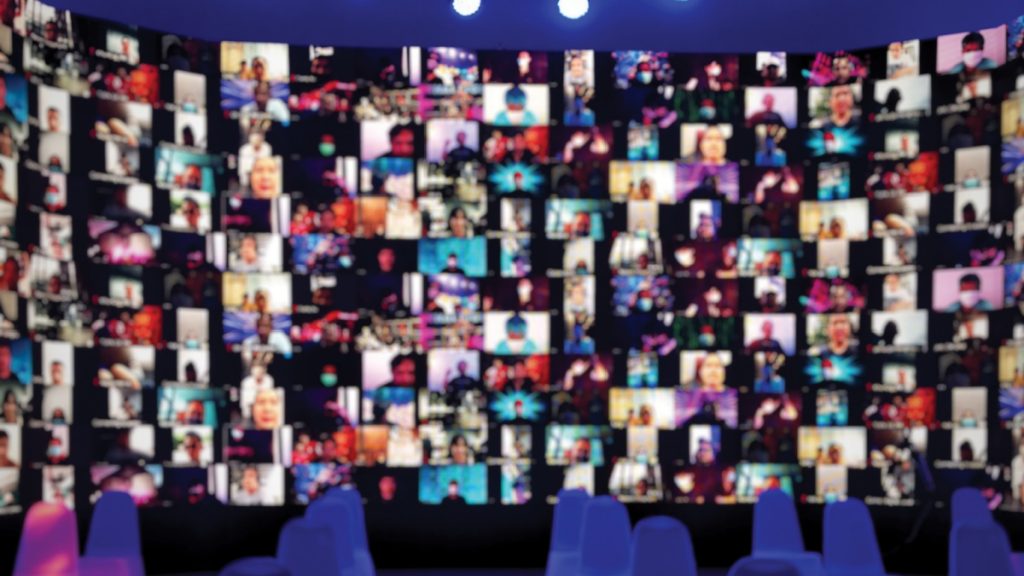 How to Identify the Ideal Digital Platform
10/11/2022
By Maura Keller
Technology continues to drive advancement in the meetings and events industry. At the height of the COVID-19 pandemic, when virtual was the only way to gather for meetings and events, planners' attention turned to understanding the multitude of digital meeting platform options that emerged overnight.
As Rachel Andrews, senior director of global meetings and events at Cvent, points out, the pandemic completely disrupted how meeting planners and event professionals operate: "We've come a long way in leveraging technology to plan and manage the event experience, but pre-pandemic, there was still not a lot of priority given to digitizing or analyzing the actual in-person experience."
That all changed when things went online.
As Andrews explains, it was this forced digitization that caused a transformational shift in how meeting planners and event designers view their events. "They could easily monitor elements of event engagement like seeing session attendance, or attendees' touchpoints or clicks within the virtual event site; leverage what sessions were most watched on demand; or dig into chat comments," Andrews says.
"These insights are extremely valuable to have more personalized follow-up conversations and they help event producers deliver better events. So today, planners want those same insights at their in-person or hybrid events — and they're leveraging technology more than ever to do it."
Also, it's important to note that virtual events no longer limit attendance to those who are geographically close, or have the budget and capacity to travel and attend in-person events. "While virtual was the only option for events during the pandemic, Bizzabo's research found that 42% of virtual attendees would attend an event online again because it's their best option," says Lauren Grady, director of the Global Event Center of Excellence at Bizzabo. "Event organizers can now use tools incorporating a virtual component into their in-person events, allowing access to those across the nation or even the world to attend and gain valuable insights," she continues.
FINDING THE IDEAL PLATFORM
"Today's attendees expect compelling speakers who deliver shareable content that is easy to digest — and they expect to be able to view that content live or on demand," says Andrews. And the main thing meeting planners and event professionals should remember when it comes to any virtual experience is "think TV show, not PowerPoint," according to her.
After being submerged for so long in a digital environment, virtual fatigue is real, and it takes much more than a passive experience to attract and engage an audience. Even simple webinars are being reimagined as miniature virtual events that offer more interactive elements to keep attendees interested.
Virtual attendees also expect a dynamic experience that minimizes blank screen time and session lulls. It's best to work in interactive content like thought-provoking polls or topical message boards, quizzes with fun prizes, or opportunities for more meaningful conversations using breakout rooms or virtual exhibitor booths. "Ultimately, it comes down to offering more ways to engage and interact, which helps create a more immersive experience, which is ultimately what drives attendees to come back for more," Andrews explains.
Different event types also have different needs. Robin Bunevich, product marketing manager for Zoom Events, says meeting planners and event organizers should choose digital platforms based not on event size, but rather on the level of interactivity desired.
She offers an example: One-time events that require a one-to-many approach would benefit from a webinar-style event platform, offering an easy solution to host the event with the ability to customize the level of interactivity. "This kind of solution is great for getting information out quickly to a large number of people. However, a multi-day conference would benefit from a more robust digital events platform that can handle simultaneous sessions and it should offer some kind of virtual networking experience so attendees can forge connections."
ON-DEMAND VS. LIVE PRESENTATIONS
For most attendees, the standard expectation is that virtual events offer both live and on-demand options, but not every platform manages to do this well.
"Live presentations allow for real-time engagement, make the experience seem more human, and give viewers a sense of urgency and anticipation that drives attention and curiosity — but the reality is not everyone can be everywhere at once," Andrews says. Attendees may want to catch the event in parts or rewatch whole sessions that they find particularly useful on demand.
Choosing a platform that allows attendees to do this is paramount for planners and organizations looking to extend the life of their meeting or event program, and make a lasting impact with their audience. With an on-demand option, the content lives on long after the event itself ends and this extended engagement is key to maximizing return on investment in the long run.
MOBILE-FRIENDLY OPTIONS
Cathy Song Novelli, chief marketing officer at Hubilo, mentions that the meeting or event audience is everywhere these days, equally likely to be in their home office as much as at their kids' soccer practice. As such, she says it's vital to have a simple cross-platform user interface that has engagement features that are as easy to use on mobile as they are on desktop.
"The return to in-person and growing needs to meet the expectations of a hybrid audience will also drive the necessity for a mobile strategy, so make sure you're thinking through your event tech stack when you begin your 2023 planning," she warns.
Mobile-friendly online registration and event websites are also essential to enhance the overall attendee user experience. As Grady explains, the goal is to make it as easy as possible to register, attend and participate in events using a mobile device. "It's also essential to create mobile-friendly event websites because internet search engines (such as Google) favor mobile-friendly websites since more search inquiries come from mobile devices," she says.
ENGAGEMENT FEATURES
Using engagement tools, such as chat and Q&A, throughout events provides attendees with opportunities to express their thoughts, questions and feedback, which connects them even more to the event. "That feeling of connection leads attendees to stay longer in sessions, a key indicator of an event's success," Grady says. "Virtual attendees also appreciate events that provide a variety of sessions, such as hands-on workshops, wellness activities and unique entertainment."
Additionally, meeting and event organizers should provide their audience with digital networking opportunities to connect one on one or in group settings. Grady suggests using an event app for live polling to bring your audience in on the action or a sophisticated session tagging system to help create a more personalized attendee experience. "All of these features drive engagement and foster connection amongst attendees to build community beyond the event itself," she reinforces.
GAMIFICATION
Gamifying isn't a new concept, but it can be improved. Some gamification approaches lead to a small group of attendees vying for one top prize while others disengage, for instance. A points-to-rewards strategy could encourage more participation by offering a larger number of smaller, instantly accessible prizes.
For Bizzabo's own Event Experience Summit in May 2022, the company gave attendees the option to participate in the official Summit Activity Series. Points were associated with a list of online activities, such as attending sessions, participating in roundtables, scheduling demonstrations and more for a chance to win one of three special prizes. Participants tracked their progress during the event via an online leaderboard on the event website. The Summit Activity Series was a resounding success.
"Gamification at events appeals to the audience's competitive tendencies and incentivizes engagement," Song Novelli says. "Organizers can use gamification quite effectively to direct people to specific sections of the event by offering greater points for their participation completed in specified activities. There are different levels of gamification, too. You may want to have a system that encourages certain activities incentivized with points or offers contests with prizes."
COST CONSIDERATIONS
While digital platforms can reduce certain hard costs like hotel rooms, travel, or food and beverage, you have to balance those savings with the costs associated with delivering an engaging virtual or hybrid event, such as more robust audiovisual technology, studio space and other production needs, depending on the complexity of your meeting or event.
That's why Andrews says it's so important to find a technology provider that offers broadcast-quality recording and simple, user-friendly editing tools right in the platform, thus avoiding the issue of finding extra money in your budget for professional recording equipment.
"There haven't been many variations in pricing, but offerings have certainly become a lot more robust," Song Novelli adds. "Platforms have evolved based on client and market feedback. I believe changes in the next two years in particular will drive the direction we can expect for years to come."
FOCUSING ON METRICS
One benefit of virtual and hybrid events is the ability to access data and analytics you might not necessarily be able to capture in person.
Because of this, Robin Bunevich, product marketing manager for Zoom Events, says meeting planners should look for a platform that offers transparent analytics around registrations, booth sponsors, livestream views and view duration, content downloads and tickets sold. Also seek out a solution that allows you to easily access and share insights from these metrics. "For example, we developed the Zoom Events dashboard, where hosts can generate reports, utilize enhanced sorting functionality, and view, export or download metrics," Bunevich says.
Lauren Grady, director of the Global Event Center of Excellence at Bizzabo, points out that, while in-person events can provide powerful data, virtual events allow access to even more granular data, such as how many people registered for specific sessions, view duration, mobile app usage, sentiment surrounding sessions and gross revenue. "This data helps event organizers adjust before, during, and after an event, rather than being limited to implementing the feedback for the next event," she says.
Although event metrics should vary depending on event goals, Grady says some key performance indicators to track for virtual and hybrid events include:
The audience conversion rate or the number of people who attended the event vs. registered for the event, including on-demand views.
Audience engagement or how attendees interacted during the event with chats, polls, Q&As, one-on-one meetings and emoji reactions.
Attendee behavior or what sessions they attended, how long they viewed sessions, what materials they downloaded and the time spent in virtual sponsor booths.
Social sharing or the number of event mentions before, during and after the event.