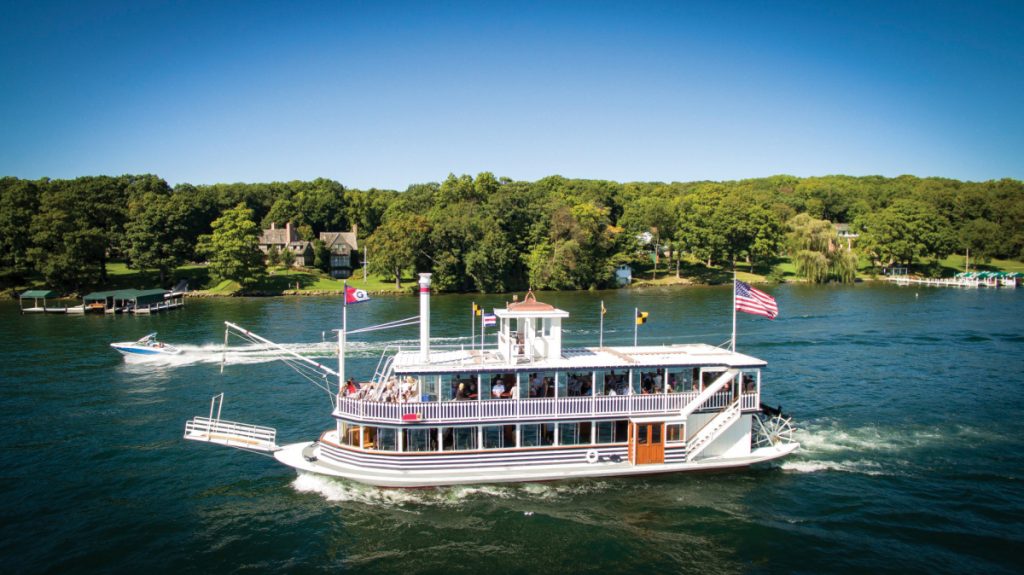 4 Lakefront Venues for Your Next Meeting
07/12/2022
By Shelby Deering | ©Lake Geneva Cruise Line
Blue waters, punctuated by clouds and sailboats on the horizon. The sound of crashing waves, followed by the gentle receding of water. Seagulls cry in the distance. And your smartphone is put away and far from your mind. Although this may sound like a dream vacation, you may be surprised to learn that this idyllic landscape could be the setting for your next corporate retreat, group outing, meeting or event.
A waterside venue makes for a unique and fun atmosphere for a gathering. And with more than 15,000 lakes and a bevy of rivers, these locations abound throughout the state. Whether you choose a lakeside resort, a cruise boat, a water park or a fishing charter, meeting on the water provides plentiful lakefront views.
Clare Mulcahy, charter sales and event manager of Lake Geneva Cruise Line in Lake Geneva, says that being near or on the water "creates a relaxed atmosphere that naturally produces f resh ideas and collaboration."
Jaffe Wojcik, senior event planner and owner of Lake Geneva's Graceful Events, has witnessed firsthand the laidback vibe that holding an event at a waterside locale can generate. For a "uniquely fun and productive guest experience," Wojcik elects to host events through a local cruise line. Describing a recent networking event, she says, "With the excitement of the boat cruise, along with the natural ambiance, we were able to create an atmosphere that lent itself to fun and organic networking."
She adds that, when the invitations went out, the demand to attend was "incredible and unprecedented. The guests truly enjoyed themselves."
The Osthoff Resort, Elkhart Lake
One famed, and historic, waterside venue is The Osthoff Resort, and it won the Best of Wisconsin Meetings designation for the Best Lakeshore Resort in Wisconsin last year. In addition to its 240 rooms and Aspira Spa, the resort contains 38,000 square feet of meeting space with rooms ranging in size from the 10,000-square-foot Grand Libelle Ballroom to a 450-square- foot boardroom.
"Most of our rooms are flexible or divisible, which allows us to customize our space to your needs," says Tracie Toth, CMP, director of sales. She adds that the resort has a professional, on-site audiovisual team "that leaves nothing to chance." The banquet food is made right on-site, too.
This horseshoe-shaped resort offers lakeside views all around and they can even be enjoyed from the meeting rooms. "Not to mention, groups love to use our lawns and lakefront for their events, and take in the natural beauty of Elkhart Lake," Toth adds.
The Osthoff features many activities that your group can take advantage of as well. There's the beach that's ideal for lounging, and serves as a take-off spot for kayaking and stand-up paddleboarding. You can book a pontoon ride for your guests, followed by an outdoor dinner and bonfire, complete with s'mores. Or you could plan a culinary class for your group at the on-site cooking school. Or you could treat them to golf, yoga classes or lawn game tournaments.
Lake Geneva Cruise Line, Lake Geneva
For your event, maybe you want to get even closer to the water. That's when a boat charter makes sense and Lake Geneva Cruise Line, serial winner of the Best of Wisconsin Meetings Best Group Outing, fits this bill.
"With Lake Geneva Cruise Line, you are actually on the water, cruising past breathtaking estates and over 20 miles of beautiful shoreline," according to Mulcahy. "Our seasoned captains will provide your guests with a highlighted tour of the historic estates and the families that built them," accomplished with the line's fleet of eight classic boats, decorated with mahogany, soft pine decks and brass-top bars. While the oldest boat was built in 1898, it still features a full sound system, just like the other seven boats. Several boats have monitors for video presentations, too. Plus, they sail whether it's rain or shine.
"Besides our boats, we have our lakeside restaurant, Pier 290," Mulcahy says. "With a variety of private and semiprivate spaces available for up to 300 guests, we offer the perfect land and lake combination. Many groups use our boats as transportation or a cocktail cruise to dinner or a meeting at Pier 290, then enjoy a leisurely dessert cruise at the end of the night."
Mulcahy explains that the cruise line has several preferred caterers to choose from, including its in-house catering company. All food, beverages and other details are coordinated with a designated event planner at the line. She shares words of wisdom for planning a boat event, suggesting, "Forego the formalities. Select a mingling-style menu that allows your guests to roam around the boat, talk with other attendees and not be seated at a dining table with the same five passengers. Make the most of your time on the lake."
Blue Harbor Resort, Sheboygan
Sheboygan is an intrinsically nautical area, with its bright- red lighthouse and surfers who frequent the waves on Lake Michigan. It's also the setting for Blue Harbor Resort, which boasts 16,800 square feet of event space. There are a variety of room styles and setups at the resort, complete with Lake Michigan views, built-in bars, a cozy fireplace and the "flexibility  of a 9,000-square-foot ballroom able to accommodate 500 guests and divide into seven individual sections," mentions Kate Dixon, director of sales and marketing. The resort also has a full kitchen for events.
The activity possibilities at Blue Harbor are seemingly bottomless. Dixon says that sailing, swimming, jet skiing, wind surfing, fishing charters, yoga, boating, surfing, paddleboarding and bonfires can all be made available to your guests, not to mention some impromptu sandcastle-building or sunset- watching. The resort can even help you plan off-site activities, from axe-throwing to wine tastings to Segway tours.
"It is our mission to not only make guests feel welcome, but also help them uncover the hidden gem that is Sheboygan," acknowledges Dixon.
First In Fishing Charters, Racine
For those groups who are willing to jump in with both feet and participate in a really unforgettable meeting experience, you could take your activity beyond viewing the water by adding an exhilarating boat ride and fishing, too. Captain Josh Keeran of Racine's First In Fishing Charters takes groups out on Lake Michigan and, although the boat isn't suited for large events (he's allowed to take six passengers per vessel), guests are sure to have "a great time," and often catch salmon and trout, according to Keeran.
First In Fishing charters are available in five-, six- or eight-hour trips. All fishing tackle, including rods and reels, are provided. The crew handles everything, "besides reeling in the fish," Keeran says, although he advises bringing along coolers with food and refreshments. At the end of the trip, the crew fillets, cleans and bags all the fish for participants to take home.
"One thing we see a lot of is team-building events or appreciation trips for employees," Keeran shares. "Typically, these trips consist of more than six people. In these situations, we provide multiple charter boats. Some groups even set up a competition between boats to see who can catch the most or the biggest fish. It's fun for everyone."
Other Waterside Venues
With so many lakes and rivers in Wisconsin, it's not surprising that you'll have plenty of waterside venues from which to select. You could head to Madison for an adventure on Lake Monona or Mendota with Betty Lou Cruises. Lake Lawn Resort in Delavan has over 32,000 square feet of flexible meeting space, along with Calladora Spa, golf and private boat charters. Heading up North? Trego's Heartwood Resort on Hoinville Lake offers over 10,000 square feet of meeting space and several on-the-water activities, like canoeing, fishing and tubing.