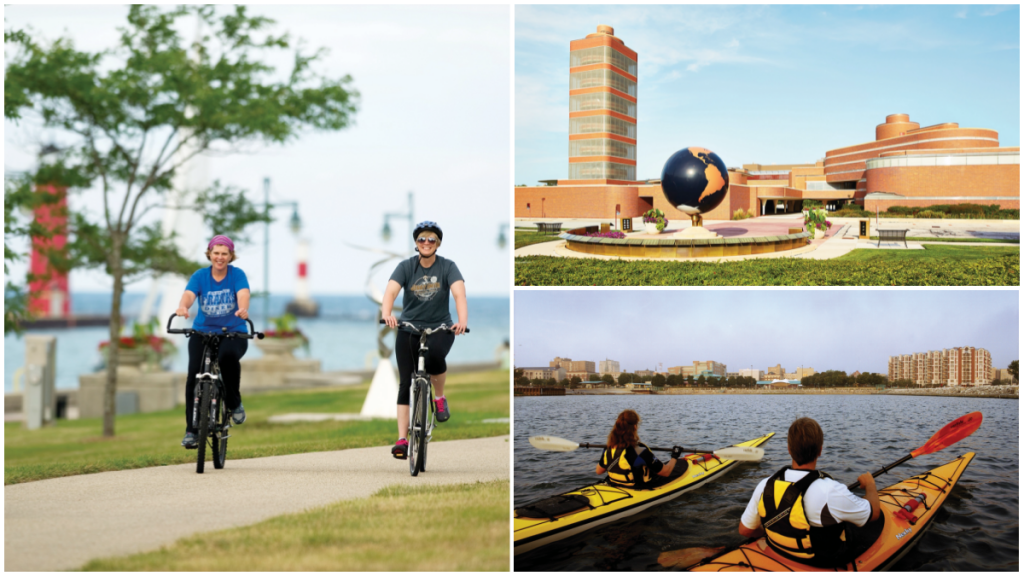 Destination Racine and Kenosha
05/28/2021
By Melanie Radzicki McManus | Photos: ©Visit Kenosha (left), ©Real Racine (right)
There are stately mansions and towering lighthouses. There are Frank Lloyd Wright-designed buildings, a beer garden and the spectacular Lake Michigan shore. And, of course, there's kringle. Lots of kringle. You don't need to know much more than this to start investigating the Racine and Kenosha area for your next meeting.
Racine and Kenosha counties are stacked atop one another in southeastern Wisconsin. The two areas are home to some 365,000 residents, plus the corporate headquarters of such famed companies as Jockey International, Snap-on Inc., S.C. Johnson and Case IH. Yet while both locales share the same major asset — Lake Michigan — they have two different vibes.
Racine, Home of Wisconsin's Official State Pastry, the Kringle
Racine County sits directly north of Kenosha County. It boasts some two dozen meeting venues and 1,700 hotel rooms, perfect for groups of up to 300, says Dave Blank, president and CEO of Real Racine, the county convention and visitors bureau. The city's flagship facilities are Delta Hotels Racine, just west of town, and the smaller DoubleTree by Hilton, which sits on the harbor overlooking Lake Michigan. The Delta has 222 rooms and 15,000 square feet of event space, while the DoubleTree has 121 guest rooms and 4,000 square feet of meeting space.
But that's not all. Ground will soon be broken for a lakeside hotel and convention center, a game-changer for Racine's meeting scene. The six-story hotel will have more than 170 rooms, plus a rooftop restaurant and bar. In addition, some 35,000 square feet of convention space will be attached to the site's existing Festival Hall, which contains a 15,700-square-foot hall, plus a conference room. The hotel and convention center are projected to open in 2022.
Groups looking for more intimate meeting space also have plenty of options. Blank says one of the coolest spots in town is The DeKoven Center, which is housed in the former Racine College, built in the 1850s. The 11- acre property features impressive American Gothic-styled buildings listed on the National Register of Historic Places, lush gardens, wooded areas and walking paths that unspool along the lakefront. The facility has lodging for 85 people, full-service dining, a library, and a spacious hall filled with antiques and artwork. There's even a labyrinth, fashioned after an 11th-century design from the Archbishop of Canterbury, in the center courtyard.
Another notable spot is the Wingspread Retreat and Executive Conference Center, a 15,000-square-foot facility designed by the famed architect Frank Lloyd Wright. Wingspread was originally built in 1939 as the family home of an S.C. Johnson scion. In addition to boasting Wright's famous organic, natural architecture, the 36-acre grounds feature natural paths, ponds, streams and more. A 40- room guesthouse, built in 2001, completes the offerings. "It's a beautiful space and everything is top-shelf," summarizes Blank.
When meeting attendees aren't taking notes or conferring, they often sign on for one of the free tours offered at the S.C. Johnson global headquarters, which include a Wright-designed administration building and research tower. Another popular option is a tour of Wind Point Lighthouse, one of the oldest and tallest active lighthouses among the Great Lakes.
Attendees should additionally be encouraged to visit North Beach, which stretches across 50 acres and is routinely rated one of the best beaches around. And while there is no organized tour of Racine's kringle bakeries, that can be arranged, according to Blank. "You can't visit Racine without visiting a kringle bakery and grabbing a couple," he insists.
Kenosha — Unique, Creative and Vibrant
Just to the south, Kenosha County perches atop the Illinois border. Once a gritty auto manufacturing town, today the city of approximately 100,000 has a bright, creative vibe, says Meridith Jumisko, a public relations director at Visit Kenosha. The new aesthetic is especially evident in some of its more contemporary meeting spaces, many of which were created from repurposed buildings. The Stella Hotel & Ballroom is a great example. The century-old building, originally home to the Kenosha Elks Club, is now an 80-room, full-service boutique hotel that can accommodate up to 250 for meetings. Steve Morgan, its director of sales and market- ing, says The Stella's biggest selling point is its uniqueness.
While modern in design, the hotel retains some of the building's original brickwork, wood and terrazzo flooring. Its ballroom boasts the original chandeliers, which are quite striking, while the lower level is home to a game room where guests can enjoy playing Monopoly, chess, checkers and more. "The Stella makes for great photographic memories," emphasizes Morgan.
The boutique hotel also prides itself on the quality of its food (its executive chef used to work for the Chicago White Sox) and its impeccable service. As an example, Morgan says, a guest was recently looking for grape soda, which the hotel doesn't carry, so an employee ran out to buy some for him. "The Stella isn't a hotel," Morgan says, "it's an experience."
One block away, Upper East sits above the city's PUBLIC Craft Brewing Company, where its lofty perch affords great views of downtown Kenosha. The venue, which can seat up to 350, sports tin ceilings, and the build- ing's original staircase and hardwood floors. The on-site caterer, Culinary Infusion, is also part of Circa on Seventh, another all-inclusive event space, which was created from an 1880s theater.
Nearby, in HarborPark, the Kenosha Public Museum and the city's Civil War Museum sit next to one another. The Civil War Museum features several meeting spaces that can hold up to 200 attendees. There's also room to gather in its spacious main lobby, plus an outdoor terrace overlooking the lake. Meanwhile, the Kenosha Public Museum offers meeting space for up to 180 via classrooms, a hall and its mezzanine. The museum is noted for its decorative and fine arts exhibits, which contain the work of famed artists such as Pablo Picasso, Marc Chagall and Salvador Dali.
Jumisko says those seeking the unique should consider the Brat Stop and Parkway Chateau for their event. The iconic Brat Stop, a fixture on the west side of I-94 since 1961, is a combination restaurant, sports bar, cheese market and concert venue that also has meeting space in the attached Parkway Chateau.
Just as in Racine, meeting attendees and their families love to head to the lake when it's time to unwind. You can rent kayaks, paddleboards and duck pedal boats right on the lakeshore, Jumisko says. The city also offers charter fishing expeditions, ziplining and self-guided walking tours of four historic districts. And debuting in 2021 — Lakeshore Pedal Tours will offer various city tours for six to 14 people via an intriguing, foot-powered vehicle. All of the guests provide the pedal power, while the company provides a driver and first mate, the latter of whom doubles as a bartender.
Kenosha is developing a strong foodie scene as well. "We've got lots of unique places, old ones and funky ones," says Jumisko. The Big Star Drive-In and The Spot Drive-In, for instance, are 1950s-era restaurants that still feature carhops. In contrast, the Hobnob is a traditional supper club on the Kenosha-Racine border. The Apis, opened in 2020, is both a hotel and a restaurant, which offers inventive plates, such as blistered shishito peppers with chimichurri crema and lobster roll sliders.
No matter which area you choose for your meeting or event, Racine or Kenosha, you'll end up in a city with a walkable downtown filled with restaurants, shops and attractions — and, of course, the incomparable Lake Michigan. And remember: Don't go back home without grabbing some kringle.