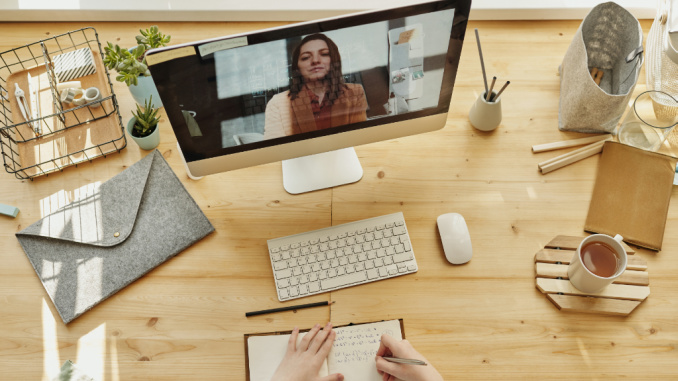 How to Simulate an In-Person Event
09/01/2020
By Shelby Rowe Moyer
Virtual events can never totally mirror the in-person experience, says Scott Davis, account executive for Madison-based Mediasite Events.
But you can get pretty close, he says.
Mediasite has been in the virtual event business since 2005 and, historically, most of its clientele wanted a way to stream their conferences and meetings online for guests who couldn't attend in-person.
With the onset of COVID-19, however, businesses and organizations are approaching Mediasite to help them build an entirely online event — and it involves so much more than talking heads.
Mediasite, a video content management software, offers versatility that helps bridge the gap between virtual and in-person events. Features including live chats, polls and the ability to send questions allow guests to participate and interact with each other in real-time, an aspect of live events that is sorely missed.
Davis says the live chats are the most requested capability, because it's one of the few ways to interact with other attendees, most closely replacing in-person networking. And, if an event is pre-recorded, the speakers and event hosts can join the chat to answer questions and comments.
Networking is probably the most difficult aspect to replicate, he says, and it's a pain point he's heard over and over again from organizations. "I haven't seen anything that's a fool proof system," he says. "When you're in-person, there are coffee breaks. I can sit down and introduce myself. With virtual conferences, it's difficult, because you don't know who's there. So, one way around that is the live chat."
He's also seen organizations create a "dating site-like" experience where guests are introduced, so to speak, to professionals similar to them, and they have the ability to connect with each other outside of the conference setting. Or, organizations are creating small discussion groups so guests can talk face-to-face via video. It all comes down to creativity, Davis says.
As event organizers are crafting their virtual content, viewer experience is another angle they're are keenly considering. Some platforms are a bit limited in terms of what you can do with your content page. A platform like Mediasite can allow hosts to create a bespoke layout for their virtual event with speaker bios and documents linked on the video page. Davis says Mediasite has even created virtual exhibitor and trade show booths for sponsorships, and linked banners for sponsors can be added to every page of the event.
When Mediasite is helping organizers build their event platform, he often brings up one component that has made virtual conferences a lot more difficult — time.
"If I go to a conference in Orlando, I'm here," he says. "That is what I'm there to do. If you're having a three-day conference that's virtual, you don't have me for eight straight hours. You have me for an hour or two."
He recommends clients build out their conferences as they typically would but allow ticket holders several months to view all the content and send them marketing emails reminding them to return to the conference.
Above all, though, your content is what will engage and maintain your viewership, he says.
"If you don't have good content, then you don't have people coming to your conference no matter how good your networking platform is," he says. "We're huge believers in creating good content that has engaging tools — like Q&A, like chat, like the search functionality."
He often asks organizers: What's your vision? And then Mediasite comes alongside to deliver it.