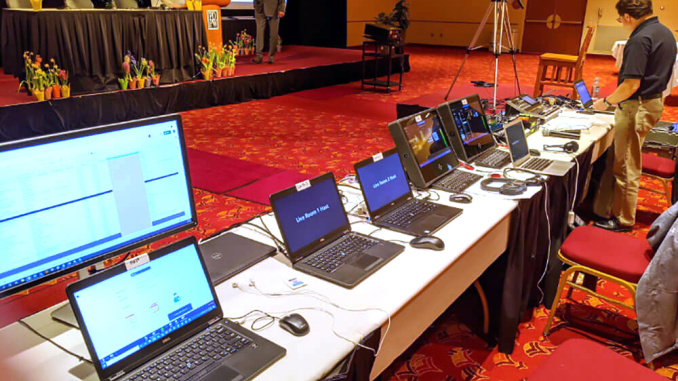 Events that Work in the Time of COVID
08/17/2020
By Shelby Rowe Moyer
All industries were rocked with the onset of the coronavirus, events in particular.
And although in-person gatherings have been greatly minimized, there's still a need and desire to come together, even if the logistics look a bit different.
We spoke with Laura MacIsaac, director of sales at Monona Terrace Community and Convention Center in Madison, to learn, from their perspective, how meetings and events are continuing on.
In-Person — Adapted
MacIsaac says some groups are continuing to book small, in-person events at Monona Terrace. Dane County has restrictions on group sizes outlined in its Forward Dane coronavirus plan created by Public Health Madison & Dane County, which means only 10 people can gather inside a space at Monona Terrace and groups of 25 are allowed in its outdoor areas.
Monona Terrace is a unique event venue because of its sheer volume of spaces. MacIsaac says they can easily host many groups of 10 people inside the multi-level convention center. Its meeting rooms have plenty of square footage for social distancing, she says.
Events taking place right now "look and feel very normal," she says, "except for the physical distancing." The center's catering company has processes in place that make it safe to serve food as well — even buffets, with the use of plexiglass shields and an attendant that serves guests.
As one might expect, extensive cleaning processes are in place. Monona Terrace is also going through the process of getting a facility certification from the Global Biorisk Advisory Council, a stringent accreditation process that's considered the "gold standard" for facilities. The BCAC's cleaning and disinfecting guidelines were crafted to prevent the spread of infectious diseases, like COVID-19.
New Wave Virtual
Monona Terrace has had the capability to facilitate virtual events since it opened 23 years ago and, as one might expect, has experienced a surge in virtual event bookings.
There's certainly a benefit to hiring a service for virtual events, because virtual event services often come backed with stronger technology. In terms of Monona Terrace, full-time A/V professionals are on staff with a studio set up for digital events. Plus, the event organizers don't have to come on site to use it, MacIsaac says.
"When you have a professional team like we do, that will eliminate those glitches that will help your company look more professional," she says.
In other words, your organization brings the messaging content and Monona Terrace can help give it the look and feel you want to convey — complete with robust internet to support it.
Looking to 2021
A lot of uncertainty remains around how the virus might affect events in 2021. Some of Monona Terrace's clientele are moving forward with booking events with a pre-COVID mindset, in the hopes that the virus will have subsided by then.
"I think there's a couple ways to look at that," she says. "I think there's some degree of hope, but as the meetings and event industry adapts to what is the new normal, there's a lot of speculation. Right now, it might be a comfort level thing for planners to plan as if things are back to normal and say, 'we'll adapt as we go,'" explains MacIsaac.
No matter what 2021 holds, events will still take place, in one form or another.