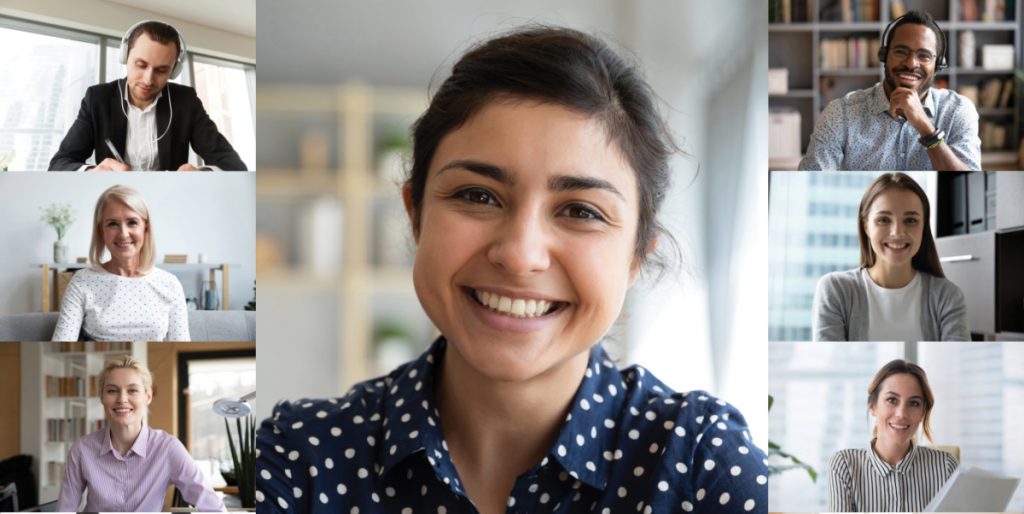 Upping Engagement In The New Normal
11/09/2021
By Ronnie Wendt
Corporate meetings evolved during the pandemic. One innovation was the popularization of the hybrid meeting, which combines the best of in- person and virtual events into a single gathering. Where employees of national and international companies once met in one location for a meeting, they now gather in person by region to participate virtually in a hybrid event.
Hybrid events let companies downscale their gatherings, while connecting people assembled in person with people in other geographies. These events, when done correctly, can broaden your audience and exposure, allow meetings to occur amid COVID-19 fears and provide a rich experience for all involved.
ENGAGE BOTH AUDIENCES
To be successful, hybrid meetings must provide both value and relevant content for all attendees, according to Forrest Doolen, the director of marketing and communications for Make-A-Wish Wisconsin.
Make-A-Wish Wisconsin hosted its first virtual event right after the pandemic began. Normally, the organization held an in-person gala at The Pfister Hotel in Milwaukee. The event included a full dinner, awards ceremony, auction, raffle and wine pull. The virtual format, in comparison, offered none of those things, but still attracted 600 registered attendees; garnered 6,400 views between Facebook, YouTube and Twitter; and raised $659,000.
As pandemic worries waned, Make-A- Wish Wisconsin wanted to host an in- person event in 2021. The problem was, however, that many people remained hesitant to gather at large events. Instead, the organization opted for a smaller-scale event with a virtual component.
That's when Doolen learned effective hybrid events treat all attendees equally. But planners cannot use the same tactics to engage both audiences. He says planners must craft one event that offers two unique experiences.
With an in-person event, the emphasis remains on the experience. Planners must consider the décor, food, stage, entertainment and more. But beautiful flowers, impeccable décor, delectable food and an impressive stage means little to virtual attendees.
Thus, a hybrid event that mixes live and virtual elements must keep both audiences engaged. Doolen recommends incorporating compelling storytelling when livestreaming part of an event, for example. "We work with a video storyteller and Plum Media to tell interesting stories through video," he says. "That is important because, if your content isn't engaging and people get bored, your virtual audience will stop watching."
Asking for feedback in real time, encouraging interaction between attendees, and including online quizzes or surveys encourage participation from both audiences. Also make sure speakers welcome and acknowledge attendees connecting both in person and online. And when in-person attendees break for coffee or networking, introduce elements that allow online participants to network, too.
Doolen reminds event planners to do more than provide virtual attendees access to a livestream and a platform. These attendees also need ways to message in- person guests and each other. Just like in-person attendees who get to walk the floor, chat with others and gather event swag, he says, your remote attendees also crave a personal touch.
Make-A-Wish Wisconsin welcomed virtual attendees with elaborate party boxes, for example. Anyone who hosted a virtual event in their home or business could purchase party boxes meant to enhance the experience. The organization offered two types: a dessert box and an appetizer box. "People loved them. They included champagne and beer, Make-A-Wish swag and treats," he says. "It really added to the excitement."
CHOOSE AN ENGAGING VENUE
If planners put too much emphasis on virtual attendees, they may overlook their in-person guests. For hybrid meetings where parts of the audience attend in person, but others watch on a screen, it's important to select an engaging location, Doolen suggests. Make-A-Wish Wisconsin held its 2021 gala at several Marcus theaters. Attendees ate dinner in their seats, then watched the virtual program on theater screens. The novel setting was a hit, according to Doolen.
"We had 150 people watching from mov- ie theaters and 400 people watching from home," he says. "We helped people feel comfortable in person by asking them to wear masks in the theaters, providing hand sanitizer and having theater staff serve meals."
ENGAGE AUDIENCES ON SOCIAL MEDIA
All too often, planners create a social media page for virtual and hybrid events, then forget about it until two weeks before the event. Or they use the page just to capture registrations. Both moves are a mistake, says Josh Klemons, a digital storyteller and strategist at Reverbal Communications of Madison. "You don't just use social to promote events. You use it to get people excited about them," he says. "Don't ask people to come — give them a reason to come."
Make-A-Wish Wisconsin used Facebook, Instagram, Twitter and LinkedIn to promote its event. "We also created a Facebook event for people to follow," Doolen says. "People are open to following events on Facebook. This can help you sell your event because, as people follow your event page, it shows up in other people's newsfeeds."
But a Facebook event page must give attendees more than the details. Leading up to the event, you need to share content into the Facebook event intended to excite your audience. Potential attendees need to know a speaker, also a best-selling author, just released a new book. Give them a reason to be excited about the lineup. Talk about special guests that will be in attendance. Promote that the venue just hired an award- winning chef. These are posts they will want to share with friends, which expands your audience, advises Klemons.
He also warns the adage "if you build it, they will come" does not prove true. "Creating a Facebook event will not quadruple donations or triple attendance," he says. "You still have to promote your event."
And because social media platforms run the gamut from TikTok to Facebook, Instagram to LinkedIn, it's essential to promote your event on the right platform, stresses Klemons. "Ask yourself: Where is my audience?" he says. "If you decide to promote your event on TikTok, but that's not where your audience is, it will not help you — no matter how amazing your content. Promote the event in the places your audience already is. If you don't know the answer, take a step back and ask: How can I figure that out?"
Once you pinpoint where to share content, use each platform's features to their highest potential, recommends Klemons. For example, using a countdown clock for Stories that you post on Instagram can build excitement. "Though Stories disappear after 24 hours, you can create a countdown and folks can opt in to get reminders," he says. "Instagram will remind people of the event throughout the countdown."
Consider marketing the event on Facebook. Here, it's important to understand the difference between boosted posts and Facebook ads. "If you put up a post, you can boost the post. This makes sense because your posts will never show up to 100% of your followers. Boosting a post ensures more of your followers see your posts, so it expands your reach," says Andrea Strand, owner of Cutwing Marketing Solutions of Lake Geneva.
Facebook ads, however, let you analyze your demographics to dispatch targeted advertising. Another effort worth considering is remarketing. This allows you to put a Facebook pixel onto your website and, whenever anyone visits your website, then visits Facebook, your event ads pop up. "These ads take more time and can be challenging. It just depends on your experience," Strand adds.
Doolen reminds planners not to overlook email, phone calls and even snail mail as well. Make-A-Wish Wisconsin hit the phones to notify potential attendees of its new format. The organization also sent emails to virtual attendees, reminding them how to access the livestream event.
Hybrid meetings can offer the best of both worlds during tough circumstances. With COVID-19, some attendees may not want to gather face to face. But through promotion, venue selection, hidden surprises and tools that keep everyone connected, hybrid events can appeal to all audiences and increase engagement.