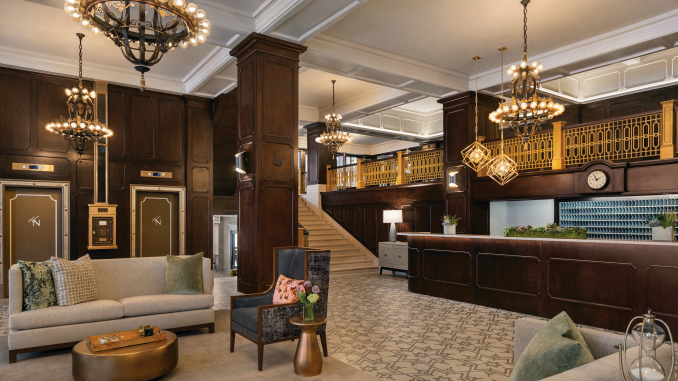 Titletown's Winning Venue
01/26/2020
By Ronnie Wendt | Photo: © Nick Tortajada
The Million Dollar Hotel, so named for the $1 million it took to build it in 1924, reopened as Hotel Northland on Valentine's Day 2019 after a $50 million update.
The renovated and revived historic hotel radiates nostalgic charm and stately elegance from the heart of downtown Green Bay. Guests marvel at the four-star, 160-room hotel's restored historic woodwork, plaster, terrazzo floors, accents and other details, while being treated to a contemporary and comfortable guest experience. The Marriott Autograph venue couples modern amenities — including valet parking, a fitness room, plentiful USB ports, high-speed Wi-Fi, luxury suites and on-site restaurants — with old-time appeal.
"We're on the National Register of Historic Places, so we kept the hotel as original as possible. In many areas, you'll see the original green and white penny tile, ornate chandeliers, pink terrazzo steps, oak wall paneling and decorative plaster ceilings," says Brandon Flitter, director of sales for Hotel Northland. "We treat guests to the most modern amenities. But the history makes this hotel unique. You can build a new hotel with the latest this or that, but you cannot replicate the history."
The venue is a true planner's paradise, offering exceptional and unexpected features. Its 11,000 square feet of flexible meeting space, available in beautifully appointed rooms, yields a dynamic experience that injects nostalgia, glamour and fun into any event.
The Crystal Ballroom, which seats up to 140 people, is the venue's main meeting and event space. It brings back the grandeur of the 1920s with soaring high ceilings, luxurious chandeliers and towering floor-to- ceiling windows. It even has a balcony overlooking the room, which event planners can use to host a reception, house a full-service bar or extend seating for a banquet.
The Alley puts an experiential spin on corporate events. The entertaining and welcoming space, which holds up to 200 guests, includes two bowling lanes, a shuffleboard and pool table, a full bar and soft seating throughout.
"The Alley offers a great space for social events," Flitter says. "We [were recently] at the height of holiday party season and The Alley provided so many interaction points throughout the room. It's unlike any other space I've seen."
Breakout rooms are available to accommodate 14 to 75 people for smaller meetings and events. The hotel also offers two hospitality suites for even more intimate meetings.
The availability of on-site restaurants and catering simplifies meeting planning, adds Flitter.
The Walnut Room bar and restaurant provides one-of- a-kind cuisine and specialty drinks. The bar features unique hand-crafted cocktails and an extensive wine list, whereas the restaurant offers a comprehensive menu of dishes made from locally sourced produce, meats and dairy products. The chef bakes bread on-site daily and makes his own sausages.
Poke the Bear is a fan-focused restaurant that combines a pleasant, welcoming atmosphere and fresh, full-flavored food with a sports history theme. "The restaurant is a celebration of the fans with an approachable menu," Flitter says. "We do a lot of everyone's favorites, but we do them a little differently to make them unique."
A catering director is available to guide planners though menu planning. Banquet catering menus are available, but Flitter mentions the hotel accommodates special requests, too. And Fresh Bites room service can deliver wholesome food options to guests once the meeting ends.
The Titletown venue also stays steadfast to its football roots. Vince Lombardi gave his inaugural press interview at the hotel. The venue also hosted the 1927 National Football League (NFL) meeting and visiting teams, and served as home to many Packer players over the years.
Developers paid homage to the venue's NFL past by placing football memorabilia throughout, including a bronze coach's hat in the lobby. Guests can tap the coach's hat for good luck as they amble by.
Nevertheless, planners have little need for good luck when hosting a meeting or event at this luxury venue. Hotel Northland delivers a winning combination of yesteryear and modern-day comfort to help every meeting score.
To inquire about reserving space for your next meeting or event, please email sales[email protected] or call 920-393-6022.