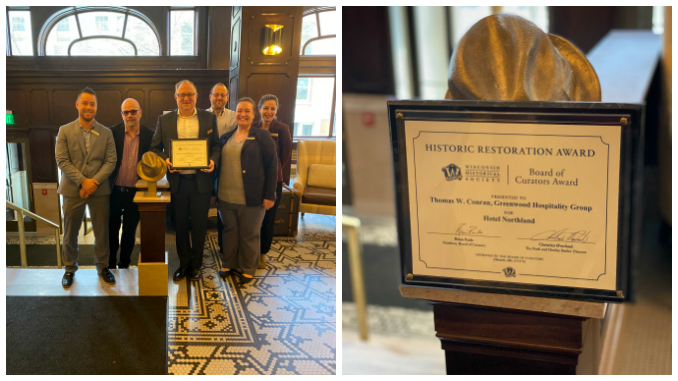 Hotel Northland Green Bay Lauded for Historic Restoration
10/17/2019
Hotel Northland Green Bay originally opened in the spring of 1924 as the largest hotel in all of Wisconsin. After a recent major restoration and renovation spanning several years, the hotel opened on Valentine's Day of 2019.
The reimagined Hotel Northland, located at 304 N. Adams Street in Green Bay, now houses 160 guest rooms, a fitness center, more than 11,000 square feet of flexible meeting space, Poke the Bear pub and The Walnut Room, a restaurant featuring fancier fare.
Every year, the Wisconsin Historical Society recognizes groups preserving the state's history, including its storied historical buildings. This year, on Oct. 15, the society decided to honor Hotel Northland, which is Listed on the U.S. National Register of Historic Places, and presented General Manager Kenny Didier with the Board of Curators Historic Restoration Award.
Didier says, "I accepted the award on behalf of Greenwood Hospitality from the Board of Curators. The awards ceremony was held on property in the Cedar Room and had about 40 attendees, including Green Bay Mayor Eric Genrich and State Senator Dave Hansen. The team is very prideful to be recognized for this distinguished award."
Daina Penkiunas, Wisconsin Historical Society state historic preservation officer, cited the restoration of woodwork, plasterwork, mosaic tile floors, chandeliers and coffered ceilings as a few examples of the "exceptional quality" undertaken in the restoration of the 160-room hotel built in 1924, according to the Green Bay Gazette.
For more information, please click here.