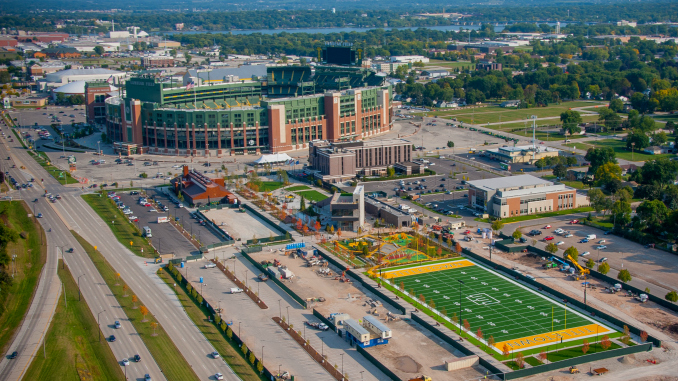 Destination Green Bay
10/24/2018
By Rachel Werner | Photo ©Greater Green Bay CVB
All that glitters is definitely gold across Titletown as the Green Bay Packers barrel through their 100th season. "Not only can you enjoy the cool autumn air, but fall brings the energy of football to Green Bay," beams Brenda Krainik, director of marketing for the Greater Green Bay Convention & Visitors Bureau. "Planning a conference or a meeting in Wisconsin's iconic green and gold city increases excitement from attendees. Theming happy hours, lunches or even general sessions is easy, and teambuilding activities can take on a whole new meaning when you meet in a historic football city."
KI Convention Center
Downtown is the prime locale for large conventions, sport competitions and trade shows. The gem of Green Bay's meetings venues is the KI Convention Center, which was renovated in 2015. At 80,000 square feet, the facility can accommodate groups up to 3,000 people, including 2,000 for a seated dinner. The 24,500-square-foot ballroom offers a sleek, modern space for groups. Many of the event spaces connected with the KI's river-facing foyer on the upper level are pillar free—a feature that is particularly important for sports events as it offers unobstructed views for spectators and greater safety for participants.
The facility is connected by skywalk to two properties: the Hampton Inn Green Bay Downtown and the Hyatt Regency Green Bay, which also manages the KI Center.
Resch Center Complex
The other prime event space downtown is the Resch Center Complex, which includes the Resch Center, Brown County Veterans Memorial Arena and Shopko Hall. The facilities host a variety of sporting events — including the WIAA State Girls Basketball Tournament—trade shows, concerts, consumer shows and more.
Titletown
However, the glitter of this downtown may be the all-new Titletown entertainment district being built adjacent to Lambeau Field. Phase I has been completed and includes a large, multi-acre park, the Rockwood Terrace event space, Hinterland Restaurant & Brewery and Lodge Kohler. Additional phases will include shopping and even a residential component.
The massive expansion of Lambeau's corridor is flanked by outdoor foosball and ping pong tables, a book corral, a 40-yard-dash obstacle course activity for children and a regulation-size football field designed for year-round recreational use. After logging a few sprints on artificial turf, strap on skates to glide around the fire pit located in the center of the rink or duck underneath the three-level event center for hot chocolate or toddies in the warming den. Then promptly quench the need for speed on the 300-yard tubing hill sloping down the building's roof.
If getting down to business mere feet away from where dozens of hall of famers have scored is enticing, Lambeau Field is the ideal venue. Whether your event is during football season or after it's wrapped, Lambeau has some great meeting spaces, affirms Reggie Driscoll, senior meeting professional with the State Bar of Wisconsin, who has hosted events at the facility.
"The Champions Club with the rooftop patio provides a spectacular view of the fall colors around Brown County." Other noteworthy spaces within the stadium include the Festival Foods MVP Deck with panoramic indoor—and outdoor—views of the field and the Atrium, which can be arranged to comfortably entertain close to 1,000 guests.
Once the sun starts to set and the temperatures drop, seek warmth and luxury directly across the road at Lodge Kohler. The boutique hotel has 144 rooms and suites, each decked out in historic Packer memorabilia and true Kohler fashion, complete with bell service, luxe décor, plush linens and an in-house spa. What the Kohler Water Spa lacks in size, it more than compensates for with its expansive list of services and meticulous attention toward prioritizing tranquility for guests.
And "if you are planning an event during a football game, the Tavern in the Sky bar and restaurant on the fifth floor of Lodge Kohler offers another incredible view," advises Driscoll. The restaurant's menu fuses gourmet tastes with game day fare— cranking out inventive appetizers such as tempura veggies, artichoke lemon fritters and smoked sturgeon spread, prepping diners to feast further well past halftime on poutine, barbecue pulled pork or rotisserie chicken. Dessert is best had in liquid form thanks to the bar mixing up an array of cocktails using Kohler's signature chocolate brandy. Whether it's the Chocolate Old Fashioned, Chocolate Mint or White Russian, the evening will be capped off with a smile.
The Automobile Gallery
Titletown Park's Phase I completion last year was a nice complement to the new influx of energy and entrepreneurship revamping the city's center. "The City of Green Bay has done a wonderful job revitalizing the downtown area with great restaurants, nightlife and weekly family activities," shares Kathryn Gardner, executive director for the Automobile Gallery. "Weeks into the fall, you will find local bands playing live music in parks and along the waterfront in addition to farmers' markets on Wednesday nights and Saturday mornings. Strolls along the riverwalk, biking on the trails and participating in community events are now a snapshot of daily life in Green Bay."
Located downtown, The Automobile Gallery is in the heart of the action. And Gardner insists the nonprofit's founder, William Lewis, selected this exact spot to help breathe new life into his hometown. "When people are here for an event or meeting, it gives the guest something extra to see and do before, during or after the purpose which brought them to our doors."
The 18,000-square-foot gallery features a century of automobile history and includes a rotating inventory of classic cars, often conversation starters for guests.
Whether a corporate meeting, holiday party, seminar, customer appreciation, wedding or anniversary, the gallery excels at helping groups plan a successful gathering—the facility can accommodate seated dinners for up to 160. The banquet space and state-of-the-art audio-visual equipment includes video and audio integration, web conferencing via HD cameras and high-speed internet. Gardner states, "The Automobile Gallery is unlike anything you have experienced, with premier accommodations for nearly any type of event you would like to host. Consider it a 'mobile' meeting space. If you need more seating, cars can be removed from the gallery. If you need certain cars here to showcase, they can be brought in. If you can dream it up, we can do it!"
Consider This:
For a unique space, also in the realm of transportation, consider the National Railroad Museum, where attendees can meet or dine on a train car while being pulled around the museum property.
Green Bay Botanical Gardens Head northwest of the city's bustling hub if on the hunt for a storybook setting where modern meets whimsical at Green Bay Botanical Gardens. The lush and floral grounds make a picturesque backdrop for large award ceremonies, receptions and galas, while the Kaftan Lusthaus gazebo and the Foundation Classroom, nestled in the Schneider Family Grand Garden, are unique areas for smaller soirees and workshops for groups under 40. The addition of the Billie Kress Amphitheater stage lends itself well to any event featuring live entertainment. Plus event attendees also receive complimentary parking and full admission to the gardens while onsite.
"Autumn at Green Bay Botanical will captivate your guests with its enduring beauty. Wander through bright hues of orange, red and yellow surrounded by stunning architecture," explains sales and rental coordinator Jessica Martin. "Whether you're hosting a client reception, multi-day workshop or staff retreat, our facilities provide the perfect opportunity to escape from your day-to-day business and be reenergized by the sights and sounds of a crisp autumn day at the garden."
Although the football season may draw to a close sooner than many would prefer, rest assured Green Bay still has much to offer year-round.