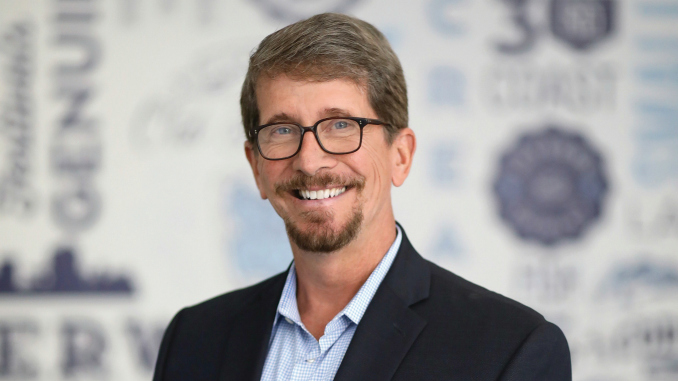 By Nancy A. Herrick | Photography by Shanna Wolf
Paul Upchurch knocked off work early one summer afternoon and headed to the golf course. After playing a few holes, he caught up to a man in his 20s who had done the same thing. They played together and wound up joining another young man for the rest of the round.
"The two didn't know each other, but they both had tattoos on their arms that said Milwaukee," says Upchurch, who is president and CEO of VISIT Milwaukee, although he announced he will be leaving that position at the end of the year.
"Those two random guys on the golf course were passionate enough about their city to wear it permanently on their arms," Upchurch says. "That pride that Milwaukeeans have is very sincere, very welcoming. It's part of Milwaukee's appeal and we hear about it all the time from visitors to our city.
"It's also part of what made my job easier."
For nine years, Upchurch was at the helm of the organization that markets Milwaukee to convention planners, and leisure and business travelers. While he might not have a tattoo, his pride in Milwaukee is evident. He and his family lived in more than a dozen cities during his career in the hospitality industry, including a stint with Milwaukee's Marcus Corporation. It was his fondness for Milwaukee that helped him make the decision to return in 2010 to lead VISIT Milwaukee, its 38 employees and its $10 million annual budget.
His tenure has been marked by significant growth, as reflected in these statistics for the greater Milwaukee area:
Total business sales related to tourism grew from $4.2 billion in 2011 (the first full year of Upchurch's term) to $5.7 billion in 2018.
Tourism-generated state and local tax revenue grew from $300 billion in 2011 to $372 billion in 2018.
Tourism-supported full-time jobs increased from 47,442 in 2011 to 52,357 in 2018. Without tourism jobs, Milwaukee County's unemployment rate for 2018 would have been three times higher.
Perhaps most significant of all, 24 new hotels opened in Milwaukee County since 2011, with 12 of them downtown. Those figures include the new Cambria and Drury hotels downtown, which are scheduled to open soon.
"Milwaukee truly has come a long way in recent years with billions in development, including the $524 million Fiserv Forum, The Hop streetcar that makes getting around downtown easier, and urban renewal efforts in the Menomonee Valley, the Historic Third Ward and the Deer District, just to name a few," he says.
Many would say Upchurch's most significant accomplishment was leading VISIT Milwaukee's effort to help land the Democratic National Convention. Arguably the most visible of all conventions, the July 2020 event will bring as many as 50,000 visitors to Milwaukee, including Democratic officials, delegates and their families, security personnel, media and more. The economic impact is estimated at $200 million. Milwaukee was selected over the two other finalists: Houston and Miami.
"The Democrats who made the official visits told us that VISIT Milwaukee stood apart and gave them the confidence that Milwaukee could handle the convention," Upchurch says with pride.
A JOB WELL DONE
Those who have worked with Upchurch are generous in their praise.
Marty Brooks is president and CEO of the Wisconsin Center District, which operates the Wisconsin Center, the UW- Milwaukee Panther Arena and the Miller High Life Theatre. He credits Upchurch with coordinating the details that went into impressing the Democratic National Committee.
"I don't believe the community appreciates the role Paul and VISIT Milwaukee made in securing the convention," Brooks says. "He has great recall of the facts, figures and rationale behind decisions. Paul and his team handled it all in a seemingly effortless way."
Omar Shaikh, chair of VISIT Milwaukee's Board of Directors and co-owner of the SURG Restaurant Group (among other endeavors), is heading the effort to find Upchurch's replacement.
"Paul has been an excellent leader and tourism has shown growth every year since he has been at the helm of VISIT Milwaukee," Shaikh says. "He's very good at the numbers and has taught me so much about how things should be run."
Stephanie Klett, former Wisconsin Secretary of Tourism, and current president and CEO of VISIT Lake Geneva, worked with Upchurch in his role as chair of the Governor's Council on Tourism.
"He is enormously capable, and has an even temper and a way of engaging people," she says. "He's a straight shooter with a history of success every step of the way."
Don Smiley is president and CEO of Milwaukee World Festival Inc., which produces Summerfest. He also is chairman of the Miller Park District and sits on the board of VISIT Milwaukee.
"Paul has done a great job of juggling the convention side and the tourism side, developing an excellent blend and balance," Smiley says. "Then when you add his ability to work with the different entities, such as the Wisconsin Center District, the result has been success on many fronts.
"He also has a way of working with people and understanding where they are coming from so that all can move forward together."
MOVING MILWAUKEE FORWARD
The Wisconsin Center expansion is moving forward, with preconstruction planning underway. The preliminary timetable for the $300 million project calls for groundbreaking by early 2021. When it is complete, Milwaukee will be able to attract bigger conventions and more of them.
"Our current convention center is the size of Omaha's or Grand Rapids'," Upchurch says. "The expansion will put us in the same league as Cincinnati and Pittsburgh."
More convention business, in turn, helps increase leisure tourism: Once people visit for business, they might just come back for pleasure, often with their families.
"We hear time and time again that visitors didn't know what Milwaukee would be like," Upchurch says. "They tell us their actual experience was different from their original expectation, more positive. After their visit, they compared Milwaukee to cities like Austin and Denver."
Outstanding local restaurants, entertainment districts, craft breweries, walkable shopping—Milwaukee does many things well, Upchurch says. That's in addition to events such as Summerfest, ethnic festivals, State Fair, Milwaukee Brewer and Bucks games, museums and more.
ALL ROADS LEAD TO MILWAUKEE
"Once people visit, the city speaks for itself," Upchurch says. And often return, just as he and his family did.
A native of Inkster, Michigan, a suburb of Detroit, Upchurch received a bachelor's degree in psychology from the University of Michigan, intending to go on to medical school. While waiting and hoping for an acceptance letter after graduation, he worked at a hotel and was asked to participate in the parent corporation's management training program.
"I really liked it," he says. Soon he was hooked.
He was working at a hotel property in Grand Rapids in 1981 when the Gerald Ford Presidential Museum opened.
"After the dedication, I met Ronald Reagan, Margaret Thatcher, Jimmy Carter, and I realized it was a pretty cool thing for a guy in his 20s," he says, laughing.
Through the years, he managed many high-end properties, and learned the hospitality business inside and out, living and working in Michigan, Alabama, Texas, Kansas City, St. Louis and Milwaukee— twice. His first stint was as vice president of hotel operations for Marcus Corporation, choosing to return to lead VISIT Milwaukee.
"It's a very friendly, livable city," he says. "We've truly enjoyed it."
He acknowledges that many positives came together on his watch to contribute to the growth in tourism, including the rise in experiential travel and the economic recovery that occurred after the Great Recession.
"Seeking unique experiences has become a priority for millennials and empty-nesters alike, and people now have more money to go out and find those experiences," Upchurch says. "The Instagram moment has become more important than, say, an expensive new
sofa. And Milwaukee's vibe happens to match what travelers are looking for."
Being named the nation's Coolest Underrated City by Vogue magazine in 2018 didn't hurt either.
WHAT'S NEXT FOR UPCHURCH?
"Milwaukee has wonderful momentum going on now and there's plenty to keep me busy," he says. "I will think more about what's next at the end of the year."
Those who have worked with him are sad to see Upchurch go.
"He put his heart and soul into VISIT Milwaukee, and it showed," says Smiley.
Says Brooks: "I know I will miss him and anyone who won't probably doesn't know him."