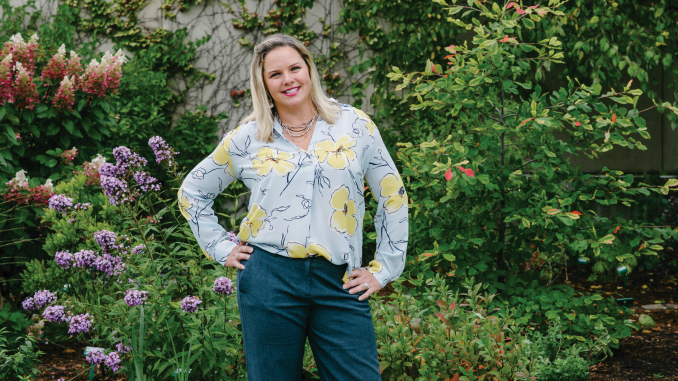 By Ronnie Wendt | Photography by Hillary Schave
When 125,000 riders roared into Milwaukee for Harley-Davidson's 105th anniversary, JoEllen Graber, incoming president of the Meeting Professionals International (MPI) Wisconsin chapter, was there to help them celebrate the occasion. She booked music and tours, and put displays and exhibits across southeastern Wisconsin.
She recalls managing the logistics as quite the ride.
"Everyone wants to drive their motorcycles to these events," she says. "Finding room for the motorcycles was something I'd never thought about."
The music, the motorcycles and the crowd generated volumes of noise, making it necessary for the 14-year planning industry veteran to partner with neighbors and area businesses.
"It was a huge learning curve for me," she says. "I learned the true power of networking with other planners and suppliers. It's not a question of if something is going to go wrong, it's when. And when it does, you need to know who you can call to help you out."
Graber sees the Harley-Davidson bash as the highlight of her events industry career. She worked as a planner for Wisconsin Lottery and Harley-Davidson, then went to the supplier side for five years. Her varied experience gives her insight into what planners and suppliers want in an events industry association.
More companies and planning positions are seeking certified meeting professionals (CMPs). Planners increasingly join associations, like MPI Wisconsin, for CMP education hours. "Continuing education elevates the quality of the people in the events industry. You need five years of experience to take the exam and the exam itself is very difficult," she says. "MPI Wisconsin is the go-to place in the state for education."
Graber strives to boost awareness of the association and bump up its educational opportunities in 2020. MPI Wisconsin's membership is a mix of planners and suppliers at differing experience levels from Wisconsin and neighboring states, and even as far away as Arizona.
"I want to make sure the education speaks to all members," she says. "I also hope to offer more volunteer opportunities for members."
It is an exciting time to be in the events industry, reports Graber. Companies are freeing funds to host bigger and better events, and technology is changing how meetings are run and what they have to offer.
Graber sees virtual reality as a true game-changer. "Virtual reality saves time and money. You don't have to travel to a venue to get an idea of what it has to offer," she says.
Attendee expectations are also evolving. Graber says this demands that planners think outside the box and take a fresh approach. But, she says, it also makes planning more creative and fun.
"People used to come to a meeting, and fill their downtime with dinner and drinks," she explains. "Now planners must plan activities outside the actual event to keep people busy. Attendees seek one-of-a-kind experiences they cannot get anywhere else."
She adds, "People no longer want to sit in a classroom all day either. They want soft seating, shorter breakout sessions, more networking options and a standout venue."
Food and beverage also must include more than a gravy- covered meat option, rice pilaf and a vegetable medley. She says today's attendees expect their specific dietary needs to be met. Planners should survey attendees to understand their needs, then work with their food and beverage vendors to craft menus with high-quality, gluten- and allergen-free options, she says.
Graber offers some sage advice as the industry evolves. "Don't get stuck in the mundane and do things a certain way because that's the way it's always been done," she says. "Ask yourself, how can I make sure my events are fresh and creative every time?" The sky is the limit.
Every event may not have the wow factor of 125,000 motorcycles rolling into town. But competition for attendees is heating up. "Conferences are fighting for every attendee they can get," says Graber. "The ability to make your events unforgettable and up your game will set your meeting apart."