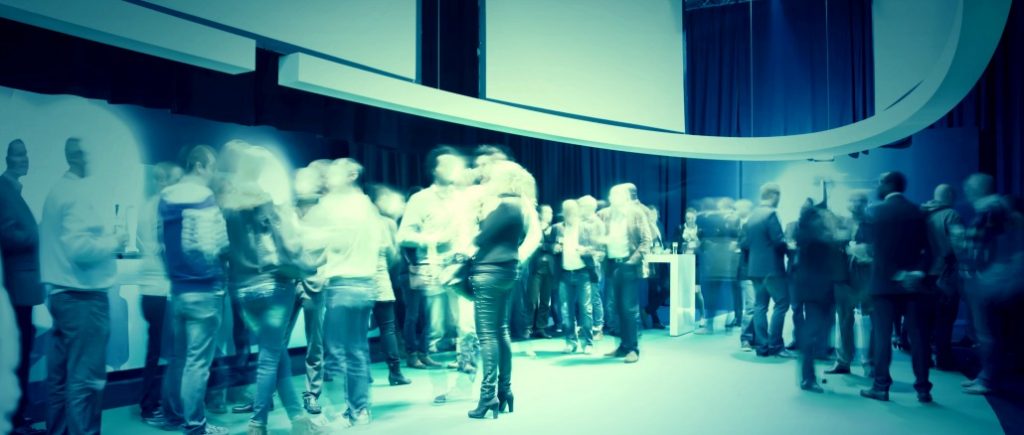 Technology trends that will change the face of meetings for years to come
 By Ronnie Garrett
In a world where driverless vehicles take to the roads, planes can fly themselves, drones deliver packages and pizzas, refrigerators notify us when we are out of milk, and groceries are ordered online and delivered to our homes, it's no surprise that when it comes to meetings it's a mad, mad high-tech world.
While predicting 20 years out is impossible, Corbin Ball, chair of the IBTM World Technology & Innovation Watch Award Judging Committee and CEO of Corbin Ball & Co., a consulting firm designed to help planners get the most out of their meetings and events, still takes a stab at it.
"I think virtual reality in 20 to 30 years is going to be indistinguishable; in that, a projection of an individual will be indistinguishable from an actual person — the Star Trek holodeck will exist," he says. "We will have virtual reality that seems so real, you will have a hard time discerning that it's not real."
But though meetings stand poised to become very high-tech in the years to come, Ball reminds that "we are gregarious animals and we like to get together and experience and learn things together." For this reason, Ball predicts meetings and events will always have a place — that's not going to change. What will change is the technology used to present information at these meetings and events.
He quickly reels his sentiments back in to current day, because while there are exciting sci-fi like changes set for the future, there are just as many changes happening now that should be on the agenda of today's meeting planner.
BIG DATA
Mobile event apps are still an important consideration. To the road warrior who travels to many conventions over a year's time, the mobile app may seem like old news. But the reality is that though many meetings and events have already jumped on the app bandwagon, just as many haven't even ventured down the app road. These apps provide immeasurable insights about attendees, states Ball.
"Because every touch on a mobile app is trackable, meeting planners know what sessions attendees are interested in or the connections they are making, as well as the survey and polling responses they've made," he says.
When beacon technology is added to these apps, meeting planners now have technology that can create heat maps in exhibit halls to track crowd flow. "They used to hire people to stand in the rafters and count people as they entered to capture that data; now you can capture that in exquisite detail every second of the event," he says.
Beacon technology can tell organizers how long someone stood in front of an exhibit booth and that can be useful information for exhibitors. "If someone walks by a booth, they are probably less interested in the product or service than if they stand in front of it for 15 minutes, "he says. "It can let exhibitors know who are interested prospects, and meeting planners know what types of products and services attendees are most attracted to."
He adds, "All of this data are valuable. It provides really specific information about what attendees' interests are and what they are looking for."
To maximize the value of this technology, planners need solid data management tools that integrate and analyze the data being collected. State-of-the-art cloud-based systems and robust application program interfaces (APIs) make it possible to collect and analyze data from a myriad of sources, says Ball.
The analyses from these tools will provide "core sets of metrics to measure event success and impact while providing valuable feedback for upcoming events. The ability to truly measure event return on investment (ROI) moves events front and center for corporate marketing and also improves the value of association membership," he says.
One tool he sees positioned well for this task is the Integrated Event ROI tool from etouches that draws real-time data from event sourcing, registration, mobile and on-site activity to provide planners with an enhanced view of an event's ROI.
LIVE STREAMING
Live streaming of events also will become more popular, adds Tom Graybill, vice president of sales for Tri-Marq, an Emmy Award winning event and video production company. Apps like Periscope and Facebook Live have made live streaming easy and accessible to the general public.
"All of the social media outlets are developing live streaming apps, and there is a big push in that direction," Corbin agrees, noting that Facebook alone just exceeded 1 billion users that access their accounts via mobile devices, which is what attendees are carrying at events.
"Smartphones are how attendees are engaging with social media at events," he says. "Social media is one of the most essential elements for bringing people together at an event."
Both Graybill and Ball recommend exercising caution and being very strategic as event planners wade into the live streaming waters. Corbin says, "If everyone pulls out their phones and starts live streaming over WiFi, it's just not going to work. It would be too heavy of a bandwidth requirement."
That being said, live streaming would be useful to publicize a news conference or portions of a presentation to generate interest. Planners might also stream video clips of an event reception to show how much fun attendees are having. "You now have the ability to expand the footprint of an event by having attendees be publishers and send this content out," he says.
Though live streaming allows event organizers to reach "attendees" back home at their desks, Graybill warns that this is a distracted audience. "Yes, they can watch it from their desk at their office or at home, but even if they are interested in the topic, they may drift away," he says.
DRONES TAKE OFF
Drones are being used for more than just delivering pizzas in New Zealand. They are also becoming a mainstay of meetings and events. These tiny unmanned aircraft can capture aerial photography and videography, promote the event itself or various functions within the event, and more.
"Drones can provide a significant advantage to events," Ball says. "They can be used as a new photography method, to do site inspections and at outdoor events."
However useful these tools, Corbin cautions they do have some limitations. There are liability issues. "If a drone falls on an attendee and hurts him or her, this could be a very serious issue," Ball says. "There is also a noise factor with drones. It's not a perfect scenario but I think we will see a lot more of drones everywhere. It's a technology that's really taking off."
VIRTUAL REALITY
Virtual reality and "gamification" is slowly entering the meeting and events space, and Ball predicts it will be used in a variety of ways.
First of all, like drones, virtual reality may one day be used to perform virtual site inspections. Ball explains a number of hotels and destinations are moving to virtual reality to give attendees and planners a realistic site inspection. Destination BC created Occulus Rift VR to help promote tradeshow venues in this way.
Virtual reality also can give attendees a highly engaging experience, whether they are at the event or watching it from some distance away.
"It's already happening, but we are still in the infancy stage," Corbin says. "The highend stuff is still tethered so you have a wire connected to a high-end gaming computer, that's going to limit its saturation."
The good news is that less expensive and very capable virtual reality systems are on the horizon, and Corbin says these devices will not require a super powerful computer that the user is tethered to. "Gamification" and virtual reality at meetings will become more common as the tools used to create these things become more accessible to the masses.
But for virtual reality to work, "It has to be new, different and engaging," says Graybill. "So often we take the audience for granted, but they are not going to be engaged unless you give them a reason to be engaged."
LED SCREENS
Graybill mentions Meetovation as an upand-coming trend. He says this tool, created by the Danish meeting industry, helps planners design meetings with clear goals and for maximum ROI.
One of the ways Meetovation does this is by changing the way the rooms are arranged. Instead of arranging a meeting in a theater-type or classroom setting, clients use Meetovation to change up their space, providing new types of seating, different seating arrangements and using LED panels in strategic ways to present the information from all directions.
LED panels are a large part of this new trend, but these tools need unique footprints that fit both the meeting budget and the goals of the meeting. Meeting planners need to consider how many LED  screens they will need, how they will be mounted in the space and how much power they will require.
"However, they are a flexible presentation tool that can be used and adopted very quickly that keeps the audience very
engaged," he says. "Audiences are intrigued by LED screens; the brightness and flexibility draws their attention. It's not something they see every day."
FACIAL RECOGNITION
Facial recognition systems are another cutting edge trend that Ball says can help planners determine attendees' gender, age, ethnicity, mood and even match specific individuals to photos in a database.
"By using facial recognition to measure this type of stuff, you're going to see crowd metrics that help planners measure people's interest," he says. "This is a key measurement tool that's going to be used for marketing in the future. You can see people and what they are doing, if they are expressing interest at a booth, and so on."
Ball references Sightcorp's Crowd Stat Audience Analytics system as a tool to provide real-time insights into audience behavior. This tool relies on simple cameras and facial analysis technology to capture the faces of the audience, analyze what their expressions mean to collect the data mentioned above and then presents the results in an intuitive dashboard. Other companies such as Visage Technologies and MoodMe are also working on this type of technology, Corbin says.
Though all of these technologies stand to change the face of meetings in the years to come, Graybill reminds that people will always gather for meetings. "Networking is hard to do any other way," he says. "And, the human element is the most attractive reason for attending an event. The best part of attending an event is connecting with other people. That will never be replaced by technology."