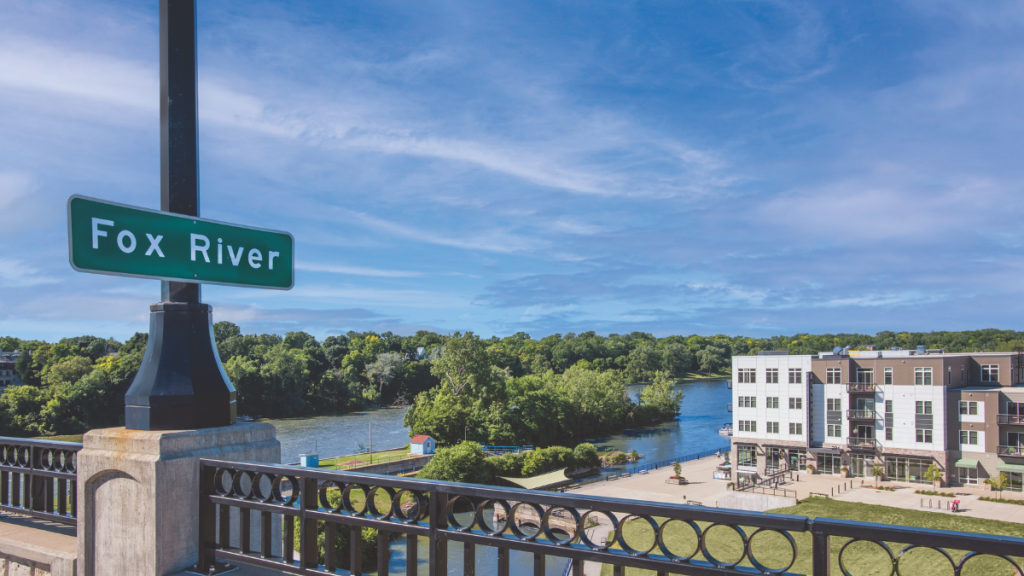 Destination Fox Cities
07/17/2023
By Maura Keller | Photo courtesy of Fox Cities Convention & Visitors Bureau
The Fox River in eastern Wisconsin is dotted with 19 communities that are teeming with meeting and event venues, entertainment options, recreational activities and other amenities that make hosting an event in the Fox Cities region memorable for attendees and planners alike.
For Kris Neilson, vice president of events of the Wisconsin Grocers Association, hosting an event in the Fox Cities region made perfect sense. As a state trade association, it has members in every corner of Wisconsin and the distribution of the population here does not make it easy to find a central location for association gatherings.
"The Fox Cities are a good midpoint between Green Bay and Milwaukee without having the traffic congestion and parking challenges," Neilson says. "It offers enough attractions, activities and accessibility to make traveling to the Fox Cities much easier than other areas of the state."
Each year, the Wisconsin Grocers Association organizes a 1-1/2 day convention and trade show. "There are only about six places in the state that can accommodate our size, and our requirements for space and amenities," Neilson explains. "We utilize meeting rooms, exhibition space and public space to accommodate the traffic flow of our group. Every location in Wisconsin has its unique quirks and the Fox Cities are no different."
Alison Hutchinson, senior group sales manager at the Fox Cities Convention & Visitors Bureau, says that the region blends rich history, flavorful cuisine, and a vibrant arts and culture scene. With so many chef-owned restaurants and nightlife options within steps of downtown hotels, it is stress-free when meeting planners look to schedule a one-day event or events that are several days in duration.
If a meeting attendee wishes to drive or ride share outside of the downtown areas, the Fox Cities are easy to navigate and it only takes 15 to 20 minutes to get anywhere.
"Additionally, the Fox Cities area offers affordability," mentions Hutchinson. "You'll get the same high-quality dining and entertainment experiences as larger destinations, but at a more affordable price point. Even the cost for parking in our downtowns is extremely reasonable."
According to Ryan Batley, general manager and vice president of the Best Western Premier Bridgewood Resort Hotel & Conference Center in Neenah, the Fox Cities are an ideal destination for meeting and event planners.
"Our 19 communities offer an appealing mix of activities, dining options and affordable facilities, making them a top-of-mind choice for both meeting planners and conference attendees. Large or small, there is a venue to meet your needs," Batley says. "The Fox Cities are not only affordable, but they're also easy to access by car (via Interstate 41) and plane (via Appleton International Airport), and have a variety of entertainment districts with great restaurants, nightlife and unique shopping. You will be amazed by our service and ready to come back for another original experience."
Venues Aplenty
The Fox Cities region is loaded with venues that are ideal for both large and small gatherings. Located in downtown Appleton, the newly branded Hilton Appleton Paper Valley is one to consider.
"In addition to other upgrades, Hilton Appleton Paper Valley has added a Starbucks in the lobby and is connected to our Fox Cities Exhibition Center, which offers over 38,000 square feet of flexible event space," Hutchinson says. "It also overlooks Jones Park, which offers natural beauty in contrast to the urban downtown."
If your event doesn't require a downtown location, take a look at the DoubleTree by Hilton Appleton. It is conveniently located off the highway with lots of free parking and boasts a beautiful courtyard space, ideal for any outdoor breaks or receptions.
Another venue off I-41 is the Best Western Premier Bridgewood Resort Hotel & Conference Center, located in Neenah. The award-winning, locally owned and operated venue is a full-service hotel with 95 guestrooms, an adjoining conference center with 10,000 square feet of meeting space, and a family-friendly restaurant with an outdoor patio, playground and fire pits.
The conference center hosts countless corporate meetings and events annually. Amenities include an 18-hole miniature golf course, two platform tennis/pickleball courts, an aquatic fun center with four pools and an arcade, a business center, a sundries store, a fitness center and off-premise catering options. Attendees can enjoy walking and bike trails on the property and adjoining city trails.
"Because we're locally owned and operated, our team members live, work and play in our community, and are dedicated to making our guests' stays great through personalized service, customizable menus that will wow your guests and unique meeting spaces," Batley says. "As the Fox Valley's only resort hotel, guests can mix fun and business without having to leave our grounds."
Another favorite locale is Poplar Hall, which offers stunning river views amid stylish and customizable event spaces. "We host concerts, weddings, business meetings, corporate events, fundraisers, birthday parties, showers and retreats," says Nicki Burleson, general manager at Poplar Hall.
"Poplar Hall can host anything from a seated event for 190 people to an intimate birthday for a dozen to a live concert for 900. We have two levels, a mezzanine and a main floor, with one fully stocked bar on each level," explains Burleson. The venue also features a catering kitchen, a full state-of-the-art video and audio system, and an oversized outdoor patio overlooking the Fox River.
"We work with event planners and hosts to coordinate every detail of an event, from beginning to end," Burleson says. "Before an event, for example, we will meet with clients to estimate attendance, and determine the event's purpose and vison. During the event, we handle event logistics, such as arrangement of the room setup or layout, full beverage services, and setting up audiovisual equipment for speakers and music."
For an intimate group of 60 people or less, consider the Courtyard by Marriott Appleton Riverfront. It is located in the up-and-coming RiverHeath district that overlooks the Fox River. After the meeting, "you can grab a bite to eat or take a canal boat tour with River Tyme Tours to see the Fox River up close," Batley says.
Activities Abound
For planners looking for team activities outside of the meeting room, the Fox Cities offer an array of options.
For example, attendees can release some extra energy at the area's "rage room" at The Breaking Point or try out as a lumberjack at Appleton Axe; explore culinary workshops with Givens Farm or Heirloom Kitchen Company; get creative with make-and-take art activities like candle making at Eclectic Candle Company or Nana's Apothecary; or even enjoy America's favorite pastime by catching a Timber Rattlers baseball game at the newly remodeled Fox Cities Stadium, now featuring a two-story slide for all to enjoy.
"Attendees can also do a self-guided brewery tour, and visit McFleshman's Brewing Co., Appleton Beer Factory and Stone Arch Brewpub, who collaborated and brewed a specialty blend for the World Axe and Knife Throwing Championships that was held in Appleton in December 2022," Batley says. "Or they can sign up for a guided historical pub crawl with The History Museum at the Castle."
The History Museum offers annual pub crawls as a part of its Get Up & Go Walking Tour series, according to Michelle Lokken, its visitor experience manager. These tours take visitors to some of Appleton's iconic drinking establishments to enjoy a refreshment or two, while learning about the history of the building or business.
Registration for the Get Up & Go Walking Tour series is open to the public, but interested parties are welcome to book private tours for groups of 15 or more. In addition to its pub crawls, The History Museum at the Castle offers an elegant and historic venue that is sure to charm any and all event guests.
"We have two main event spaces, the Siekman Room and Ogilvie Hall. Located off of the museum's spacious lobby, the historic Siekman Room features large mullioned windows, terrazzo floors and two sets of French doors," Lokken says. Ideally situated for 50 guests at tables or 100 guests lecture style, the Siekman Room is perfect for corporate outings, parties and intimate wedding ceremonies.
In addition, the striking architecture in Ogilvie Hall, which can play host to 120 seated attendees and 165 standing guests, offers an unforgettable setting for corporate receptions and meetings. As Lokken explains, Ogilvie Hall was originally the main meeting room for the Waverly Freemasons, and boasts heavy, beamed ceilings, antique light fixtures, a Masonic mural and an intimate stage. The 1926 Austin pipe organ, formerly used during Masonic rituals, fills the hall with music and is available for use with a rental.
Regardless of the type of venue you are looking for, the Fox Cities Convention & Visitors Bureau (CVB) can help make the Fox Cities truly stand out in the minds of attendees. In addition to arranging welcome gifts that reflect local fare for group VIPs, the Fox Cities team can recommend corporate social responsibility activities, provide vendor names for a food truck rally or even make its experts available during conference registration.
"Working with the Hilton Appleton Paper Valley and Fox Cities CVB staff helped us navigate some of the unexpected issues that popped up," Neilson says. "Make sure to include Fox Cities CVB in your planning. We are returning again this year for our event because of their assistance."
foxcities.org/meeting-event-planners/
---
Based in Minneapolis, Maura Keller is a seasoned writer, editor and published author, with more than 24 years of experience. She has written about business, meetings, event design, marketing, healthcare and a wealth of other topics for dozens of regional and national publications, as well as Fortune 50 companies.