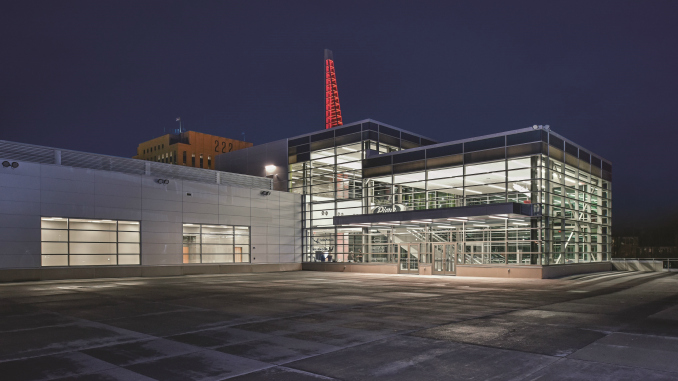 Destination Fox Cities
01/04/2019
Story by Shelby Deering & Photos by Fox Cities CVB
The Fox Cities were once considered a quiet corner of Wisconsin, with nearby Green Bay often catching people's eyes with its gridiron glory. But the Fox Cities have truly flourished into a hot Midwest destination. With cities that include Appleton, Kaukauna, Menasha and Neenah, among others, the region is a meeting planner's dream—3,500 hotel rooms, exciting activities and world-class convention centers.
Linda Hale, meeting and event manager for the Wisconsin Credit Union League, agrees. She plans around 50 events a year and has held several in the Fox Cities region, one of which featured a boutique walking tour of Appleton's downtown. She shares that she especially enjoys the area's centralized location, accessibility, reasonable room rates and top-notch convention centers.
Hale sums up the flavor of the region, saying, "The Fox Cities area feels like the heartbeat of Wisconsin. The people are friendly, and it's not an intimidating downtown environment for people coming from rural areas. The community spirit is welcoming and very tangible."
NEW KID ON THE BLOCK
The new kid on the block is the Fox Cities Exhibition Center, a $31.9 million sleek structure that opened in January 2018. Wisconsin Tourism Secretary Stephanie Klett hails the center, 30 years in the making, as a jewel for the entire state. "This is a huge asset to the Fox Cities and our state," she told reporters at its grand opening.
The center literally shines as a jewel too with an 82-foot spire, which lights up in various colors for the holidays and during events. The spire pays tribute to 1882, the year the first hydroelectric power plant began operating on the Fox River in Appleton.
Inside, the facility offers more than 30,000 square feet of exhibit space with over 9,000 square feet of lobby and a variety of multipurpose spaces. It also features a 17,000-square-foot outdoor space for programs and events.
Mary Rhode, marketing and communications manager of the Fox Cities Convention & Visitors Bureau, says the exhibition center holds three exhibit halls that can be made into two sections or fully opened to create one large space.
"The pre-function space outside of the exhibit halls can also act as a room to service food and beverage or be an exhibit space or a lovely cocktail reception area with a fabulous view of Jones Park," Rhode adds.
The sustainable venue, which uses digital controls for heating and lighting, LED lights, recycled carpeting and tile, and natural stone, does not have an industrial kitchen where food can be cooked. However, it does offer a plating kitchen for caterers to use.
The Fox Cities Exhibition Center is conveniently connected via skywalk to one of the premier hotels in the area, the Red Lion Hotel Paper Valley, formerly the Radisson Paper Valley. The hotel was renovated as this rebranding took place.
These renovations included replacing the old entrance canopy with a new modern entrance, updating flooring and seating in public spaces and swapping out the Intermezzo island-themed bar with the contemporary Blaze whiskey and bourbon bar. The hotel also revamped guest rooms and corridors, installing luxury vinyl tile in guest rooms to reduce allergens and give them a modern look. All rooms have new beds and 55-inch wall-mounted TVs.
Presenting 388 hotel rooms and a well- situated downtown Appleton location, Mindy Lawson, director of sales and marketing at the property, explains that the rebranded hotel also has 38,000 square feet of flexible and newly-renovated meeting space. The hotel's team of chefs is also available to whip up catered gourmet fare for attendees at the hotel and the exhibition center.
Lawson says, "Hotel Paper Valley is Appleton's only full-service downtown hotel. Guests have access to complimentary Wi-Fi; five onsite restaurants, including the legendary Vince Lombardi's Steak House; an indoor pool, whirlpool and sauna; and complimentary airport transportation."
In addition, the center lies next to Jones Park, which underwent a $4.2 million renovation in 2018 and is expected to reopen this year. The upgrade includes a handicapped-accessible pedestrian ramp, a lighted ice rink, a lighted hockey ice rink, a 3,600-square-foot pavilion, a playground, public Wi-Fi and space for a temporary stage for concerts. An amphitheater is also planned.
The Fox Cities Performing Arts Center (PAC) is also close to the exhibition center and hotel. A cultural mainstay in the Appleton area, this 25,000-square-foot center opened in 2002 and continues to excel at hosting both receptions and extraordinary performances. Stars like Tony Bennett, Jay Leno and Diana Ross have graced its stage, along with Broadway acts including "The Lion King" and "Wicked."
"The Center can accommodate groups of 12 to 2,000," says Maria Van Laanen, president of the Fox Cities Performing Arts Center.
There are several distinctive spaces available for events at the PAC, tailored to nearly every theme and event size. The biggest space is the Thrivent Financial Hall, which can hold up to 2,072 attendees who are sure to be mesmerized by the 5,000-square-foot stage, the second-largest in the state. The Kimberly Clark Theater is a flexible space and multi-purpose theater with a varying seating capacity. Then there are intimate spaces that include the Founders Room, Main Lobby, Dress Circle Lobby and the Entrance 21 Luxury Suite.
The next events center on the horizon is the Fox Cities Champion Center. Set to open in fall 2019, it will be a 164,000-square-foot sports complex offering hardwood courts and an ice surface. Standout Spaces for Distinctive Meetings Looking for something on the unique side for your event? You can quite literally embrace flights of fancy when booking an event at Appleton's Platinum Flight Center. The area is famous for its annual EAA AirVenture event, held in nearby Oshkosh, that draws up to 600,000, so an event at the flight center would be an appropriate nod to the region. In order to book the airplane hangar, Rhode shares that it needs to be empty, it can't take place during the EAA event, and an event decorating company and production company will be needed.
If you want to take your attendees out to the ballgame, you can book a banquet facility at the Fox Cities Stadium, home of the Timber Rattlers minor league baseball team. Called The Fox Club, this space can hold 250. You can also choose from a 14seat conference room, the relaxed Leinie Lodge that's set up for 50 guests and six luxury suites, which can each hold up to 20 people.
There are 15 hotel properties in the Fox Cities, and even more are opening to accommodate the increased influx of visitors who come to the area for events. In 2019 and 2020, these properties will open in Appleton and the surrounding areas of Grand Chute and Neenah. They include Cobblestone Hotel & Suites, Home 2 Suites by Hilton, Fairfield Inn & Suites, Holiday Inn and Holiday Inn Express.
When you consider caterers for your Fox Cities event, be sure to contact the Fox Cities Convention & Visitors Bureau for a list of preferred caterers. In Neenah, Amy Barker, executive director of Future Neenah Inc., recommends Zuppas as a caterer of light Italian eats. She adds, "Most of our Neenah restaurants are very friendly and willing to work with you on catering for your event to make it special."
COOL AND CULTURAL ACTIVITIES
For your meeting or event, you know that fun outings can make a convention special and stand out from the rest. Luckily, the Fox Cities are a treasure trove of stylish restaurants, sought-after shops and can't-do-this-anywhere-else activities. Jennifer Stephany, executive director of Appleton Downtown Inc., has several recommendations in and around the city's famed College Avenue, the same area where you'll find Appleton's convention center.
Sharing that there are over 140 shopping and dining options in downtown Appleton, Stephany says, "The vibrant downtown turns a meeting into a great adventure. The linear walkability of downtown Appleton makes exploring easy, safe and enjoyable."
Downtown Appleton has become a traveler's utopia in recent years, a city that's equal parts college cool (Lawrence University is down the street) and cultural panache. Your outings can run the gamut, from family-friendly afternoons spent at the Building for Kids Children's Museum and the History Museum at the Castle to artistic ventures for adults that include stops at Coventry Glassworks & Gallery, Pinot's Palette and Board & Brush.
A shopping outing is a piece of cake to plan in downtown Appleton. There are scores of shops within walking distance of one another, and afterward, you can transport attendees to the Fox River Mall, one of the Midwest's foremost shopping destinations.
For after-hours activities, look no further than Escape Room Wisconsin, Skyline Comedy Club and multiple live music venues.
Neenah is another ideal town for outings. Besides the wide variety of shops and restaurants, the area holds natural beauty. The new Loop the Little Lake Trail has a trailhead downtown and connects to a three-mile loop. Barker says that in the winter the trails are always groomed, adding, "Taking a walk around the lighthouse at Kimberly Point is beautiful any time of year."
Visitors can also tap into their inner artist at the Bergstrom Mahler Museum of Glass to experience the beauty of glass art (the museum glass collection numbers over 3,500 objects), make their own creations in its glass studio or shop for distinctive gifts in the museum shop.
Magician Harry Houdini, who was raised in Appleton, might have been the first to create a little magic in the region but the magic lives on. The region combines city chic and small-town charm with unique and varied event spaces to deliver an enchanting meeting and event experience.