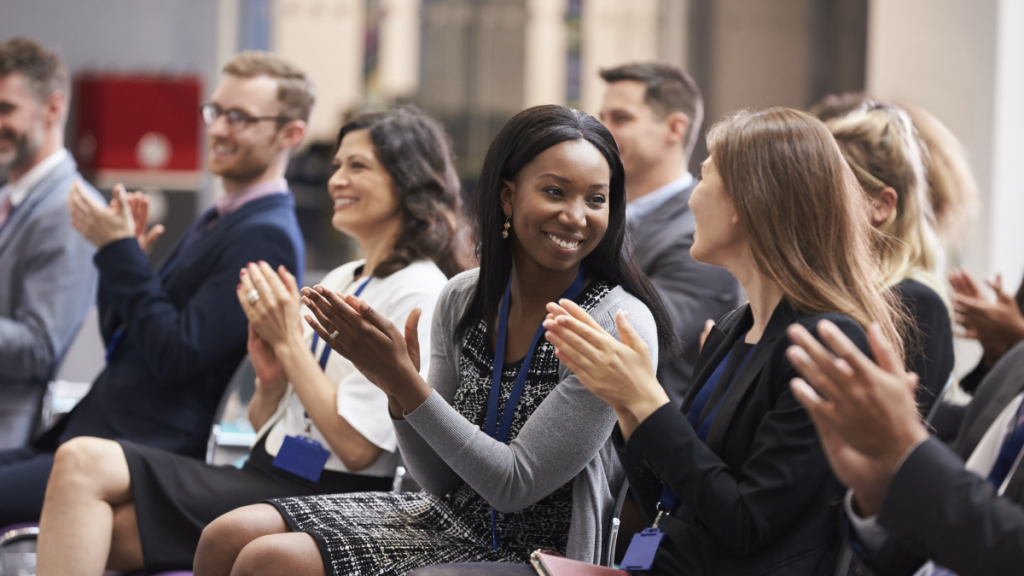 The Perfect Fit: How to Select Your Event Speaker
04/24/2023
By Maura Keller
Walk into any meeting or event, and you're bound to see a diverse group of individuals. From suit-donning, gray-haired executives carrying leather- bound portfolios to sandal-wearing 20-somethings with iPads in hand to 40-somethings lugging their laptops from session to session. You are also likely to see something else — professional speakers who are addressing these diverse audiences, and delivering powerful messages that motivate and excite, and inspire and delight. In fact, finding the ideal speaker is part art, part science and requires due diligence from meeting planners.
Fran Puleo Moyer is the associate director of outreach programs at the University of Wisconsin-Madison (UW-Madison). One program she directs, called Badger Talks, helps connect UW professors and other experts to prospective speaking engagements. She says knockout speakers should be accomplished and knowledgeable in their area of expertise, able to inspire the next generation of experts, and clearly and succinctly share their findings in an easily digestible way.
"Meeting planners should have the goal of the presentation in mind when searching for a speaker," advises Moyer. Is the goal to inform, motivate, connect or entertain? This goal should be shared with the speaker being considered — not only to determine the best fit, but also to give a clear understanding of what the intended outcome is for the presentation. "Speakers know better than anyone what their presentation style is like and what outcomes they typically generate," Moyer says. "This conversation is critical in the evaluation process."
According to Roger Wolkoff, president of the National Speakers Association of Wisconsin, a knockout speaker should have a fantastic one-two combination punch that draws an audience in and engages them, then leaves them with valuable takeaways. The speaker's message, delivery and style must educate, entertain and engage. He says, "Speakers need to have poise, charisma or presence; professionalism — they need to respect you, your organization and your people — an on- point message that resonates with your audience, and meets or exceeds your expectations; and adaptability. (Stuff goes sideways sometimes — how willing and experienced are they in adapting to your needs?)"
WHERE TO LOOK FOR A SPEAKER
You might know exactly what you're looking for in a speaker, but how does that translate into identifying and finding the ideal candidate? "Badger Talks offers an easy-to-use speaker catalog where Wisconsin organizations, meeting and event planners, businesses and schools are all welcome to search for speakers by keyword or category," Moyer says.
"If host groups are looking for a specific type of presentation style, then they can even research the past presentations of speakers being considered. Badger Talks Live (badgertalks.wisc.edu/badger-talks-live) and University Place (pbswisconsin.org/watch/university-place) are two options to seek out recorded presentations."
Badger Talks speakers typically do not charge a fee, as the program was created in honor of the Wisconsin Idea, a tradition that promotes the concept that education and research at UW- Madison is to be used to benefit communities beyond campus borders. "Badger Talks is proud to engage Wisconsin residents on topics they care about. The exceptions where a stipend may be requested would be for for-profit businesses, large conferences or a situation in which much preparation time is required for the presentation," Moyer says. "Most Badger Talks speakers have prepared talks listed on their profiles, reducing the amount of preparation time in many cases."
Wolkoff points out that many planners choose to work with speaker bureaus, which vet speakers and help meeting planners narrow down whom they want to work with based on their needs. He suggests checking out espeakers.com, which features speakers who belong to the National Speakers Association (NSA), an organization that prides itself on emphasizing professionalism in the industry, as well as adhering to a code of ethics. "You can also look for your local NSA chapter — see wisconsinspeakers.com for speakers local to our state," Wolkoff says. "Ask colleagues at networking events who they've hired to speak at their events."
Planners can also do a Google search based on the speaking topic they are interested in (e.g., emotional intelligence, leadership, conflict, change management). But keep in mind that speaker schedules can prove to be difficult to orchestrate. In-demand speakers can take months (or sometimes years) to book out, and having the time and the funds to allocate ahead of ticket sales can sometimes be problematic.
Another challenge with event entertainment is making sure that it fits with the audience. Meeting planners want the audience to enjoy it, not feel like it's completely out of place or a show to distract them. Main speakers are still a large draw for attendees, so if you find speakers well fit for their roles, consider offering VIP experiences to meet and greet with them to help entice your attendees to register early and/or pay an additional fee for intimate access.
EVALUATING KNOWHOW
When searching for the ideal speaker, the first stop many planners make is to visit speakers' websites. Is their message clear? Do they have video of them speaking? Look at the quantity and quality of their testimonials.
Then Wolkoff advises planners to reach out to the speaker via email, phone or text message. How fast do they respond? Engage them on the phone or in a video conference. "My clients tell me (and I agree) that we can figure out if we're a match in our initial conversation. This gives the meeting planner a chance to determine if this is someone they want to work with and with whom their audience will engage," Wolkoff says. "This conversation is essential to determining fit."
In addition to determining if a speaker is a fit for you, your clients and your organization, you should evaluate what the speaker's experience is with the topic and how comfortable they are on stage.
So how else can a planner verify if a speaker's proverbial bang is worth the buck? Well, a standing ovation is always a good sign. "Listen to the chatter in the hallways — what are people saying after the speaker is done? If they delivered their talk in the morning, are they still talking about it in the afternoon? If they delivered it on day one, are they still talking about it on day two?" Wolkoff asks.
And don't forget to use surveys after a speaking event. As Wolkoff explains, everyone involved needs data to measure effectiveness and performance. He encourages meeting planners to go digital — and ask your audience to take the survey immediately after the speaker is done. That way, you're sure to get reactions and emotions while they're fresh. On the survey, ask point- blank questions, such as, "If you had to describe this program to someone who wasn't here today, what would you say?" or "Would you invite this speaker back?"
"I always have a survey at the end of my programs for audiences," says Wolkoff. "I compile the data and comments, and deliver them to my meeting planner within 24 hours of the event."
In the end, meeting planners want to hire a speaker who is cognizant of the fact that time is very valuable, and if people are giving the keynote speaker an hour of their time, that speaker should be motivated to deliver something that will make them say, "There's nowhere else I would have rather been than in that room listing to that keynote today."
---
Based in Minneapolis, Maura Keller is a seasoned writer, editor and published author, with more than 24 years of experience. She has written about business, meetings, event design, marketing, health care and a wealth of other topics for dozens of regional and national publications, as well as Fortune 50 companies.