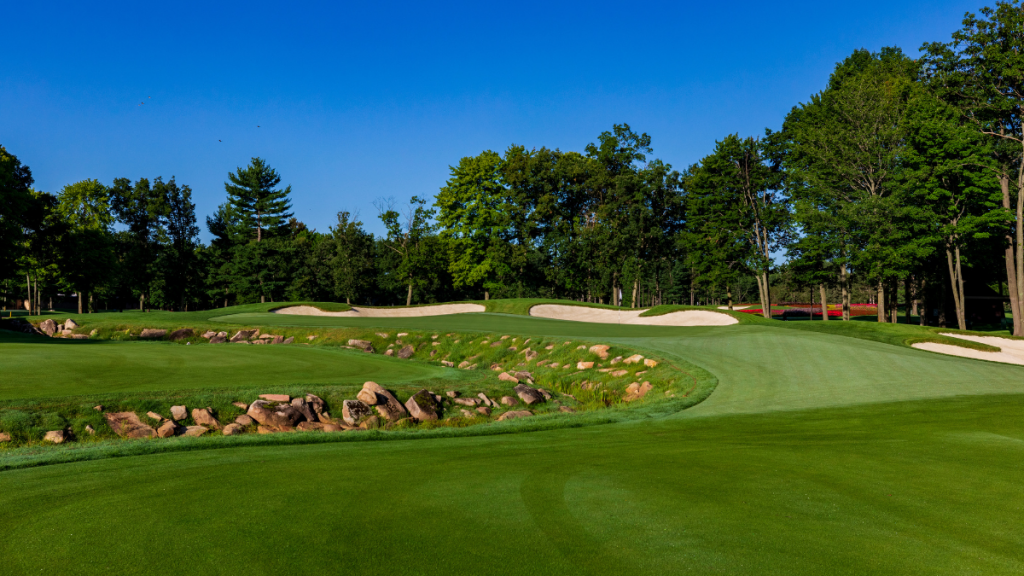 Score Big with Your Next Golf Outing
04/24/2023
By Greg Gerber | Pictured: © SentryWorld
Golf outings remain a popular networking event. Participants love the challenge of golf almost as much as spending a day outdoors with friends and business associates. But changes to the way organized golf outings are conducted are making the events even more popular. Even so, the success of any golf outing rests on proper planning. It is essential that event planners communicate frequently with golf course staff regarding headcounts and start times, for example.
One frequent mistake planners make is not having realistic expectations regarding how long golfing takes, explains Danny Rainbow, director of golf at SentryWorld in Stevens Point. If organizers plan a 1 p.m. tee time, but players are still involved in another meeting or lunch at 12:30 p.m., for example, the event can become chaotic.
"Golf is an on-time kind of sport. Players must begin at their tee time or they may not get another chance to start," he says. "Players typically need at least an hour to change into their golf shoes, get their clubs onto a cart, get out to the driving range to warm up a bit and make their way to their first tee. Players won't be happy if they feel rushed onto the course."
Event planners are experts at setting up meetings, but some don't understand the game of golf, how it works or the kind of preparation players need to enjoy a good round, notes Rainbow. "Golfing can be rather unpredictable. It could take four hours to do 18 holes or it could take five and even six, depending on the number of players on the course and their level of experience. And weather can throw a wrench into the best of plans," he adds.
It is also helpful if organizers can provide course staff with a complete player roster several days in advance. That can speed up on-site registration and cart assignments, according to Justin Meier, first assistant golf professional at Thornberry Creek at Oneida just outside of Green Bay.
Technology Updates One of America's Most Treasured Pastimes
Like most things, planning a golf outing has gotten a bit of a makeover with technology. Now some host properties even provide an online system event planners can use to register and communicate with players, check participants in on golf day, assign carts and create teams. Rainbow says, "We also recommend putting details of the golf outing on an event webpage so participants can always review start times, schedules and the type of play."
One of the best improvements to golf events involves live mobile scoring, which delivers results directly to GPS displays on golf carts. The same information appears on monitors at the clubhouse. Players love it because they can see leaderboards update every time a score is entered.
"Golfers really like the live leaderboard to see how they're doing compared to their friends," agrees Rainbow. SentryWorld gives groups access to its Golf Genius software to help set up and manage events, and track player scores throughout a tournament.
If a golf course doesn't offer software, then several apps, such as BlueGolf, Golfify, Squabbit Golf and others, are available for event planners to use on their own. For a one-time or annual fee (although Squabbit is free), organizers can use the app to create teams, set handicaps and allow players to enter scores after every hole. The apps maintain live leaderboards that players can monitor from their mobile devices.
Encourage and Enhance Networking On and Off the Green
Due to the nature of the game, golf outings don't allow for a lot of interaction among players beyond the foursome traveling together. But there are ways to improve networking opportunities. A pre- or post-event reception is ideal, explains Rainbow, especially if food is available. Players often linger longer if food or drinks are served.
"However, it's a cardinal sin to have hot food available when players won't complete the round for another
hour or so," he adds. "Most courses closely monitor the rate of play to ensure food is hot and ready, but planners should work with course staff to set realistic expectations. The last thing you want is a golf course to have food ready when people are still playing."
Many groups seek sponsors to help cover the cost of an outing or reduce the fee participants need to pay. Naturally, those sponsors and association executives want to network with players, too. Receptions give them an opportunity to do that, but so does setting up special activities at longer holes.
"Sponsors can set up a fun contest, such as a longest drive or putt competition," Rainbow suggests. "Another option is to borrow a golf cart and cruise around the course, stopping briefly to talk with players.
"Try not to slow down the speed of play because that can cause problems later, especially if other play is scheduled immediately after your event." (Some golf courses also frown upon having non-players on the course, so be sure to check with the venue before making those options available.)
Even simple games like bag toss or ladder golf can add some fun to the event without a lot of extra work, Meier notes. They also make waiting easier, especially when there are lots of golfers. Plus, any opportunity for players to interact is appreciated.
Charitable groups can also generate extra cash by giving players a chance to improve their score by paying $20 on a Par 5 hole to tee off 200 yards closer to the pin. Hole-in-one competitions, when a player can win a car or other large prize if the tee shot makes it into the cup, are very popular, too, and a great way to entice sponsorship from an area business.
"I'll also set up at a longer hole and give players an opportunity to pay extra money to compete against me," mentions Meier. "If their tee shot goes further than mine, they either get their money back, or can take an extra stroke or two off that hole. It adds to the fun and competitive nature of the game."
Golf Logistics
Monday through Wednesday is often the best time to plan a golf outing because courses are generally slower those days, observes Meier. Prices are likely higher for organizations to reserve an entire golf course Thursday through Sunday as well. That's because it's not ideal to reserve an entire course for six hours on a high-traffic day when people generally pay $80 for a round of golf and want to complete it in four hours, according to Meier.
When food is involved, planners have several options. Buffets are the easiest to plan because people serve themselves and food is replenished easily. Serving heavy hors d'oeuvres can be a faster option. Plated meals require additional serving time, but may be best for networking as people can talk between courses, suggests Jenni Appel, banquet and event sales manager at Thornberry Creek at Oneida.
Whatever food is served, many venues require a final count three weeks in advance to ensure there is enough food on hand and people to serve it, she adds. "The event may have a certain number of people signed up to golf, but will have more people eating than golfing. That's why final counts are so important — to eliminate confusion," warns Appel.
If you're planning a group outing, think about treating your team to a fun day of golf. Between technology advancements and novel ways of networking, it's a hole in one for groups.
---
A native of Wisconsin now living in sunny Arizona, Greg Gerber is a former journalist who now helps people over 50 to enjoy more purposeful lives by pursuing things they're truly passionate about.