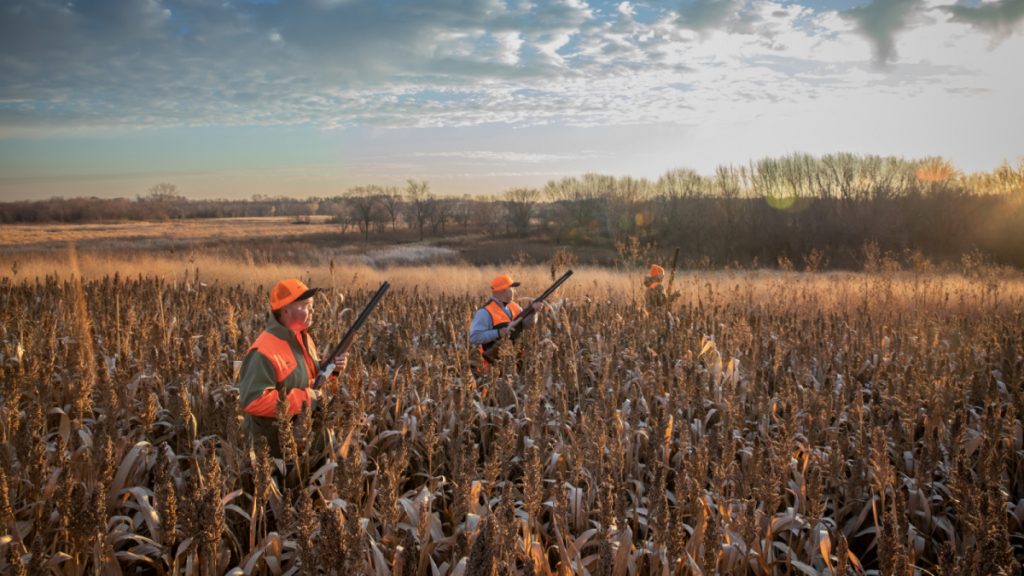 Hooked on New Outdoor Adventures
01/20/2023
By Ronnie Wendt | ©Milford Hills
As the human resources manager at Xact Wire EDM Corp., Kurt Pokrandt is frequently tasked with team-building initiatives. He believes, "A great team-building event is when you get people doing something they wouldn't normally do."
Full disclosure: Pokrandt also owns Milwaukee-based Silver King Charters, which offers opportunities for groups to fish Lake Michigan for trout and salmon. He calls the business he started with his brother, Willy, a great experience for teams to share. "Fighting a fish as an individual or watching a coworker fight a fish is a good team-building opportunity," he emphasizes. "We had McDonald's Corporation and Dodge come out with us several times. They felt it was a fantastic opportunity for building relationships."
Taylor Williams, the director of operations at Milford Hills, an upland hunting destination with an exceptional setting for small and large groups, echoes Pokrandt's sentiments. He says hunting is a popular outing for groups that want something different. "You can come out here with no knowledge or experience," he says. "Hunting is a group experience that's a lot like doing a ropes course. People get put out of their element and pushed to try something new. When you do that with a group of people, it helps you grow with them."
As we head into a new year, now is the time to plan an adventurous corporate retreat, group outing or outdoors team-building event. Wisconsin offers a host of hunting clubs and fishing charters that can deliver an experience that builds individuals and teams.
Let's Go Fishing
Silver King Charters offers two packages for 5 or 8 hours, with each of its boats able to accommodate up to five people. "We can put together packages for larger groups that use multiple boats. We just need advance notice. But if it's one boat, we can put together an event for five people or even fewer, too," explains Pokrandt, who's one of the experienced anglers who guide the fishing experience.
Furthermore, Silver King provides all the necessary fishing and safety equipment. Guests need only to show up, fish and have fun. "We offer a 'no fish, no pay' policy, but that doesn't happen very often," he acknowledges. One reason is Lake Michigan was stocked with coho and Chinook salmon and lake trout in the 1960s, and those species have thrived in the Great Lake.
The expertise of the owners and other boat captains is another reason. "I've been fishing this lake since I was 10, owned my first boat at 16 and started this chartering business 17 years ago," says Pokrandt. The charter company offers fishing experiences from April 1 to October 31, with both morning and afternoon trips available. The cost is $600 plus sales tax per boat, which includes filleting the catch and putting it in freezer bags. Passengers are allowed up to five fish.
The thrill of catching a fish that runs 100 to 200 feet of line in a minute boosts the enthusiasm of the entire group. "They have to reel in that fish and these fish move fast," Pokrandt says. "Everyone is pretty excited when we get the fish back into the boat. All you need is a fishing license, either resident or non-resident, and we handle the rest, although everyone needs to pack their own lunch."
Other fishing charters abound throughout the state. For instance, Lake Geneva Fishing Guide Service in Lake Geneva is endorsed by the community's top resorts, tackle and marine vendors, and the Lake Geneva Chamber of Commerce. The guide service delivers smooth-sailing corporate events for all guests to enjoy.
Additionally, Outcast Sport Fishing Charters in Algoma takes groups of four to six people out on the waters of Lake Michigan. The company offers four deluxe packages to choose from and will also customize trips to cater to a group's needs. Large groups can take part in pontoon fishing experiences, for example, or guests can upgrade their trip to include lodging in waterfront cottages.
Happy Hunting
Hunting is not top of mind as planners look for a team-building experience, but it should be, according to Williams at Milford Hills. An adventure day at Milford Hills can include everything from upland hunting and sporting clays to casual dining and team-building exercises. The hunting lodge only offers sporting clays May through October, however, "because our hunting takes precedence during the winter months," he says.
There is also a shooting range staffed by experts who can teach novices how to use a pistol or rifle. "Our experienced staff can give lessons to those with no experience at all up to the most experienced of shooters," confirms Williams. Or groups can go hunting in the hunt club's vast fields, with up to 300 people accommodated over the course of the day.
Williams notes Milford Hills need to know the experience levels of those coming to the planned event to ensure there are enough instructors available for the group. "Sporting clays is going to be a little more challenging than hunting because the targets are a lot smaller and the clays can fly faster than a live bird," he says. "It is even enjoyable for beginners, who can have a lot of fun after a safety briefing and instruction."
The Milford Hills team works with groups to plan, manage and create unforgettable experiences for employees and clients.
Breakfast and lunch buffets are available at the start and end of the day, for instance. Milford Hills additionally offers meeting rooms for corporate events. Groups can plan a meeting for the morning or afternoon, and hunt opposite of it, Williams says.
Plus, he reassures, "Safety is always top of mind. We don't allow anyone to drink alcoholic beverages prior to shooting. But after you're done shooting for the day, you can also indulge in your favorite cocktail or beer. While there are definitely dangers involved with shooting, this is a controlled environment that allows people to safely try something new if they haven't done it before. It's a great team- building experience."
The Dairy State is rife with hunting opportunities for groups. Deer Haven Acres Lodge in Adams has 238 acres of land available for hunting trophy whitetail deer, turkey, quail, pheasant and other smaller species. Groups can retreat after the hunt to a seven-bedroom lodge or two guest houses.
Edenwood Ranch & Preserve in Wautoma also offers guided deer hunting adventures and will customize hunting adventures for groups. Edenwood offers high-fence hunts of its own self-sustaining herds of whitetail, fallow and elk. After the shoot, groups can relax by the fire pit, fish a fully stocked lake, or retreat to a rustic luxury cabin or glamping tent.
Groups looking for a novel outdoors experience in Wisconsin might want to give hunting and fishing a try. In a world where everything's been done before, these adventures are fun and invigorating, and a wonderful way to build team camaraderie.