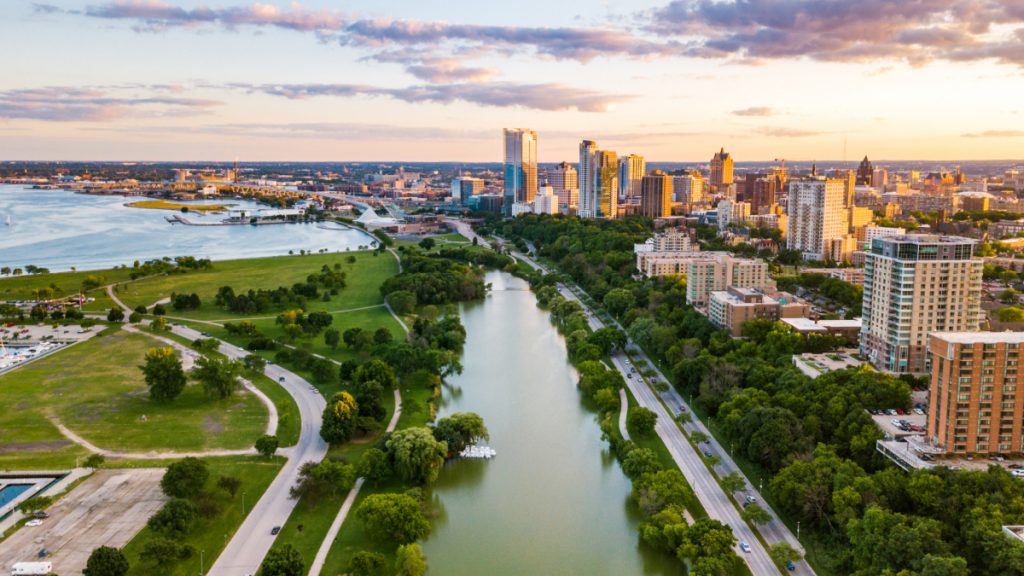 Destination Milwaukee
01/20/2023
By Kristine Hansen | ©Visit Milwaukee
As Wisconsin's largest city — with approximately 569,300 residents in the city and 1.574 million in the surrounding metro area — Milwaukee is poised to offer meetings and events both culture (an eclectic arts and dining scene) and convenience (an international airport).
Plus, in October, National Geographic named Milwaukee one of the best places to travel in 2023, providing a huge boost to Visit Milwaukee's efforts to attract even more meetings over the next two years. "We are going to be putting that literally everywhere we can for the next 13 months," acknowledges Claire Koenig, Visit Milwaukee's director of communications.
New to the city are a cruise port welcoming luxury lines such as Viking Cruises and — in the heart of downtown — a new home for the Milwaukee Symphony Orchestra at the Bradley Symphony Center and the Milwaukee Bucks at Fiserv Forum (also a concert venue). Within the former Grand Avenue Mall, 3rd St. Market Hall opened in 2021 with a delicious lineup of food vendors. "They combine entertaining into the food hall, which is pretty unique compared to other food halls around the country," says Koenig. Another entry into the cultural scene is America's Black Holocaust Museum, which reopened in February of 2022.
Alongside these new attractions are new options for restaurants and hotels, perfect for hosting meetings and events. For instance, The Trade Hotel, part of the Marriott Autograph Collection, will welcome guests to its more than 200 rooms and rooftop Italian restaurant once it's open in 2023 in the Deer District — adjacent to Fiserv Forum. Similarly, a $100 million expansion at Potawatomi Hotel & Casino includes a Rock & Brews restaurant from none other than KISS musicians Paul Stanley and Gene Simmons.
For meeting planners, this is all accentuated by flexible meeting spaces against a backdrop of Lake Michigan's shoreline and reimagined historic buildings. And based on feedback the Visit Milwaukee team received from Viking Cruises passengers and USA Triathlon athletes (the triathlon was held in Milwaukee for six summers since 2013 and is returning in 2023), "Milwaukee is a total fan favorite," says Koenig. "We hear it every year."
Here are a few more Milwaukee venues to consider — and why.
Wisconsin Center
A 2024 renovation will double the size of the Wisconsin Center (not to mention add a rooftop ballroom and terrace), which sits across the street from Hilton Milwaukee City Center and Hyatt Regency Milwaukee in downtown Milwaukee. In November, Johnson Controls hosted a meeting for 700 members of its procurement division with executive presentations followed by track sessions, plus breakfast and lunch. "Proximity to hotels and downtown makes it super convenient because everyone's coming in from out of town," explains conference organizer and Johnson Controls project manager Zoe Kempf. Attendees complimented the excellent food (including gluten-free, vegan and vegetarian options) and organizers enjoyed the space's flexible use.
The same was true for Neil Willenson, who organized the Grand Slam Charity Jam at the venue. Between 600 and 700 guests attended the 12th annual Camp Hometown Heroes fundraising dinner in November at the Wisconsin Center. Jim Belushi performed.
"The food this year (including short ribs and chicken) was the best we ever had," declares Willenson. "Many stay overnight because it's a long party that starts at 4:30 p.m. and ends at midnight. Having it connected to two different hotels is advantageous to event planners."
Harley-Davidson Museum
Last summer, the 8,200-square-foot Garage — with a kitchen, indoor event space, retractable garage doors and a riverside dock overlooking the Menomonee River — debuted, building on two rental spaces already at the 20-acre Harley-Davidson Museum. The Garage can accommodate up to 547 guests (420 seated), while the MOTOR Bar & Restaurant holds 200 and Rumble holds up to 440 (300 seated).
Mike Underwood of Underwood Events turns to the museum for many events, including a recent banquet for a client at the Garage. "It's got that exposed, raw look to it, but it's also refined and comes with technology. Plus, it's a downtown venue without feeling like it's downtown," says Underwood. "When planning events, people always want to know about the parking situation. They have free parking on site."
Marcus Hotels & Resorts
At these three hotels under the Marcus name, restaurants, meeting spaces and hotels are all under one roof. The Pfister Hotel — open since 1893, and wrapped in Victorian-era furnishings and art — offers 25,000 square feet (accommodating as few as 15 or as many as 1,500) in its 11 meeting and conference spaces.
Open since 2019, Saint Kate – The Arts Hotel features a lively lobby and the downtown location for the Museum of Wisconsin Art, along with two restaurants (from the casual Proof Pizza to elevated artisan menus at Aria), two bars and seven meeting rooms. The Dark Room is a private, intimate dining space reserved for small groups. Also included in 11,000 square feet of meeting space is the Simone Ballroom with a capacity of 600 people.
Anchoring the 729-room Hilton Milwaukee City Center are 17 meeting rooms. The largest is the 6,615-square-foot Crystal Ballroom, accommodating 700 for a banquet and 1,500 for a reception. Milwaukee Chophouse, a sports pub, a cocktail lounge and a Starbucks café keep attendees and overnight guests satisfied as well.
Fiserv Forum
While it's common knowledge you can see a Bucks game or attend a concert at this 714,000-square-foot downtown arena — in what's now known as the Deer District — lesser known are its available event spaces. The largest of these is the swanky Potawatomi Club, which holds up to 450 people on the arena's top level; the Atrium, holding up to 400 people just inside the arena's main entrance; and the horse- shoe-shaped Jockey Club for a lounge-style vibe for a reception of 400.
Provided another event, such as a concert or Bucks game, is not already taking place, groups can also rent out the Arena floor to host a trade show, reception or seated dinner. Culinary options run the gamut, from casual breakfasts to all-day "chef's tables" featuring Wisconsin-inspired foods (such as Lake Superior whitefish, Klement's sausage and Door County cobbler). Meetings can also sprawl into the adjacent outdoor area, home to many restaurants and bars that contribute to Milwaukee's active nightlife scene.
Wisconsin State Fair Park
If you've been to this event park, then you know there are a lot of buildings to explore. The Exposition Center offers nearly 200,000 square feet of space, divided into three halls. An expansive lobby is available for rentals, and both catering services and a commercial kitchen are on site. Groups can select from two banquet rooms as well, and there are four meeting rooms spanning 750 square feet each that can either remain separate or open up for more space. The Wisconsin Products Pavilion is one of the most widely used, with 32,000 square feet of flexible space. Then, there's the 9,000 square feet of event space on the Tommy G. Thompson Youth Center's main floor, too.
The Outskirts of Brew City
About a 30-minute drive west of downtown Milwaukee, the communities of Waukesha, Brookfield and Pewaukee cater to meeting planners who are seeking access to nature, and new attractions and hotels.
Open since 2020, the Brookfield Conference Center satisfies a variety of meeting needs because it can be divided into 11 different configurations via 40,000 square feet of event space that includes the 18,000-square-foot Connect Ballroom and 8,000-square-foot Celebration Atrium. On-site catering and an in-house chef also ease planning. "We've had associations, religious groups, fundraising dinners, corporate events and annual conferences here," says Nancy Justman, Visit Brookfield's president and CEO. "It's very easy to get here. We're located off of I-94, and parking is easy and free."
A new 168-room Hilton Garden Inn Milwaukee is attached to the Brookfield Conference Center and the 389-room Sheraton Milwaukee Brookfield Hotel is next door. Attendees can walk to shops and restaurants at Brookfield Square, or see movies and enjoy the food and drink service at Movie Tavern. Whirlyball is another new attraction. "It combines bumper cars with a sports component," says Justman. "Our renters at the Brookfield Conference Center often use it as an after-hours event [venue]."
She cites 150 restaurants — from casual to fine dining and vegan options — as another reason to visit, too.
Another popular meeting space is the 135-acre Waukesha County Expo Center with 40,000 square feet of meeting space. It features the ability to host large-scale outdoor events or utilize two indoor facilities open year-round — the 21,000-square-foot Arena Building with a stage, three meetings rooms and 4,000 square feet of balcony space, and the Forum Complex with three halls and exhibit space. Although it's a popular spot for trade shows, concerts, fairs and festivals, more intimately sized groups can rent out a portion of the expo center, too, according to general manager Teri Adlam.
Located on 40 acres in Pewaukee, the 194- room Ingleside Hotel is on par with the above venues, offering 40,000 square feet of flexible meeting space. A variety of meeting rooms and ballrooms can accommodate as many as 720 people in the Lake Country Ballroom or as few as 20 for a seated event in the Ingleside Pavilion. Guests can also tap into several available amenities such as an indoor pool and water park, bicycle rentals, restaurants and a fitness center. For families or groups, the hotel can organize team- building competitions, themed scavenger hunts or s'mores by the fire.
Even closer to metro Milwaukee is the Renaissance Milwaukee West Hotel in Wauwatosa, offering six event rooms with over 8,000 square feet of dynamic meeting space. The Revel Hall Ballroom is the largest space with a capacity of 550 theater-style. Meanwhile, two interior rooftop spaces, the Belvedere and the Botanic, hold 150 and 115 guests, respectively, if you're looking for a view.
---
Kristine Hansen is a freelance writer based in Milwaukee. She writes about food and drink, design and travel for a mix of regional and national audiences. Her clients include
ArchitecturalDigest.com, Fodors.com, Vogue.com, Midwest Living magazine and Milwaukee magazine. She recently also published "Wisconsin Cheese Cookbook," which is available on Amazon.com.