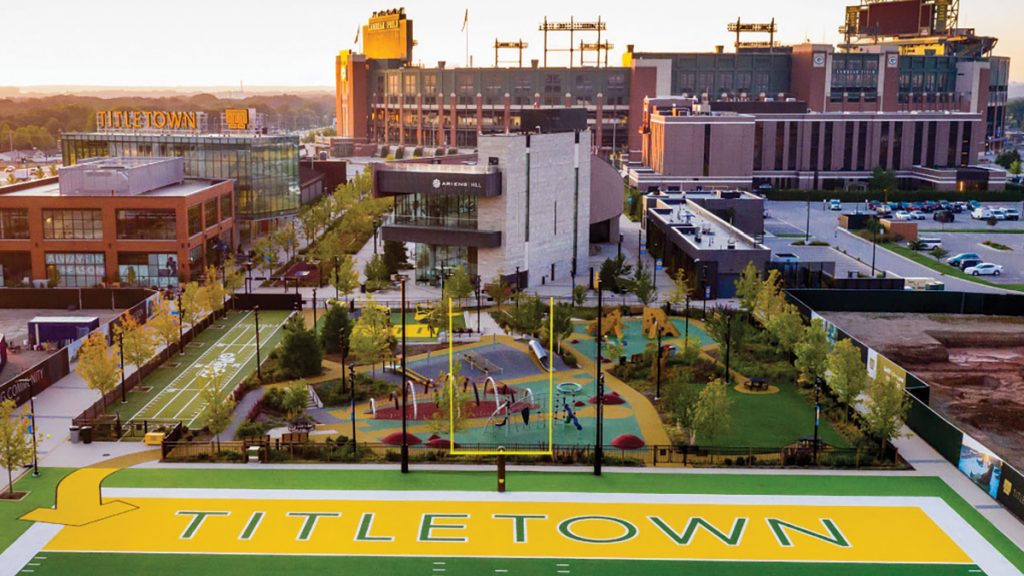 Destination Green Bay
07/12/2022
By Shelby Deering | Photo ©Lambeau Field
There are some places in Wisconsin that are far more than what they are known for and Green Bay fits that bill. Everyone knows that it's the Green Bay Packers' hometown, which is naturally steeped in football history and green- and-gold everything. But it's also a city that offers a diverse array of experiences, award-winning restaurants and meeting spaces galore — otherwise known as a dream for planners. Black- tie gala? Fundraiser? Seminar? You can do it all in this Wisconsin destination.
"Green Bay offers a variety of unique and memorable options for meetings or events to be held in our city," according to Beth Ulatowski, vice president of sales and services at Discover Green Bay. "With a legendary history and a vibrant cultural scene, Green Bay offers the traditional meeting options in our hotel and convention facilities, but also provides one-of-a-kind venue options."
Above and beyond selecting a venue, however, Discover Green Bay says it's a "one-stop shop" when it comes to planning events. "We are here to assist you and help make your event a success. We also work closely with all the partners in the area, so we can help you think outside the box," explains Ulatowski. One of those experiences that the convention and visitors bureau offers is helping schedule former Packers to appear at events.
In addition to its charming location on the water and its rich athletic heritage, Green Bay is considered by many industry professionals to be a budget-friendly destination for events. "With Green Bay's numerous industries and diverse corporate landscape, it has a wide range of meeting venues to fit every event style and budget," confirms Megan Lehmann, director of community relations at The Automobile Gallery & Event Center. "Green Bay can accommodate the economical, more basic meeting all the way to the customized, white-glove event experience."
Planners agree that Green Bay is a great place to hold events and another reason for that is its location. Janice Mashak, vice president of member services and innovation at LeadingAge Wisconsin, has planned annual conferences at the KI Convention Center for several years. She says, "The location is easily accessible for our attendees coming from throughout the state, as well as for vendors and presenters coming from across the country. Green Bay keeps our attendees happy and that works for me."
The city is "a convenient destination for exploring the heart of the Midwest," concurs Shawn Dortman, general manager of Lodge Kohler.
Rob Weise, the director of student and family ministry and district events at the Forest Lakes District Evangelical Free Church of America, who has held several youth group events at the KI Convention Center, agrees with Mashak. He says, "Planning an event and working with Green Bay has been a pleasure — from the city to the convention and visitors bureau to the hotels to the food."
Versatile Venues
Resch Expo, which is directly across from Lambeau Field, is no stranger to large-scale wedding shows, beer festivals and concerts — and it's a fantastic place to hold private events. This state-of-the-art venue is brand-new, opened in January 2021 with an ability to "handle meetings of any size," according to Terry Charles, senior manager of corporate communications at PMI Entertainment Group. Six meeting suites have independent audiovisual equipment, temperature controls and large-screen video boards for presentations. For large meetings or events, one or more halls can be made available with over 40,000 square feet of space.
Radisson Hotel & Conference Center Green Bay is another traditional venue, but with 30,000 square feet of modern event space. Board rooms are available for smaller gatherings or breakout sessions. During any downtime, groups can head to the adjacent Oneida Casino to try their luck.
For a unique and nostalgic meeting experience, look no further than The Automobile Gallery & Event Center, with its location next to the Fox River and impressive collector vehicles on display. Lehmann says that guests are wowed as they walk down a memory lane paved with more than 100 years of car history. The event center can accommodate 20 participants with board room seating and up to 160 with banquet seating. Furthermore, events at The Automobile Gallery come ready with Wi-Fi access, audiovisual and presentation equipment, music streamed throughout the gallery, tables, chairs, linens, centerpieces, private access to the entire gallery campus, a full catering kitchen and a fully stocked bar.
With over 80,000 square feet of flexible meeting space, the KI Convention Center attached to the Hyatt Regency Green Bay is convenient for meetings, since participants can sleep and meet in the same space. The hotel handles all the food and catering for the KI Center, and additionally offers amenities like all-suite guest rooms, a hot tub and steam room, and Starbucks coffee.
As Green Bay's first AAA Four-Diamond-rated hotel, Lodge Kohler's meeting rooms and amenities are grand, and accompany the best Lambeau views in town. Dortman shares that, apart from 134 luxe guest rooms, Kohler Waters Spa and Taverne in the Sky panoramic bar, the property also features two private dining rooms with audiovisual equipment that can accommodate up to 20 people each. Outfitted with fire pits, the Sky Terrace is perfect for group gatherings of up to 50, while the Tower, located in Taverne in the Sky, is a semi-private environment for group dinners for up to 40.
And last but not least, what's a trip to Green Bay without a visit to the Frozen Tundra? You can plan an event at Lambeau Field itself. Pat Cavanaugh, event sales and service manager, says that, with over 20 event spaces, the landmark can accommodate group sizes from five to more than 1,000, with all food prepared on-site. "Lambeau Field has a series of exciting amenities for guests," Cavanaugh says. "In addition to the state-of-the- art Hall of Fame and private stadium tour options, Lambeau Field boasts one of the largest pro shops in all of professional sports. And many of our event guests will experience the full Lambeau Experience, which includes coming out of the tunnel."
Bites and Brews
The area has no shortage of customary, and beloved, Wisconsin eats. Think locally crafted beer and stick-to-your-ribs fare. The recently completed Titletown District next to Lambeau presents several great eateries, like Hinterland Brewery and Restaurant, famous for its on-site-made brews and equally delicious appetizers, or The Turn, ideal for a fun group experience with its virtual interactive suites featuring golf and hockey. (And don't forget to try the cheese curds!) Green Bay also offers plenty of on-the-water dining, like Hagemeister Park with its 4,000-square-foot patio overlooking the Fox River, or Fox Harbor Pub and Grill that serves up seafood, steak and everything in between.
Water and Beyond
Since Green Bay is centrally located between the waters of Lake Michigan and the Fox River, there's an abundance of water-centric activities in the area for your participants to enjoy. Walk alongside the river at the CityDeck promenade or hit the water with a rented kayak. Or for a fun waterside activity that'll bring your guests right back to their child- hoods, head to Bay Beach Amusement Park and its famed rides. Just four blocks from Lambeau Field in the Stadium District is a 30,000-square-foot aquatic playground at the Tundra Lodge Resort Waterpark & Conference Center. The venue is also fully wired to meet the needs of meeting planners with over 18,000 square feet of conference space, with two grand ballrooms and 15 meeting rooms.
To appreciate the outdoors, meander around the stunning Green Bay Botanical Garden or visit the rescued animals, from owls to otters, at Bay Beach Wildlife Sanctuary. No trip to the city is complete without a jaunt around the Titletown District, showcasing its own football field, skating rink and tubing hill in the winter.
And this is just scratching the surface of all that Green Bay has to offer your event participants. Ulatowski puts it best when she says, "We are continually told by meeting and event planners how surprised they are by the offerings Green Bay provides, and how friendly and welcoming our people are. We invite you to experience it for yourself."