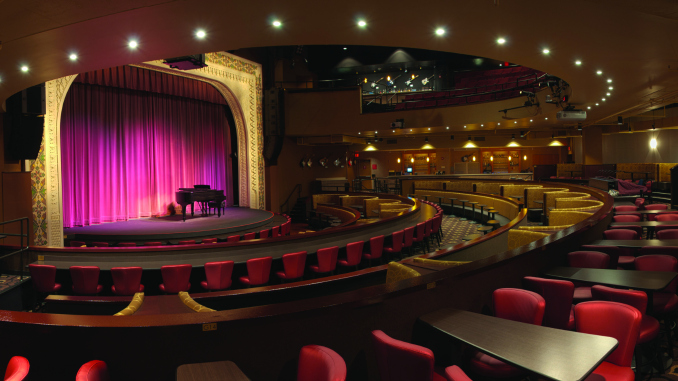 State Casinos Deliver Winning Hand
01/26/2020
By Jenny Lescohier | Photo: Northern Lights Theater, © Potawatomi Hotel & Casino
Few would say Wisconsin casinos are on the same level as their Las Vegas counterparts, but they sure are having a moment. In just about every corner of the state, you can find examples of construction, expansion and promotion that promise to propel state casinos to a level of sophistication never seen before.
This is great news for event planners searching for an upscale, full-service venue to host a variety of events, including conferences, conventions, meetings, trade shows and weddings, as well as musical entertainment and more. Just point your navigation tool in nearly any direction, and you can find a Wisconsin casino with a list of amenities sure to please your clients and their guests.
POTAWATOMI NEW BUILD
Perhaps the most dramatic story of expansion belongs to Potawatomi Hotel & Casino, a popular attraction for those in Milwaukee and across the state. The hotel opened in 2014, but the property as a whole was established in 1991 and has undergone several expansions since then.
Overlooking the Menomonee Valley, the 19-story complex opened an $80 million second hotel tower last August, adding 119 rooms for a total of 500. This makes the property the second largest resort hotel in the Milwaukee area.
And all those rooms are going to be booked solid next summer when Milwaukee hosts the 2020 Democratic National Convention (DNC) at the Fiserv Forum, July 13 through 16. Milwaukee officials expect up to 3,769 delegates to visit the city as the U.S. Democratic Party chooses its nominees for president and vice president.
Construction on the second tower began in 2017, long before the DNC chose Milwaukee as the site for its convention, according to Jay Saunders, the public relations specialist for Potawatomi Hotel & Casino.
"Potawatomi has dedicated all its rooms to the event next summer, but that was not the reason for the project," he states. "It was just time to expand due to public demand. It's a happy coincidence that we'll be able to help the city accommodate the DNC."
Besides 60 additional standard guest rooms, the new accommodations include a 19th floor Chairman's Suite, which offers a gas fireplace, billiards table and butler's pantry. This is one of 59 suites in the tower that, along with the new guest rooms, all feature floor-to-ceiling windows with views of downtown Milwaukee and Lake Michigan. Every new room also includes a spacious bathroom fitted with fixtures by Kohler, remote-control sheers/ blinds and an energy- efficient, state-of-the-art thermostat system.
The project also added Ember Salon & Spa, the newest luxury amenity, which is accessible from the hotel's first-floor casino. The full- service, modern-day spa provides beauty treatments for both men and women.
The new tower features the Legacy Ballroom as well. The 5,000-square-foot space can be partitioned into three separate areas to serve a variety of event configurations.
The hotel offers a casual dining restaurant and bar/lounge on its first floor, a coffee bar, a business center, an exercise room and complimentary Wi-Fi. For corporate and social affairs, eight state-of-the-art meeting rooms and a pre-function area provide over 24,000 square feet, whereas the entire facility furnishes about 60,000 square feet.
The result is a world-class entertainment facility that draws over 6 million visits per year, and is helping to elevate Milwaukee's status to the next level as a destination for tourists and business travelers alike.
"We wanted to continue to build on the Potawatomi brand," Saunders says of the second tower construction. "The demand was there. Potawatomi is more than a place to play slot machines."
ONEIDA PARTNERS FOR SUCCESS
Meanwhile, in Green Bay, Oneida Casino was appointed the official team casino of the Green Bay Packers
last August as part of a long-standing partnership between the two organizations. Oneida Nation and the Green Bay Packers have cooperated on a variety of programs for over 20 years, including a partnership since 2002 that includes the Oneida Nation Gate on the east side of Lambeau Field.
Louise Cornelius, gaming general manager for Oneida Casino, reports the organization is celebrating its 25th anniversary this year and its people are proud of their partnership with the Packers.
"We hope to work more closely with the team as the official casino of the Green BayPackers,"she says."We hope to offer unforgettable entertainment for fans, visitors and community members as a result."
Not to mention event planners.
"Oneida Casino completed a remodel that expanded non-smoking areas, restaurants, as well as more gaming options," explains Cornelius.
Oneida Casino connects to the award- winning Radisson Hotel & Conference Center located across from Austin Straubel International Airport and close to Lambeau Field, where the Packers play ball. The hotel is undergoing a renovation, which began last October and will be completed in 2020.
"The hotel is currently working on a large remodeling project, which started with a new look on the full exterior of the building," says Steve Ninham, general manager of the Radisson, noting that the hotel plans to replace all windows and remodel all rooms. Plans also include renovating the check-in and commons area, and adding a full-service supper club.
The Radisson offers 30,000 square feet of flexible meeting space, as well as complimentary shuttle service to the airport, making a trip to Green Bay a breeze for guests visiting for business or pleasure. Other amenities include free Wi-Fi, an indoor pool, sauna and fitness center.
More lodging options are also available near the airport and Lambeau Field. Located across the highway from the casino is The Wingate by Wyndham Green Bay/ Airport, for example. There, guests are treated to a complimentary hot breakfast, free Wi-Fi, a fitness room, weeknight social receptions, business services and free overnight parking. Jacuzzi and executive suites are also available.
"One of the first factors that makes Oneida an ideal meeting facility is the location," says Ninham. "We are located just over a mile away from the interstate, across the street from an international airport, in very close proximity to the Titletown District and Lambeau Field, and have very easy access in and out of the facility.
"We have many amenities on site, including food options, gaming options and beverage options, all under one roof," Ninham continues. "When you stay with us, there's no reason to leave the building after your meeting or convention. We also offer accessibility to our golf course (Thornberry Creek), which was host to a Ladies Professional Golf Association (LPGA) tour stop and is the official golf course of the Green Bay Packers."
GAME ON FOR HO-CHUNK
Ho-Chunk Nation has expansion plans of its own. Ho-Chunk Gaming presented its plans for expansion and received approval from the Madison Urban Design Commission last May, as it works its way through the city's approval process. Plans for the 49-acre site include adding 90,000 square feet to the gaming floor, creating a Heritage Center to share the Ho-Chunk story, building two parking structures, adding a 115,000-square-foot conference and entertainment center, and constructing a five-story, 150-200- room hotel, with a spa and restaurant. An article in The Capital Times reports the project is planned in phases, with construction to begin late 2020 at the earliest.
According to Casey Fitzpatrick, senior marketing director, Ho-Chunk Nation Department of Business, Ho-Chunk Nation recognizes the need to reinvest in its properties to serve a growing need from consumers.
"We've committed to updating and improving our facilities to meet the evolving needs of all our patrons," he says. "Our goal has been to create facilities that provide a level of service and elevated quality that is consistent with our Ho-Chunk Gaming brand overall."
Located on trust land in the city of Madison, the tribe owns an additional 49 acres at the site. The tribe currently operates six gaming facilities on its territory in Wisconsin.
Fitzpatrick points out the facility in Wisconsin Dells is perhaps the one best designed for meetings and events.
"Ho-Chunk Gaming, Hotel and Convention Center Wisconsin Dells offers 35,000 square feet of convention space, including two grand ballrooms, as well as two executive board rooms," he says. "It also includes five different dining options on site, ranging from fine cuisine to cafe-style fare, all within the dynamic Wisconsin Dells community, which is obviously already a popular destination with so much to offer visitors."
He adds, "Ho-Chunk Nation and all of its facilities stand ready for whatever meeting or event our customers have in mind."
There are over 20 casinos in Wisconsin, offering a wide range of attractions and amenities to guests, whether they're visiting just to gamble or to attend a business event. Either way, Wisconsin's casinos are growing to meet the needs of the groups they hope to attract.
CASINO HIGHLIGHTS
POTAWATOMI HOTEL & CASINO
The organization recently completed an $80 million expansion that added:
119 new hotel rooms for a total of 500.
A new luxury spa.
A new ballroom offering 900 square feet of flexible meeting space.
The hotel now offers eight state-of-the-art meeting rooms and a pre-function area for over 24,000 square feet of meeting space, bringing the casino's total offering up to 60,000 square feet.
ONEIDA CASINO
This facility:
Is the official team casino for the Green Bay Packers.
Boasts a prime location near Austin Straubel International Airport, Titletown District and Lambeau Field.
Connects to the Radisson Hotel & Conference Center, where a full remodel will be complete in 2020.
Underwent a $28 million casino revamp in 2013 to give it a new look, while adding four restaurants, a Players Club, poker room and more.
HO-CHUNK GAMING MADISON
The casino received approval from the Madison Urban Design Commission to:
Add 90,000 square feet to the gaming floor.
Create a Heritage Center to share the Ho-Chunk story.
Construct two parking structures.
Build a 115,000-square-foot conference center, and a five-story hotel with a spa and restaurant.