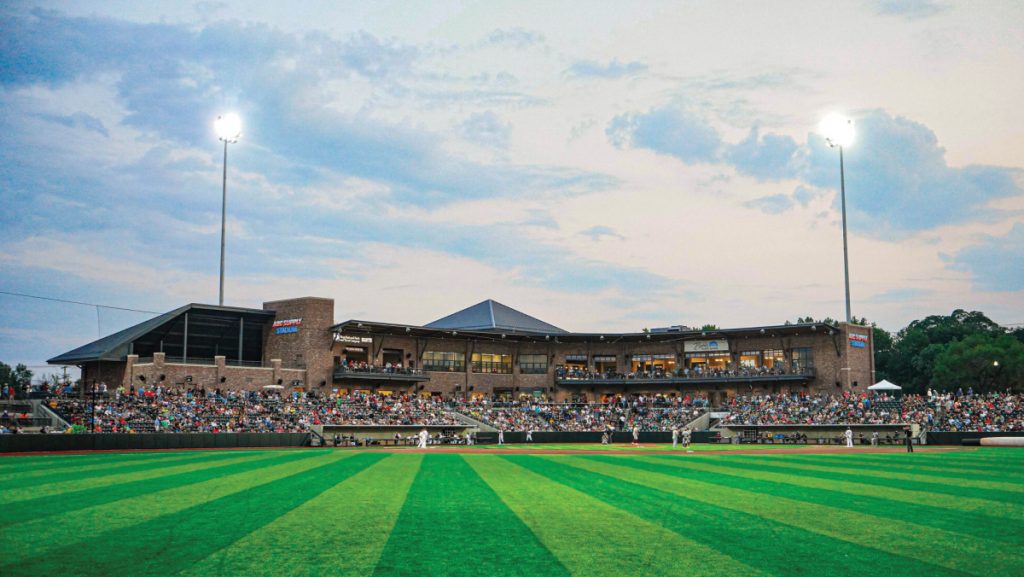 Beloit's ABC Supply Stadium is a Winning Event Venue
07/12/2022
By Ronnie Wendt | Photo ©ABC Supply Stadium
If you want to integrate the all-American attributes of baseball and hot dogs at your next meeting or event, Beloit knocks it out of the park with its new ABC Supply Stadium. The privately financed $37 million field opened last summer and the Beloit Sky Carp, the High-A Central affiliate of the Miami Marlins, is now playing its first full season.
"But this facility isn't just about baseball," notes Maria Valentyn, vice president of entertainment at ABC Supply Stadium, "we are an event center — great for outdoor events in the summer, but with beautiful indoor facilities in the winter as well."
The multipurpose building in downtown Beloit features a state-of-the-art ball field and stadium, with a 3,500 game-day capacity; two 1,245-square- foot clubhouses; a 575-square-foot player lounge; a right-field party deck; and outfield group areas — all of which planners can rent for events. A meeting on the field itself can fit up to 3,000 people!
The facility's Beloit Health System Stadium Club features a 5,000-square-foot, open-concept luxury club, an outdoor balcony and indoor seating, retractable floor-to-ceiling windows and views of the Rock River. "This area can comfortably hold up 250 people," says Valentyn.
On the opposite side of the stadium, the First National Bank & Trust Group Suites can accommodate 100 guests total. They feature outdoor balcony seating, luxury indoor seating and retractable floor-to-ceiling garage doors, too.
ABC Supply services all these spaces with a full menu of food and beverages dished up by chefs from Geronimo Hospitality, which operates several restaurants in the city, including Merrill & Houston's Steak Joint, truk't, Lucy's #7 Burger Bar and The Rooftop at Hotel Goodwin. "We're not just a burger and hot dog place," Valentyn confirms. "We can do everything from steak and lobster to hot dogs and sliders to peanuts and Cracker Jack." Even traditional baseball fare comes with a twist, she adds. A recent board dinner had entrées themed after different U.S. ballparks: Chicago dogs for Wrigley Field, clam chowder for Fenway Park and sushi for Yankee Stadium.
Furthermore, planners can thrill guests with company messaging on a 40-by-40-foot video board in the outfield. They can also control hundreds of TVs throughout the ballpark for messaging or livestreaming events with the stadium's five event cameras. The on-site audio system lets organizers talk to attendees as far away as the parking lot. "We can control exactly where people see and hear you," Valentyn explains.
Host an event on game day and let guests attend a game after the meeting ends. ABC Supply Stadium offers several hospitality options that include baseball tickets, and food and beverage options. Attendees can get branded team gear at the Beloit Sky Carp team shop or make other purchases during the event's "seventh inning stretch."
"On non-game days, groups can take batting practice," Valentyn adds. "We set up the whole field for them to practice and compete. It's a great team builder. We can also include stadium tours. These are fun ways to cap off an event."
"ABC Supply, a roofing supply company, hosted its Founder's Day event here for 3,000 people," Valentyn says. "They had a rock wall, bouncy houses and a party deck on the field. We had an ice-skating rink in the field this winter, and will host concerts and movie nights this summer. We can even orchestrate fireworks and light shows. Tell us what you want to do. The options are endless here."