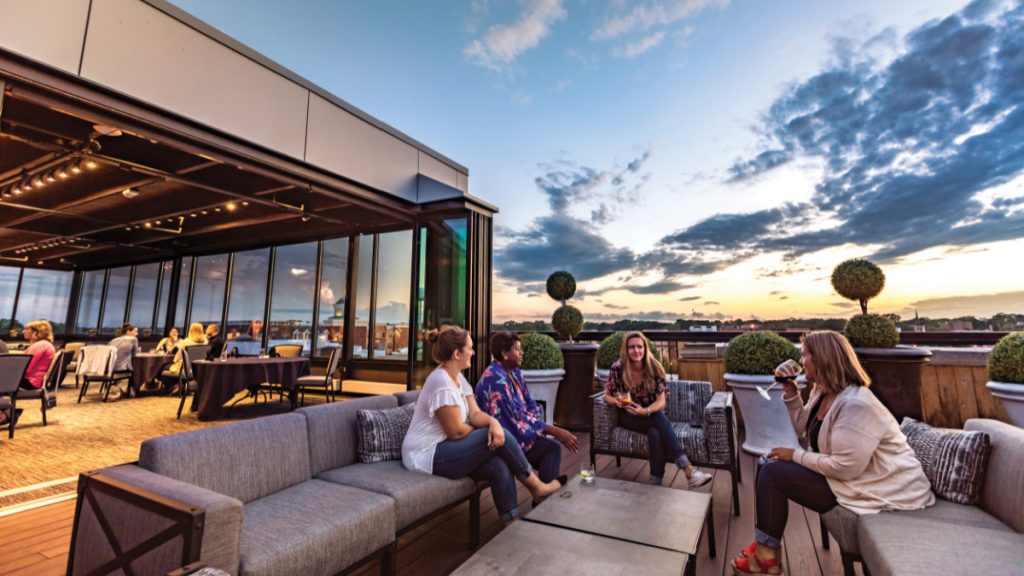 Destination Janesville & Beloit
01/28/2022
By Ronnie Wendt
Boom, bust and back again. The words tell the story of two Rock River communities — Janesville and Beloit — that reside within 15 miles of each other. Both cities thrived in the early 1900s, then declined in the '70s and '80s as businesses abandoned the downtowns. It wasn't until the new millennium that downtown revivals renewed promise in the area.
Beautification efforts lured businesses, developers and commerce back to these cities' streets and buildings. The work ushered in a flourishing foodie scene, boutique hotels, distinctive venues and scores of stores encouraging visitors to gather, shop, dine and stay.
Today, the cities' offerings include a new sports venue, 1,738 hotel rooms and a roster of venues able to accommodate meetings up to 800 guests. A proposed $405 million casino in Beloit, near the Wisconsin-Illinois border, could become the crown jewel in the revitalization, pushing the area's meeting scene to even more impressive heights, with more hotel rooms, flexible meeting space and an entertainment venue.
While many planners opt for larger cities, Maria Valentyn, vice president of marketing and strategy for Beloit's ABC Supply Stadium, questions the logic behind it. "It's a little been there, done that," she says. "We've got small-town charm and Midwestern hospitality with a big-city feel."
BELOIT'S BEST
Beloit's revitalization began with a single person: Diane Hendricks, president of ABC Supply Company and a billionaire businessperson with a passion for civic responsibility. With her financial support and vision, the community of 36,836 added award-winning amenities for residents, visitors and meeting-goers.
The feather in Beloit's cap is ABC Supply Stadium, the home field of the Beloit Sky Carp, the High-A Central affiliate of the Miami Marlins. The $35 million stadium officially replaced Harry C. Pohlman Field on Aug. 3, 2021. The stadium, 20 years in the making, helped Beloit keep the baseball team in its hometown when professional baseball planned to pull it. "Pohlman was just not up to snuff," Valentyn says.
But what the old stadium lacked, the new stadium knocks out of the park. The downtown venue offers a gameday capacity of 3,500, and features a 360-degree walkable concourse, high- definition video board, right-field party deck and outfield group areas, playground and game areas for children, and a host of food and beverage offerings from Geronimo Hospitality Group.
"But this isn't just about baseball; it's about so much more," Valentyn points out. "We are an event center, available for outdoor events in the summer and with beautiful indoor facilities in the winter." The indoor options for year-round events include the Beloit Health System Club for up to 250 guests, and the First National Bank and Trust group suites that can accommodate up to 100 people. Planners can also rent out the clubhouses and other rooms. In nice weather, planners can host events on the field, concourse and parking lots, too. "We can accommodate up to 3,000 people if a group wants to hold a company picnic on the field," she adds.
Planners seeking group activities need to look no further than the stadium itself. ABC Supply Stadium uses the field for outdoor concerts and movie nights in the summer, and converts it into a community ice-skating rink in the winter. For groups looking for a novel activity, the facility offers batting practice, stadium tours and — of course — baseball games.
As Hendrick's dream for the community took shape, so did other award-winning projects, including the Ironworks Hotel and Hotel Goodwin, both of which offer meeting space. Besides 34 luxury hotel rooms, Hotel Goodwin's event spaces include The Rooftop, which accommodates gatherings up to 60 people, and The State Room, with a capacity of 14. "The Rooftop is a very popular meeting place," according to Tracy Bliss, director of marketing and public relations for Visit Beloit. "It has three glass walls with magnificent views overlooking the city and an open-air patio on one end."
The Ironworks Hotel delivers upscale hotel rooms and customizable spaces for events. Planners can host a business meeting for 10 coworkers or a 200-person event in the hotel's 4,100 square feet of flexible event space and six private event rooms.
In total, Beloit offers 11 hotel properties, representing flagships like Hilton, Marriot and Best Western, in addition to unique boutique properties. "We have economy properties, mid-level hotels and upscale boutique offerings," confirms Bliss.
The Beloit Club, for example, features a large banquet room in a building brimming with character and charm, as well as three smaller spaces for groups from four to 200 attendees. Meanwhile, the Eclipse Center can host groups of 25 to 1,000. Bliss says the revitalized former mall is ideal for conferences, expos, banquets, trade shows, receptions and annual meetings.
The Powerhouse, a renovated power plant at Beloit College, is a 120,000-square-foot, multiuse facility that offers multiple meeting and event spaces, including a room with theater-style seating, a banquet hall and outdoor decks overlooking the Rock River. "The Powerhouse's workout facilities, recreational spaces and indoor field houses also can be used for events," adds Matthew Bosen, director of sales and servicing at Visit Beloit.
Beloit is also making noise with an eclectic mix of shops and restaurants. Event-goers looking for the best burgers will want to taste Lucy's #7 Burger Bar's stuffed burgers and 20 craft beers, or visit G5 Brewing Company for more traditional fare. Merrill and Houston's Steak Joint plates top- quality steaks and seafood, while truk't dishes up street tacos, tequila and whiskey. For a traditional supper club meal, visit The 615 Club, adds Bliss, noting it is "also a nice space to host a wine hour or reception."
As the downtown experienced a renaissance, Visit Beloit decided to settle in the heart of the action, transforming the former St. Paul's Catholic Church and Angel Museum building into its new home. "We are in the lower level and are now renovating the upper level," says Bliss. "When that's complete, we will have our own meeting and events space upstairs."
JANESVILLE'S JEWELS
Many of Janesville's treasures sit in the reimagined downtown where several redevelopment projects — the centerpiece of which being the new Town Square — revitalized the city. The Town Square features an expanded river walk, new pedestrian bridge, walking and biking enhancements, and gathering spaces for events.
Among the newest event spaces near the Town Square is The Venue. "The Venue is one of the key cornerstone redesigns of a building in our downtown," says Christine Rebout, executive director of the Janesville Area Convention & Visitors Bureau. Britten Langfoss, its general manager, is part of the family who purchased the old church in 2015 to renovate it into an events venue.
The Venue offers three distinctive rooms for events. The 2,000-square-foot Bower City Ballroom, which can hold up to 300, boasts beautifully restored wood arches, ceiling and trim to provide a lush event space. The third-floor 1870s Room features a built-in bar, original wood floors and an elaborate tin ceiling for receptions, seminars or parties. The Second Empire Room works well for intimate gatherings or board meetings. "Pictures do not do this building justice. You walk into this space and you just say 'wow,'" says Langfoss. "It's a really unique venue."
Planners may also appreciate The Venue's spacious catering kitchen and built-in bar, state-of-the-art sound system and dance floor for rent. "We have someone on site during events to troubleshoot and coordinate everything," Langfoss adds.
Planners seeking a new experience may want to check out the Tallman Carriage House on the Lincoln-Tallman House property. The Rock County Historical Society, which owns the property, recently remodeled the three-story carriage house into a striking meeting space with modern amenities, including an elevator and audiovisual technology. "It also has a large side door that opens to host an event that uses the beautiful building and spills out onto the grounds," says Rebout.
Another standout venue is The Celtic House, offering 12,000 square feet of event space and spectacular views of Glen Erin Golf Club. This venue hosts up to 500 guests for a seated banquet and 600 for theater-style presentations. "It is a really beautiful space with side decks that open," sums up Rebout.
A distinctive, well-known event space, Rotary Botanical Gardens sits just a mile from I-90/39 and offers four individual meeting rooms (each under 600 square feet) that can be combined to host larger events. A spacious atrium treats guests to spectacular garden views.
The Janesville Conference Center in the 124-room Holiday Inn Express offers 15,000 square feet of combined, flexible meeting, exhibit, event and banquet space on one main level. The AmericInn by Wyndham Janesville also offers 6,472 square feet of event space that can accommodate up to 550 people.
The renewal of Beloit and Janesville isn't over. Both cities are working on new offerings that will continue to solidify their spots as places to gather, shop, dine and stay for years to come.