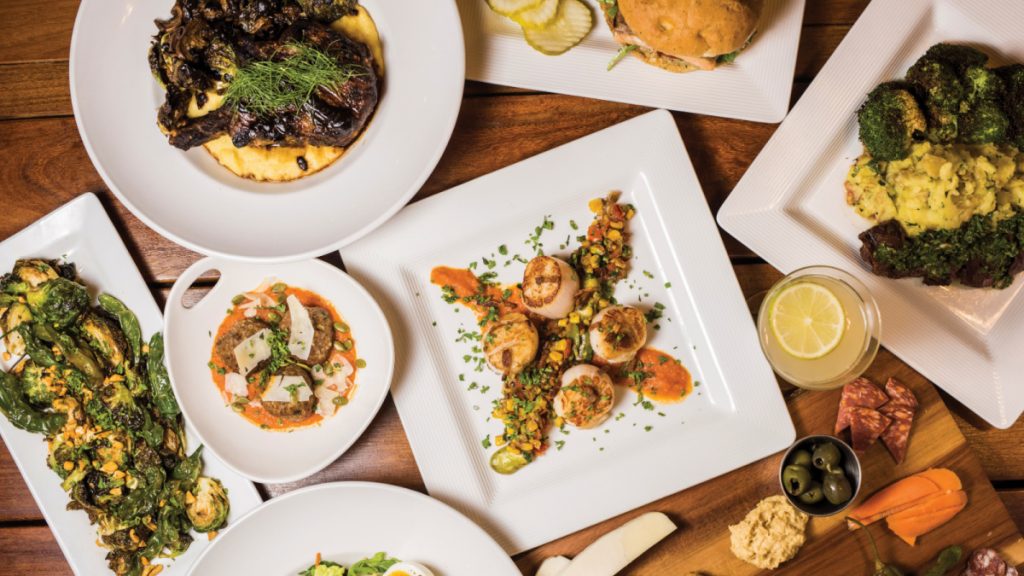 Catering To Differing Tastes And Diets
04/15/2022
By Kristine Hansen | © Brown Bottle
Planning an event in which hundreds or thousands of attendees each follow wildly differing diets is like a dinner party on steroids. You can take the meat out of one signature dish, but there's still gluten or dairy — aspects that still will not satisfy plant-based dieters, gluten avoiders or the lactose intolerant.
The rise of interest in seeking out foods that follow dietary or religious preferences (vegan, vegetarian or kosher, for example) is a conundrum meeting and event planners have been coping with in recent years. Then add in the need to accommodate food allergies or sensitivities (no nuts, seafood or gluten), and there's even more to consider.
According to Ryne Harwick, the culinary director at Geneva National Resort & Club, which operates private events at the Hunt Club Steakhouse, it's pretty common to receive special dietary requests with each event booking. "We try to cover all of our bases in terms of every allergy that we can," he says.
The result of this shift in dining habits, however, can also be an opportunity for chefs to showcase their culinary ingenuity. "We're in the hospitality industry," says Harwick. "We're here to cook for them and not necessarily for ourselves."
FORMULATING A SMART STRATEGY
Key to solving the menu dilemma with ease is to "always have two to three options that fill the void for everyone," says Adam Miller, the corporate executive chef at F Street Hospitality, which caters at two of its Milwaukee- area restaurants (The Brown Bottle, Pizza Man and Bottle House 42), as well as through Noble Catering Company. "And keeping risky items off the table." This usually means avoiding a dish that includes flour or peanut oil. Another mantra that governs menu creation is using less gluten. Like with roux, a mixture of flour and fat cooked over high heat and added to sauce-strong recipes like lasagna, macaroni and cheese, or gumbos, there are other ways to get the same results without using flour.
Shellfish is only used by Miller for an entrée when it's requested by the event or meeting organizer. The same goes for anything that, because of a particular ingredient, would not work for most attendees. "It makes life easier having the main course or entrée at these meetings gluten-free," Miller admits. But he points to a passed appetizer that easily checks off all the boxes — drunken watermelon squares. These rum- and mint-soaked watermelon bites are garnished with chili, and, according to Miller, are a perennial hit at the events where they're served. So there are plenty of dishes out there that can easily and elegantly sidestep any food faux pas.
Often, it's about keeping the integrity of the dish and substituting only one ingredient. Recently, for example, Miller sat down with a couple of organizers who were planning the cuisine for an upcoming event. For the tasting, which included lamb chops and a couscous dish with tomato-based Romesco sauce, he swapped out the lamb for eggplant. "It's a full dish even without the lamb," says Miller.
CATERING TO PLANT-BASED DIETS
If done well, meat-eaters will hardly notice the absence of meat in a dish. That's Miller's hope with the Spaghetti Squash + "Meatball" option on Pizza Man's catering menu. The dish not only lacks meat, but the ImpossibleTM meatballs are chickpea-based and the noodles are free of gluten since they're created from spaghetti squash. A traditional roasted tomato sauce rounds out the dish, so it's just as flavorful as its meat- based predecessor.
As another example, says Miller, "We do a tremendous amount of vegan cauliflower crusts." Due to increased demand, Pizza Man recently expanded the option to bake pizzas with a cauliflower crust to three different pie sizes. It was originally offered in one size only.
While it's rare for an event to request the same diet for everyone, it has happened. Miller noticed it when the director or president of the company maintains a specific diet. Then, all of the meals are in alignment with one person's goals. "Sometimes it's almost easier to do a group meeting that's health-conscious," says Miller, as it no longer necessitates special provisions for some attendees' dishes.
Harwick recently worked on an event at Geneva National Resort & Club in which the majority of guests were Indian and followed a meat-free diet. While that isn't a common request — to have an all-vegetarian menu — he proved it can be done and done well.
These new food trends are allowing chefs working for venues like steakhouses, which are assumed to be solely "meat and potatoes" driven, to think outside the box. A butternut squash risotto at Hunt Club Steakhouse, for instance, is a refreshing option for a diner who does not eat steak. Similarly, the steakhouse's dessert menu is also almost all gluten-free. "Gluten-free desserts are really big right now," says Harwick. "We have a flourless chocolate cake and our crème brûlée is also gluten-free."
MORE DEMAND FOR ETHNIC DISHES
One trend that is working in catering services' favor as they reconfigure menus is that attendees want more ethnic offerings on their plate. And because these recipes are often vegetable-based or incorporate nontraditional ingredients (other than meat or carbs, which would normally trigger dietary concerns), it's a win-win for everyone. "They're wanting more ethnic dishes — couscous and curries, Indian and gluten-free," says Miller. "Less meat."
Among the most popular items on Noble Catering's menu are mini Korean pancakes, which use rice flour instead of regular flour, and contain shrimp, cabbage, soy glaze and chili sauce. Wild mushroom arancini is another popular request. With roasted mushrooms, American Grana cheese, truffle oil and sundried-tomato aioli, it satisfies vegetarians and adventurous eaters alike.
While box lunches with sandwiches and chips used to rule, says Miller, there's now a preference for salads and less conventional foods, which can have a positive impact on how a meeting or event is received by its attendees.