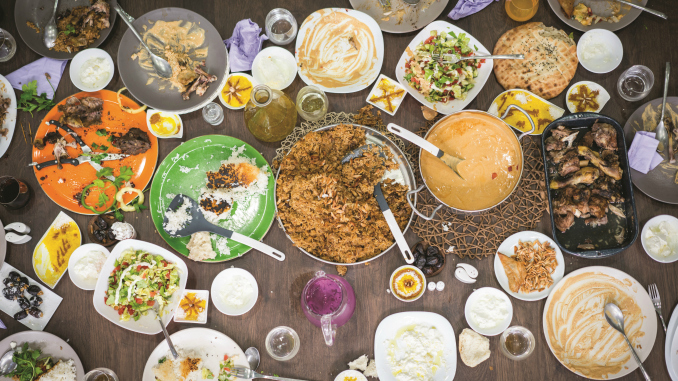 Planning Your Meeting Meals to Reduce Food Waste
By Jennifer Bradley
We've all been there. Standing in line at a buffet, only to realize later we took way too much food, and our eyes were way too big. Or, we had to miss a wedding at the last minute because of a family emergency, knowing that a delicious plate of Chicken Oscar with our name on it would not be eaten.
Food can be wasted even through our best efforts, but the meetings industry is working hard to make the best of what's left behind.
KNOW YOUR NUMBERS
Laura MacIsaac, director of sales at Monona Terrace, says there are two parts to reducing food waste for events: First, keep overordering to a minimum, and second, understand what the facility does on its end to help with this mission.
MacIsaac says planners must be careful not to order too much food. She explains the industry standard is to produce only up to 5 percent extra food above the guaranteed attendance numbers. For 200 people, that's only making food for 210, she explains.
"A reputable facility is always going to have an idea for portions based on per person," she adds. "Giving guarantees is probably one of the hardest things a meeting professional has to take care of."
At the Radisson Hotel in La Crosse, Executive Chef Douglas Neuschwanger doesn't follow industry practice of 5 percent overage. He says a successful event really comes down to the guarantees due from clients three days out.  "If we have 300 people having chicken [three days out], I prep 300 chicken breasts," he explains.
He finds it easier to manage plated entrees when it comes to food waste, noting there is a slim chance a facility will see actual waste for these meals.
But even with plated entrees, "it's very critical to know how many people we're serving," he emphasizes. "It allows us to have good judgment and be as accurate as possible, so we have enough but don't end up with a lot of leftovers either."
Neuschwanger tracks food consumption through various events, for different groups sizes and demographics and then fine tunes his approaches to prevent food waste.
Julia Spangler is a sustainable events consultant who helps planners from all industries reduce the environmental impact of their events. Spangler also recommends tracking how much food is ordered, used and left over. "It's good to get an understanding so you can adjust for the next year," she explains. "Regardless if it was plated or a buffet, remember to check in with the kitchen to see how many plates or pans were prepared but not served."
KNOW YOUR CROWD, TOO
The audience demographic also is a big component in eliminating food waste. A crowd of senior citizens is unlikely to eat as much on a buffet as a group of construction workers, these professionals concur.
Plated options will be more uniform, but still need to be sized according to the dining audience. A buffet becomes more of a guessing game, however, especially if some guests fill their plates with three pieces of chicken and no potato salad. "You need to know your audience," stresses MacIsaac. "Regardless, we take the opinion that we'll always feed people, but aim for zero waste."
Spangler even suggests using smaller-sized plates at buffets to help deter the "eyes bigger than the stomach" syndrome, which can afflict even the most conservative of diners.
Knowing the crowd also means knowing their dietary restrictions, a major trend facing both event planners and meeting venues. From low carb to gluten-free, low sodium to dairy free and more, eliminating food waste also requires planners to ask for these important dietary details ahead of time.
"Caterers will accommodate these types of requests because in the end, it reduces food waste," MacIsaac adds. "If you can do as much beforehand and help out, that's a big deal."
Neuschwanger agrees. He says the Radisson's sales team works very closely with meeting planners to calculate their needs, and determine how to save on more miscellaneous items such as condiments. "If a client's group doesn't want bread, or even mustard, for sandwiches, those are ways we can prevent food waste," he explains. "Where are the places we can save on things we don't even need to provide, but also save costs down the line when we don't have to charge our clients for those things?"
CREATIVE MINDS
In Madison, the Monona Terrace catering group is involved in a newer trend: post-consumer food composting. MacIsaac says that if an event planner has over-ordered, or people didn't show and there is leftover food, they are donating it to local pantries whenever possible.
And, when plates come back half-eaten, instead of scraping the food into the garbage, the facility's composting program helps reduce the weight of the waste sent to landfills. The composting program involves a partnership with Sanimax, which provides a dumpster and weekly pick up service while Monona Terrace provides the biodegradable bags. Soiled paper products such as napkins, plates and cups are also considered post-consumer waste and accepted in the composting effort.
This program aids the venue in its sustainability efforts. MacIsaac explains that in 2015 Monona Terrace was certified as a "green building" at the Gold Level by the U.S. Green Building Council's Leadership in Energy and Environmental Design for Existing Buildings (LEED-EB) program. Part of the points for this distinction involve reducing waste.
A few miles away in northwestern Wisconsin, Neuschwanger's team becomes creative when leftover food from an event presents itself. He says one example is using chicken breasts to make soups. His kitchen staff loves to find ways to re-incorporate high-quality extras when they can.
They then look for ways to donate leftovers that have been properly stored and are considered safe, based on the Health Department's parameters.
Spangler wants planners to know that legislation exists to protect those who donate food, so that their donations aren't deterred. The Bill Emerson Good Samaritan Food Donation Act eliminates liability for those who donate food, except in cases of gross negligence.
"We definitely donate to our local food pantries and the Salvation Army, and also the Hunger Task Force, which distributes to other food pantries, but each have their own rules," Neuschwanger adds.
DONATIONS MAKE A DIFFERENCE
MacIsaac reports conversations of donating food from both small and large events is becoming more prevalent on the national meeting planner stage. She explains this focus is sparking continued discussions about ways to creatively reduce food waste, but also ensure the product left behind is being used for good in the community.
"People intend to do good when presented with the option to do good," she says.
Spangler says MacIsaac is right on track with the trends to reduce food waste. "Make sure you have a program in place to collect or deliver your food to a hunger relief organization, but also really understand your attendees and that you're preparing the right amount of meals for the right people," Spangler suggests.
This is where Ginny Schrag, executive director of The Gathering in Milwaukee, a non-profit dedicated to feeding the hungry, comes into play. She says it's important that those wanting to donate food connect with their resources in advance. There are logistics to be figured out, such as amounts, transportation and storage. Spangler adds it's also important to research and vet donation partners to find the ones that fit best for your meeting or event.
The Gathering often feeds 200 people three times/day at every meal throughout its four locations over 51 weeks a year, so Schrag says pre-planning is essential in their case. All meals are prepared on site, which is unique to other donation programs, too. For them, bread is not a great donation, as they have much of it. But, large meat donations, prepared salads and other large-quantity foods are very welcome. She stresses the quantity focus here, as a few small pans of food won't go far in their kitchens, even if they might somewhere else.
Disposable food carriers are important too, as many operations don't have the ability to return pans, plates or serving utensils to a variety of places, she adds.
"Develop some relationships," she suggests. "Find out what's near you, within driving distance and can take things as you have them. We serve daily, but it could be more difficult if someone serves once a week." The organization has strong relationships with local Starbucks, McDonald's and even the Milwaukee Brewers, who support The Gathering's mission through the local Hunger Task Force. A local photography shop will even donate product after a shoot with food items.
Schrag says that in addition to donating food, many companies or facilities then become volunteers of The Gathering in some way or another. "They make an effort to learn about our organization, and the people we serve, and then we can learn about them too," she concludes.
When it comes to figuring out what to do with leftovers, there are options available to meeting planners, whether it be feeding the staff, the earth or the community. All you need to do is ask!