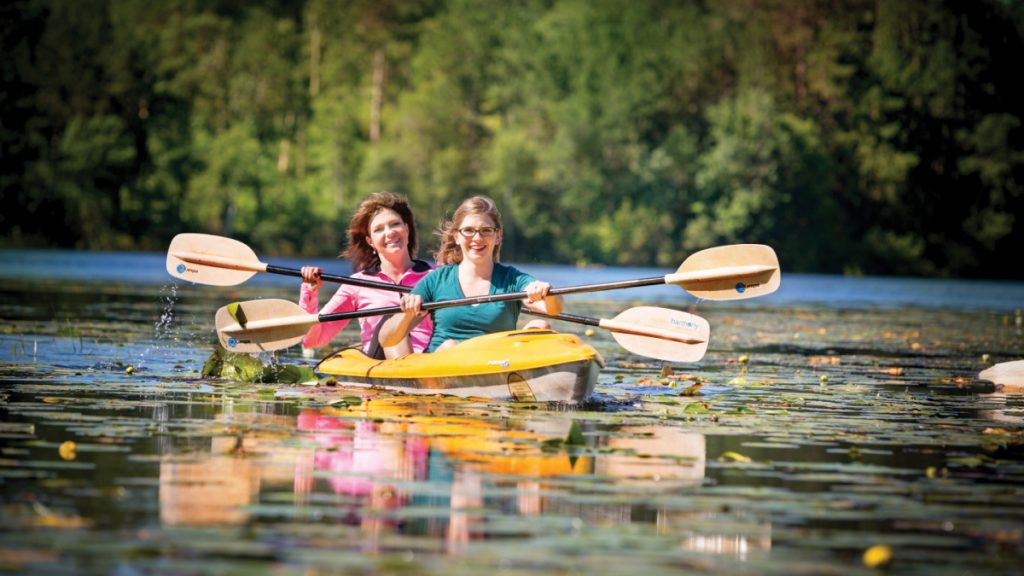 The New Face of Incentive Travel
11/09/2021
By Ronnie Wendt | ©Heartwood Resort & Conference Center
Travel remains an enticing incentive for employees. And employers remain committed to including travel as part of their incentive programs for staff. According to a white paper titled "The Changing Face of Incentive Travel," when the Society for Incentive Travel Excellence (SITE) Foundation asked the leaders of 50 companies how committed they were to incentive travel for employee reward and recognition, 94% noted they still support these programs.
After more than a year of beached travel plans, companies are ready to revive their employee incentive travel initiatives.
However, corporate leaders have shifted how far away they are willing to travel. Before the pandemic, North American businesses ventured to faraway places in the Caribbean, Japan and even Croatia. Post-pandemic, they are sticking closer to home.
"We have seen a trend to stay closer," confirms Crystal Zawilinski, sales director of meetings and incentives at Fox World Travel. "Pre-COVID, we saw a lot of incentive travel go to more remote destinations like Europe. We are not seeing as many of those requests now. But we have seen a huge uptick in domestic travel, including Wisconsin- based programs."
Zawilinski believes health concerns factor into this shift. "If anyone gets sick, they are still in the country and often in their own state," she says. "Many people also remain nervous about air travel and prefer to stay within driving distance."
As incentive travel moves closer to home, more employees are bringing the entire family along, too. Mark Wallskog, owner of Heartwood Resort & Conference Center, suggests, "Family members can enjoy the amenities, while also attending school or working remotely," mentioning Heartwood even upgraded its internet speed to accommodate this trend.
Why Wisconsin?
Wisconsin's reputation for beer, cheese and frigid weather often colors people's perceptions of the Dairy State. But it offers so much more. Zawilinski works to alter this black-and-white mindset, noting, "Incentive travel doesn't always have to involve a beach and a margarita. It can include other experiences as well."
She adds, "Since the pandemic, clients are more focused on visiting resorts vs. cities and remote places with more room to spread out. I've had clients request things like outdoor entrances to rooms, boutique properties with fewer people and resorts offering a variety of on-site activities."
Here, Wisconsin stands positioned to deliver. Resorts and lodges offering novel experiences dot the landscape. "Wisconsin offers many fabulous resorts. Often, we find people are unaware of our offerings," Zawilinski says.
Heartwood Resort & Conference Center provides an example of what visitors can expect at the state's premium resorts. Located on 700 private acres in the northern Wisconsin wilderness, the Trego resort draws in visitors with cozy accommodations, a tranquil atmosphere and vast recreational opportunities from skiing to water sports. Wallskog believes the state's serene setting provides a perfect backdrop for incentive trips. "Even the highways are calming and quiet and surrounded by pine trees," he observes. And if the start of a trip is peaceful, he says it can "set the tone for the entire trip."
Danielle Léon, an account executive at Red Shoes Inc., a national marketing agency, agrees. The company's team traveled to Heartwood Resort from Wisconsin, Minnesota, California and Florida for a recent gathering. "We heard from everyone, even those who live in Miami and San Diego, that they loved how calming it is here. They appreciated that they couldn't hear traffic, loud music and commotion," she says. "They got to enjoy nature and disconnect from the workday hustle. It was such a connecting experience."
Pack Trips with Novel Experiences
As the pandemic persists, Fox World Travel sees requests for things like golf, shopping, hiking and other outdoor activities that people can explore at their leisure. "People are still very interested in food and are comfortable in restaurant environments in smaller groups," Zawilinski says. "It's about providing unique experiences through entertainment, activities and more."
Often those activities reside on site, as at Heartwood Resort, where guests can take a canoe or kayak trip down the Namekagon River, hike or cross-country ski through miles of trails, or fish and swim at Hoinville Lake, one of the resort's private lakes. Guests can even bring their ATVs to explore neighboring trails that connect to the resort.
Within and beyond the walls of the resort, "We arrange on-site and off-site activities, and even put together campfires with s'mores or a special meal, and we include these activities in the group package. There are fishing guides and high-end golf courses nearby. We work with groups to customize their packages to deliver the experiences they seek," explains Wallskog.
On-site activities are a definite plus. According to Zawilinski, "We collaborate with groups to customize packages," too. Fox World Travel considers attendees and their guests, the goals for the experience, and everyone's comfort levels, then provides suggestions. "We don't recreate the same program over and over," she says. "You cannot provide the same cookie-cutter activities to every group. When you understand their needs, you can deliver the experiences they desire."
Fox World Travel also helps planners get creative. For instance, winter travel can be special. "You can create great ice bars or skating events, provide opportunities to ski, and come together later to sip a custom cocktail by the fire," she says. "Then add in art and music to create a very warm environment enjoyed by everyone."
Make It All-Inclusive
Clients seek all-inclusive packages for domestic incentive travel. Destination resorts outside the country always offer these packages. Stateside, they are the exception rather than the norm. Heartwood recently added all-inclusive packages to respond to this need. "We put together packages for corporate groups, offering an all-inclusive, per-person rate," confirms Wallskog. "We've found that really helps with planning for groups."
Zawilinski agrees that it's critical for resorts to offer all-inclusive packages.
"Our incentive clients were using all- inclusive resort properties in Mexico or the Caribbean," she says. "Even though they are staying domestic, they want the same level of service and experience here."
Clients also seek out incentive programs that include off-site activities. "We might help companies navigate destinations where restaurants still have capacity restrictions, for example, and even set up reservations in advance," she adds.
Modify Programs for Health and Safety
Since the pandemic, groups request more modifications to their travel plans, namely in dining and hospitality, reports Zawilinski. Buffets are passé, for instance, with most groups opting for plated dinners or boxed lunches. "There are very few buffets anymore," she says. "And if they have a buffet, servers dish out the food."
On the hospitality level, many venues had to reduce housekeeping frequency to address staffing shortages, but Zawilinski says, because of COVID, most guests prefer it that way. She's also seeing a shift toward more organic networking activities compared to the structured activities of the past. "This way, people can opt in and out of activities based on their comfort levels," she says. "Some groups use ribbon systems to show other attendees how comfortable they are in social settings."
Furthermore, clients are asking Fox World Travel to connect them to resorts with safety precautions in place, such as hand- sanitizing stations, extra masks and the ability to social distance.
Plan for the Unexpected
When planning incentive-based travel during a pandemic, expect the unexpected. "That's the name of the game right now," admits Zawilinski. "We've always had a Plan B. But now there is a Plan C and D because things are constantly changing. We've had to be incredibly flexible."
Before the pandemic, Fox World Travel planned food and beverage for incentive travel six months in advance. That window has tightened. Now groups delay these decisions as long as they can and venues are open to it, according to Zawilinski. So for your incentive travel plans, "be nimble," she emphasizes.
Last-minute cancellations are becoming the rule rather than the exception, warns Zawilinski. Venues are remaining flexible with these concerns. She says, "We make sure our contracts cover these situations. Our vendors are fantastic partners who work through these challenges with us."
As long as travelers pack bags that hold masks and hand sanitizer, along with swimsuits and formal wear, incentive travel will require flexibility. The good news is Wisconsin stands ready to serve companies that want to keep trips closer to home, while delivering experiences that create memories for a lifetime.