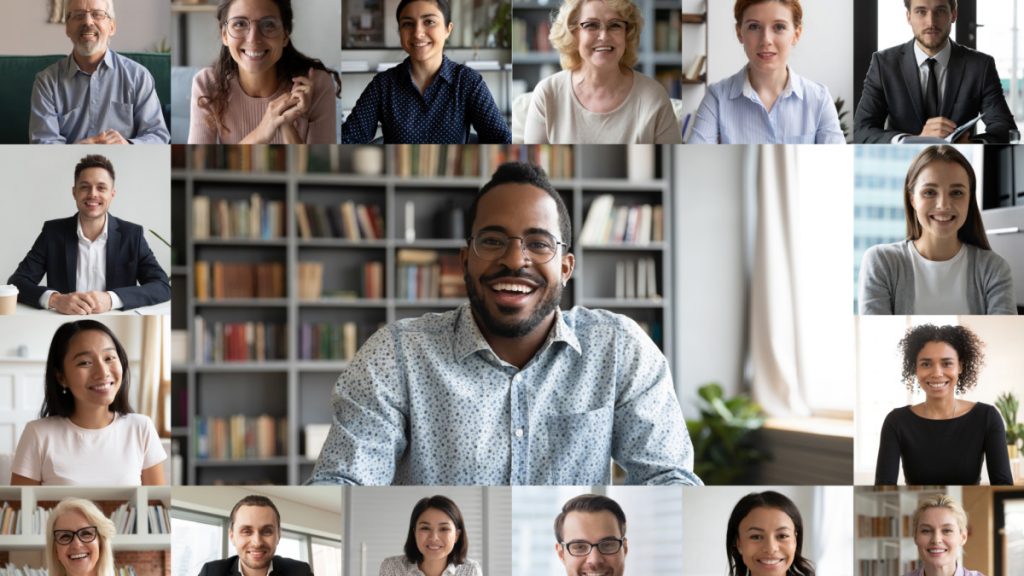 Your Best Bets for Virtual Meetings
01/25/2021
By Amanda N. Wegner
The pandemic has changed the face of business in innumerable ways, and that includes how we hold meetings and events.
"We've had to redesign the way we think about, design and produce meetings," says Joe Faulder, director of creative and strategy at Projection, a privately held national audiovisual company. "In virtual events, people consume content in an entirely different way. Whether it's on a phone, tablet, laptop or TV, they are logging on from their homes while their attention is pulled in multiple directions." He adds that much of his company's strategic work is helping clients understand that there's still value in what they deliver, even if it's at home and participants are distracted.
Many companies, organizations and associations may have no choice but to pivot their meetings and events for the foreseeable future. To help smooth out that transition, we spoke to a few experts to get their insight on how to best approach this shift and offer some tools for consideration.
Finding Your Platform
So what platform is best? The answer is that it depends.
"This is one question we get all the time in this new world of virtual meetings and is the hardest to answer," says Faulder. "The reason: It's really hard to find one platform that meets all the needs for a typical large association meeting; each comes with its own pros and cons."
Rich Schmig, president of Plum Media, agrees. (Plum Media is a full-service production company creating a wide variety of videos and live events.)
"The choice of platform is driven by client needs. We ask questions like: How many presenters will there be? Are they presenting one after the other or having a conversation? What other visuals are involved, [like] pre-recorded videos, PowerPoint slides, etc.?" explains Schmig.
While the platform you choose should be based on all the factors (and more) listed above, here are some suggestions to get you started.
Best for Virtual Networking and Receptions
Wonder: Even though the platform is free and still in development, it has captured the ability to mingle in small groups while attending an event of thousands brilliantly, says Faulder.
Zoom: It has a new break-out feature in which attendees can choose the break-outs they want to attend. This means you can have a networking Zoom meeting for 200 people who can quickly break out into 10 different areas/interests, while attendees choose which one they'd like to participate in.
Best for Exhibit Halls
Best for Webinars
Best for Large Events
Best Livestream Providers
Vimeo
BoxCast
IBM Cloud
BrighcCove: Some platforms don't provide the video technology but rather a web interface to deliver content, so the company/organization/association still needs a production partner and video to support webcasts, live streams and presenters. These back-end streaming services can distribute content to the platform and/or to any social media platform at the same time.
Best for Viewing Content During a Live Video Chat
Swapcard offers the ability to view content while in live video chats with other video attendees, so you can experience content in a group. But there's a caveat. It currently only supports this functionality with two video chat attendees at once, however, the company says it will be releasing an update to accommodate larger groups.
Maximize the Virtual Experience
As your company or association looks to expand or innovate on its virtual meetings and events, our professionals offer some suggestions for maximizing the experience:
Build in some fun. "People participate much more when they're having fun," says Faulder. For instance, a recent national association meeting Projection worked on included a live concert with Jennifer Hudson, a cooking lesson with Wolfgang Puck and game show-like trivia in which all attendees could participate.
Ensure proper presenter training. Walk each presenter through everything they need to know — audio, platform interface, event logistics, etc. — to deliver their content in a seamless, high-quality manner. And don't forget eye contact. "Nothing makes attendees lose attention more than when the presenter does not look them in the eye when they're giving their remarks through a computer," says Faulder.
Make it engaging. "Ensure you have new, exciting content available that is relevant to the attendees," says Ryan Pitterle, product manager for NEC Display Solutions of America. "If the content is stale and has been shared before, attendance … may be lower than expected. In this virtual environment, there needs to be a draw for attendees to click 'Attend.'" In addition, make sure that there is a way for attendees to engage with each other in every single session, and that attendees and speakers/ presenters have a means to engage. "Don't create an event where attendees are talked at," says Pitterle. "Make it interactive and as close to in person as possible." Even consider giveaways if the budget allows.
Remember that everything speaks. "You'll be judged not just by the content of your virtual event, but by how it looks, how it sounds and how visually engaging it is," says Schmig. When planning an online meeting, ask yourself what you want the attendees to get out of the meeting: Information? Inspiration? Collaboration? Once you have that figured out, then design your event's content and interaction around that. Then don't forget about the remote, non-content aspects of your event. "Your remote audience's experience is paramount to how they will engage with your content. Overlooked things like the landing page, ease of getting access, providing ample information on what the audience should expect and providing audience troubleshooting are things that are just as important as the content," according to Schmig.
Platform Considerations
When looking for a virtual meeting platform, Pitterle offers a list of features and requirements to consider:
Easy, user-friendly navigation
Enough bandwidth to support large events
The ability to interact with speakers and other attendees; breakout rooms are ideal for continuing conversations
An option for attendees to create their own agenda (add meetings, attend specific presentations, etc.) to their own calendar
A section for exhibitors to showcase products, brochures, videos and white papers — with downloadable links and actionable steps for more information — if applicable
The ability to track leads, especially what the user clicks on
A how-to video on interacting on the platform to ensure every attendee gets the most out of it based on their individual needs.