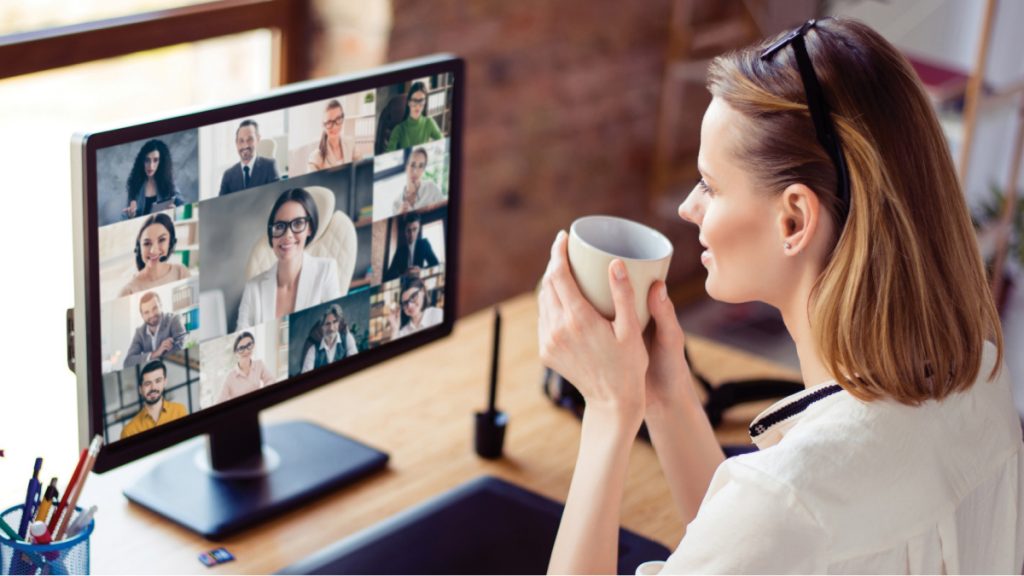 The Show Must Go On
10/02/2020
By Ronnie Wendt
The expanding COVID-19 pandemic prompted organizations to cancel events, postpone meetings and shutter venues in March to contain the outbreak.
Some state organizations, however, decided the show must go on as the pandemic took hold. These savvy planners leapt into virtual formats when Wisconsin's Safer at Home Order blocked in-person gatherings larger than 10.
Make-A-Wish Wisconsin held a virtual fundraiser and raised $600,000 to grant wishes for children battling critical illnesses; and the Wisconsin Technology Council made its 2020 Wisconsin Entrepreneurs' Conference digital and attracted 320 participants.
These organizations deemed their livestreamed events a success and say they will host virtual events again. The following case studies offer their tips for holding virtual events.
5 WAYS TO KEEP ATTENDEES ENGAGED
In today's COVID-19 meetings and events scene, the term Zoomed out describes the fatigue and zoning out attendees' experience after endless virtual meetings, chats and quizzes.
Keeping people engaged during virtual meetings requires planners to stretch their creativity, states Michael Dickinson, director of operations for Conference Technologies Inc., a Milwaukee audio/visual company that helps plan virtual meetings.
Dickinson offers 5 approaches to keep attendees' attention during virtual events.
ADD IN GAMIFICATION. Putting attendees in a quest for prizes keeps engagement high. Dickinson suggests using jackbox TV. Here, attendees connect to a jackbox.tv web address, enter a code and join the game. The game might involve trivia, virtually visiting event sponsors, or taking polls or surveys.
HIRE AN EMCEE. An emcee livens up a virtual event and keeps attendees talking. A good virtual emcee adds in audience interaction throughout the event. He or she also might guide and read off poll results or direct Q&A sessions.
ADD IN LIVE POLLING AND Q&AS.  Live polls and surveys personalize a virtual event and enhance the overall experience. Polls keep attendees on their toes while providing data on attendee participation and engagement. Asking questions of experts and letting them answer also provides opportunities to learn.
SET UP A LOBBY. If the event begins at 10:30 a.m., Dickinson recommends opening a virtual lobby at 10 a.m. Include chatrooms for networking, gamification, and polls to promote participation. Include a performance to infuse flavor and interest. "I had one company hire a magician to perform in the 'lobby' of their virtual event," Dickinson says. "Attendees loved it."
DON'T OVERLOOK PRODUCTION QUALITY.
Virtual events call for a professional look to keep interest high. Make branded backdrops, great visuals and high-quality video a mainstay for every virtual event.
A VIRTUAL FUNDRAISER
How Make-A-Wish hosted an online gala and raised $600,000 two weeks after the COVID-19 shutdown began. 
"A wish has the power to change lives," said Steve Stark, as his family accepted the 2020 Wish Award at the annual Make-A-Wish Wisconsin Wish Night fundraising gala held in April.
Stark's emotional speech shared how his son Kaden helped others during his 14 years. "He taught all of us to do more," Stark said.
He shared that Kaden's dream was to give other kids wishes. His vision set his family on a journey to donate 100 wishes. As the family nears its goal, Stark said, "100 wishes aren't enough," and added, "we plan to live by example and continue to do more."
He concluded, "This all started because of Kaden's love for Make-A-Wish."
The Stark family's heart-rendering acceptance speech began an evening packed with similar stories.
Though the gala flowed similarly to previous years, COVID-19 ushered in a few changes; the biggest of which was holding the entire event online instead of at The Pfister Hotel in Milwaukee.
"Wish Night is an event we've put on for over 25 years, raising over $8 million. The gala is an important event for us, so when things began shutting down, we needed to pivot quickly," says Forrest Doolen, director of marketing and communications for Make-A-Wish Wisconsin.
Leaders of the nonprofit organization collectively agreed the show must go on. The funds the event raises make a difference in the lives of hundreds of critically ill children annually.
The resulting April 2 gala would have made Kaden proud. The Facebook Live event raised more than $600,000.
"Our [in-person] event was budgeted to raise $750,000," Doolen says. "Though we didn't quite reach our original goal, we raised enough money to help grant 100 wishes."
The live broadcast, which featured stories on children whose wishes had been granted, drew over 6,400 total views between Facebook, YouTube and Twitter.
WISH NIGHT
Over 650 people typically attend Wish Night, which includes a cocktail hour followed by a full dinner, a diamond pull, wine pull, silent auction and a two-hour program. Part of the evening includes sharing stories about Wish kids like Kaden, that touch people's hearts and drive donations.
"We put a high production value into sharing these stories, with a producer who shares his time and talents to tell the impact of a Wish," Doolen says. "He had already shot footage for the stories."
However, the virtual format removed the in-the-moment part where families of Wish kids see their stories brought to life. "We supplemented the video stories with video content from Wish families as they watched their videos for the first time," he says. "We wanted authenticity in the moment."
Make-A-Wish Wisconsin asked the Stark family and others to record their reactions as they watched their videos. The organization incorporated these videos into the live event. "If you're doing a virtual event, you want people to connect with the content you put out," he says. "These videos engaged the heart."
The organization supplemented these videos with videos from Patti Gorsky, president and CEO of Make-A-Wish Wisconsin, and others.
"We had our videographer string the videos together. He added graphics pointing viewers to the website, the time bidding closed and things like that, and put music in different spots," he says.
The organization interspersed live interactions between the videos to make the event appear live. Make-A-Wish Wisconsin selected OneStream.live to livestream the broadcast, ensuring audience participation and a seamless presentation.
"It cost $39 for one month and we only used it for one month," Doolen says. "That $39 was the best investment ever. We added Periscope at the last minute to livestream on Twitter. We didn't promote the Twitter event but thought it would not hurt anything."
The event began at 7 p.m., April 2, with 600 viewers watching on Facebook and YouTube. Those 600 viewers stayed online the entire event. To date, the event's total Facebook impressions are over 14,000; Twitter impressions are over 10,000; and YouTube views are over 14,000.
DRAWING ATTENTION TO A VIRTUAL EVENT
Staff hit the phones as soon as Make-A-Wish Wisconsin moved to a virtual format. The organization needed to notify sponsors and hosts of the change. The organization also sent emails to sponsors and hosts that told them how to access the livestream event.
The nonprofit started a Facebook event page and promoted the event on social media. By April 2, more than 1,800 people expressed interest in attending.
"We raised just over $600,000 in net revenue," he says. "Our silent auction raised over $128,000. We nearly sold out of the 350 wine bottles we had, and our diamond pull brought in almost $7,000. We were down a little over $50,000. The goal for paddle-raised donations was about $225,000 but we still raised $101,000 there. We counted all of this as a huge win."
Make-A-Wish Wisconsin learned virtual events add tremendous value. "Sharing the program virtually gave us access to a much wider audience," Doolen says. "Next year, we are considering having the live event and the following day livestreaming a recorded program to the broader public."
KEY TAKEAWAYS:
TEAMWORK: Without everyone working together, a virtual event is impossible to pull off. Make-A-Wish Wisconsin staff held daily virtual meetings leading up to the event to gather input from staff members and keep plans on track.
COMMUNICATE, COMMUNICATE, COMMUNICATE: Develop an effective communication plan that keeps staff on the same page and guests aware of the change. Leverage email, social media, texts and instant messaging to inform everyone about registration and participation in the livestreamed event.
STAY TRUE TO YOUR MISSION: Keep the heart of your mission in mind and do not stray from it. While it is important to do things that keep people engaged, it is also essential to stay true to the organizational mission. Doing so drives decision making and keeps the focus where it should be.
Virtual Innovations
How the Wisconsin Entrepreneurs' Conference pivoted to a virtual format.
Brian Pinkerton, keynote speaker at the Wisconsin Technology Council's (WTC's) virtual 2020 Wisconsin Entrepreneurs' Conference, emphasized that technology is a tool and what matters is how people use it.
The statement by the chief architect for Siri at Apple seemed especially fitting as the WTC leveraged digital technology to host its first virtual conference June 4.
Normally WTC holds the event, dubbed one of the largest events for entrepreneurs and early stage investors in the Upper Midwest, at one of the state's larger meeting and event venues. This year, the pandemic put a wrinkle in WTC's plans.
But the organization took a leap of faith and produced its first virtual conference using the pandemic to guide its planning. Over 320 attendees logged into the insightful, multi-faceted conference, which kicked off with Pinkerton's presentation about his work on Siri for Apple.
STAYING TRUE TO ITS MISSION
"There were parts of this long-standing event that we needed to preserve as we moved to a digital format," reports Tom Still, WTC president. "Whether these three things were live or virtual, we needed to preserve the integrity of these events," he says.
Attendees customized their experience by adding information about themselves and topics of interest to their profiles. Guests also participated in small group workshops and discussions, watched presentations from participants in the Governor's Business Plan Contest, and voted for the first-ever People's Choice award.
WTC kept the event's sponsor exhibits. This portion proved somewhat challenging as Still explains a virtual trade show is quite different from a trade show floor where people can wander by. "We had to produce content that was valuable for attendees and sponsors," Still says.
Sponsors crafted product videos, and some offered prizes for attendees who watched them. They allowed video calls and took questions via the virtual platform's chat feature. WTC encouraged attendees to visit booths by printing and mailing a program that included sponsor advertisements.
He adds they held trivia contests with prizes and polls throughout the day-long event to keep attendees engaged.
Still credits Pathable's online SaaS platform, which recorded conference sessions including the award ceremonies. "Pathable has done a lot of events like this," Still says. "They were helpful and very customer conscious. The company offers different price points, depending on how many attendees we expected and how many bells and whistles we added.
"The only downfall to the virtual platform is that sometimes people do not engage as much as they might when it's live," Still says. "We also learned that if you have a chatroom, you need to have at least two people moderating the chat, so it doesn't fall on a single moderator to keep the conversation flowing."
The platform also allowed attendees to take part in 1:1 private video conference meetings, message each other individually, participate in discussion boards, and to visit virtual sponsor booths and engage with them via a video call. The platform recorded all sessions, which attendees can access for up to a year.
FUTURE PLANS
COVID-19 still presents uncertainties for state meetings and events. This may mean changes for WTC's next big event, the Early Stage Symposium scheduled in November.
KEY TAKEAWAYS:
BREAKOUTS ARE IMPORTANT: Organizers scheduled regular breaks during the event to allow time for one- on-one virtual meetings and to take care of household tasks.
SPONSOR BOOTHS: Staff virtual booths. Sponsors tied videos to their booths and some offered prizes for those who watched them. Some took questions via the virtual platform's chat feature. WTC printed and mailed a program, which contained sponsor ads.
STAFF THE EVENT: Appoint employees to act as customer happiness agents during the event. These individuals can help attendees with log in or chat problems and questions.
BUILD IN FUN: Poll the audience, hold a trivia contest with prizes, host a scavenger hunt that requires attendees to visit virtual booths or connect with another attendee.