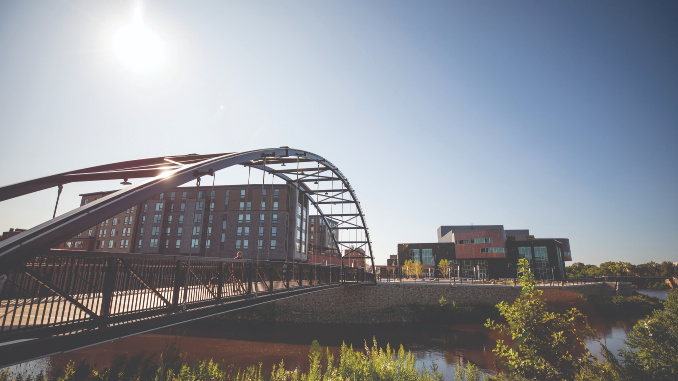 Destination Eau Claire
04/13/2020
By Melanie Radzicki McManus | Pablo Center at the Confluence & Haymarket Landing / ©Travel Wisconsin
Editor's Note: In each issue of Wisconsin Meetings magazine, we highlight a city in Wisconsin that offers unique opportunities for groups. This time we take you on a tour of the Eau Claire area. Much has changed in this unique college town in the past few years. So when your groups are ready to begin meeting again, we suggest considering the offerings Eau Claire has for your next meeting or convention.
---
Ax-throwing hardly seems like something to put on the agenda when planning your next meeting. But maybe it should be. The Metropolis Resort & Conference Center in Eau Claire recently added eight ax-throwing lanes to its wealth of recreational offerings. And the novel activity has been a huge hit.
"It's crazy, but it's actually a lot of fun," says Lauren Pabich, sales manager at Metropolis Resort. "When attendees take a break, they can get a snack, throw a couple of axes and release a bit, then go back on their merry way."
Ax-throwing is kind of crazy, for sure. But it's also emblematic of Eau Claire: an increasingly funky city where creativity is causing people to take note. Couple that energy with the city's 175,000-plus square feet of meeting space and over 2,500 hotel rooms, and you've got the perfect destination for your next event.
City on the Move
Eau Claire's roots are in the logging industry, thanks in part to the Chippewa and Eau Claire rivers that wind through the heart of its downtown. But today, the city of 68,000 is home to the University of Wisconsin-Eau Claire, branches of the Mayo and Marshfield clinics, and Menards, a home improvement chain.
It's also the birthplace of Justin Vernon, founder of the popular indie folk band Bon Iver; home of the U.S. National Kubb Championships — kubb (pronounced koob) being a Swedish lawn bowling game brought to the U.S. by an Eau Claire resident — and site of the annual National Snowshoe Beer Mile Championship.
And it has a top-notch music and arts scene that's been growing steadily over the years, starting with 30-year-old Country Jam, one of the world's largest country music festivals, and continuing with the more recent Blue Ox Music Festival, an acoustic, bluegrass and string band blowout that's the largest such event in the upper Midwest.
Yet, despite such hipness, many outsiders took little notice of Eau Claire until 2016. That's when DoubleTree by Hilton reopened The Lismore Hotel in the city's fraying downtown after a $21 million rebuild. The presence of this modern, stylish hotel and conference center kick-started an astonishing flurry of redevelopment that changed Eau Claire almost overnight from a weary-but-hip locale to a true sizzler.
"We're the up-and-coming spot," says Kenzi Havlicek, director of marketing for Visit Eau Claire. "And I really want people to understand what we have here."
Heads Up, Planners!
Eau Claire has 2,500 hotel rooms — with three more hotels under construction. When completed, they'll add 300 rooms to the inventory.
The vast number of available rooms means Eau Claire can host groups of up to 1,200 comfortably, says Havlicek, although its sweet spot is 300 to 500. Later this year, construction begins on the Sonnentag Event and Recreation Complex, a multipurpose event center and recreation/fitness facility.
One of the city's premier meeting spots is The Lismore, which offers 112 guest rooms and flexible meeting space that will soon hit 16,000 square feet, says Cori Erickson, sales director for The Lismore. The full-service hotel also features a farm-to-table restaurant, coffee shop and rooftop lounge with patio.
The Lismore is steps from the Pablo Center at the Confluence, a $51 million arts center that opened in 2018 and boasts a 1,200-plus-seat theater/concert hall, 400-seat flexible theater, dance studio, visual arts galleries and a 250-seat flexible-use space, among other offerings.
"We work a lot with the Pablo Center," says Erickson. "We just had an event where all the meetings and all the meals were here. Our proximity gives us that luxury."
Visit Eau Claire also has its offices in the Pablo Center. But we're not talking a desk and some brochures. No, the tourism office created an Experience Center instead. Here, guests can head to a sampling kitchen to taste local foods, or meander into the entertainment corner, where local musicians may offer sneak previews of upcoming shows. And every month, a different local business operates a pop-up shop.
"Basically, we're creating a microcosm of Eau Claire," says Havlicek. "We're giving visitors a taste of what we're about."
Just north of the Pablo Center, The Oxbow Hotel is also making noise. Created from an old brick-and-steel building connected to a mid-century motor lodge, the creative hotel features a farmer-sourced restaurant with a bar and music venue, a courtyard with fire pits, kubb pitch, outdoor hammock nook and bike rentals. Small groups can hold meetings in The Gallery, a flexible 700-square-foot space filled with regional artwork.
When the weather warms, a producers-only farmers' market opens in Phoenix Park a few blocks away. Shoppers can walk away with everything from veggies and meat to kombucha, egg rolls, salsa and goat milk soap. There's live music every Saturday during the season, and local makers sell their wares at the adjacent Artist Market.
The temperate weather is also when Sculpture Tour Eau Claire goes live. Each May, they set several dozen sculptures out around the city. Created by artists around the world, visitors can grab walking-tour brochures affixed to light posts to locate the sculptures, then later vote for their favorite. The event organizer gifts the winning sculpture to the city.
More Than the Downtown
There's much more to Eau Claire than its downtown. Another favorite meeting spot is the Metropolis. Besides those ax-throwing lanes, the facility offers 107 rooms and over 10,000 square feet of flexible meeting space. Its largest spot can hold up to 320. There's also a restaurant and pub on-site.
The Metropolis works with clients to develop team-building activities that best meet their needs. That may be a simple scavenger hunt or something incorporating one of the resort's entertainment amenities. Pabich says one group blindfolded several employees and had them make their way up the climbing wall by listening to the directions their teammates called out to them.
"Many people are surprised at how much there is to do here," she says, noting they also offer a trampoline park, laser tag, laser maze and indoor go-karts. "You will never, ever get bored."
The Florian Gardens Conference Center sits just west of the Metropolis. It features three ballrooms that can accommodate over 500, plus on-site catering and a full-service bar. But perhaps its most appreciated amenity are the lush gardens out back, a perfect spot for relaxing after a day of meetings.
Another option for downtime: heading 20 minutes north to tour the Leinenkugel Brewery. The historic facility offers daily tours and plenty of sampling. Even better, you can rent the Leinie Lodge, which features a large stone fireplace and comfy couches, plus outdoor patio seating.
While Leinenkugel's has historic appeal, Eau Claire's The Brewing Projekt is another good choice. The growing brewery is already in its second, larger location in the city's Cannery District, where you can drink in views of the Chippewa River from its spacious, airy taproom featuring church-pew seating. Upstairs, there's meeting space for 200.
Visit Eau Claire also offers several Signature Experiences, which are after-hours activities for individual groups. Baseball fans will appreciate the Express MVP Behind-the- Bases tour, which takes you to the city's minor league ballpark, where you can check out the press box, sample the team's official beer and have dinner with the players. The Banbury History tour, led by a resident artist, takes you into Eau Claire's old Uniroyal factory, today filled with small businesses and artists' studios.
"Eau Claire is a nice package," says Havlicek. "We have the art, the sporting, the music, the facilities." And, of course, those axes.
Planner's Perspective
The OpenAir Classic recently based its annual convertible tour in Eau Claire. Gary Knowles, meeting planner, says the event was a huge success. The itinerary includes checkpoints to explore.
TOURS BEGAN:
Carson Park. "Carson Park is where Hank Aaron started his career. The first statue erected of Hank in Wisconsin is there. We also used the park's Paul Bunyan Logging Camp Museum as a checkpoint. It's probably one of the best-preserved logging camps in the state."
FAVORITE CHECKPOINT:
Artisan Forge Studios. "There are really fine artists working there in everything from welding and metal art to jewelry and visual arts. There's even a chocolatier and a guy who makes handmade guitars. It's really quite a discovery and was universally loved by our people."
UNEXPECTED CHARM:
The Eau Claire Ukulele Club. "We hired them to perform at our openingbanquet.Manypeople hear the word 'ukulele' and laugh. But they are quite good, and I highly recommend them."
WHY EAU CLAIRE?
The people. "When you're bringing in 200 cars and 400 people, it's important that the local people really welcome your group."
Other Venues in the City
Eau Claire has so much to offer in the way of venues that it's difficult to list all of them within a single article. Some additional venues include:
HOLIDAY INN EAU CLAIRE.
This venue has seven state-of-the-art meeting and event rooms offering 4,323 square feet of space. The largest room can accommodate groups of 460. Two on-site meeting and event planners are available to help with your meeting planning needs.
BEST WESTERN PLUS EAU CLAIRE CONFERENCE CENTER.
This venue is thoughtfully designed to meet the needs of business and leisure travelers looking for enhanced style and comfort. Its meeting/banquet facilities accommodate up to 300 people. The venue offers an indoor heated pool, fitness center and on-site lounge to enjoy after the event ends.
AMERICAS BEST VALUE INN.
A Red Lion Hotel branded property was renovated in 2010 and now offers 5,164 square feet in three meeting rooms. It can accommodate up to 320 attendees. The hotel features 120 guest rooms and has an outdoor pool and fitness center.
THE EAU CLAIRE EXPOSITION CENTER.
Situated on 20 acres, The Expo is equipped with a main exhibit building, multi-use buildings and plenty of outdoor space. The Expo's smaller meeting room seats 50 people comfortably while its larger meeting room seats up to 100 people. The Expo includes a fully equipped commercial kitchen.
UNIVERSITY OF WISCONSIN-EAU CLAIRE DAVIES CENTER.
The university's W.R. Davies Student Center, located on the lower campus, offers 11 meeting rooms of different sizes to accommodate small, medium and large meetings. Its Ojibwe Grand Ballroom can accommodate up to 1,044 guests; the Dakota Ballroom up to 400 guests; and the Woodland Theater up to 200. Smaller meeting spaces are available for groups from 12 to 60.