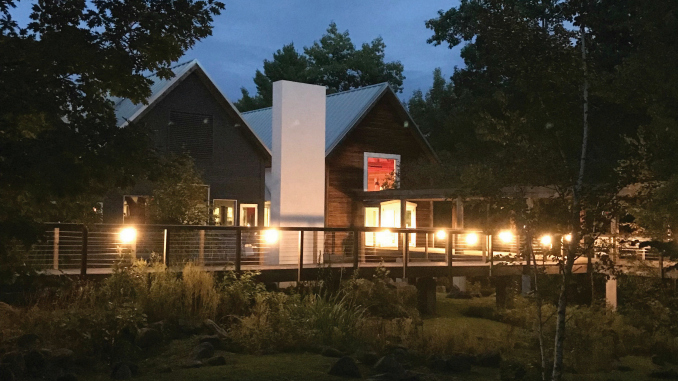 Company Connections at Wild Rice Retreat
07/11/2019
By Ronnie Wendt
The Travel Wisconsin website describes Bayfield as "the gateway to the Apostle Islands National Lakeshore with lighthouses, sea caves and some of the best kayaking in the world." The description embodies the charm of the northern Wisconsin town but fails to mention that it's also a destination where visitors can explore individual creativity and human development. Wild Rice Retreat, a new Bayfield business, offers a space where executives and corporate teams can nurture the mind, body and spirit through integrative artistic and holistic experiences.
Wild Rice Retreat is the brainchild of Heidi Zimmer and her husband, Martin Ebelhardt. The couple took over the former Wild Rice Restaurant space in 2018 to build a year-round calendar of opportunities focused on the arts and personal well-being. The business brings in noted professionals from across the globe to conduct workshops for visitors and corporate teams alike.
"Our programming falls under three general pillars: Expression, which we deem as the writing, painting, drawing, photography, music and jewelry-making pillar; Movement, which encompasses yoga, tai chi, Qigong, meditation, dance and healing movement practices; and Nourishment, which focuses on nourishing the mind, body and spirit through sharing and creating food, aromatherapy, nutritional coaching, and herbalism with a focus on using locally-sourced ingredients whenever possible," says Jennifer Albrecht, director for Wild Rice Retreat.
These practices cultivate the mind and provide an excellent team-building opportunity for groups of up to 50 people. "We believe strongly in pulling teams out of their everyday environment and diving deep into strategic planning or whatever topic the corporation needs to tackle in a quiet and peaceful setting," she says. "This is the perfect place to do this."
Every Wild Rice corporate retreat begins with a fact-finding mission, where Albrecht asks a host of questions pertaining to what they are looking for, the comfort levels of the team and how much the leadership wants to push those comfort levels. "We ask a lot of questions to learn what would make the retreat a success for the leadership and the team itself," she says.
The Wild Rice team also assists in planning for off-campus activities, such as water adventures, recreational outings, healing, wellness and other seasonal activities, to help organizations craft retreats that meet specific goals. "We can help groups plan activities on-site, but we will also work with them to get people out of their seats. We can build team-building exercises into outdoor activities or we can plan social times designed to encourage people to interact and share ideas," she says.
Chef Lars Dukowitz, who served as the Chef De Cuisine in the former Wild Rice Restaurant, prepares the meals on-site. Dukowitz, who was part of the team recognized with a nomination for a James Beard award, is developing gardens on-site and partnering with local food co-ops and farmers to inject local flavor into the cuisine.
Currently teams involved in Wild Rice corporate retreats must stay in town, but that will change when Wild Rice Retreat completes on-site, Scandinavian-in- spired cabins in 2020. Besides new classroom spaces as well as a village of 15 camper cabins and one-bed- room cabins, construction crews are also building five quad-style, two-story buildings, each offering four bedrooms and four bathrooms in a shared living space. "For a corporate retreat, this would allow participants to each have their own bedroom and bathroom but share a common living space," she says. "We are happy to help arrange lodging with our partners or direct you to the plethora of options in the area."
In a world where business owners and key staff are so busy putting one foot in front of the other in the day-to-day management of a business, it's important to get back to basics and remind teams why they do what they do. Learn more about how Wild Rice Retreat can help corporate teams accomplish this by visiting wildriceretreat.com.