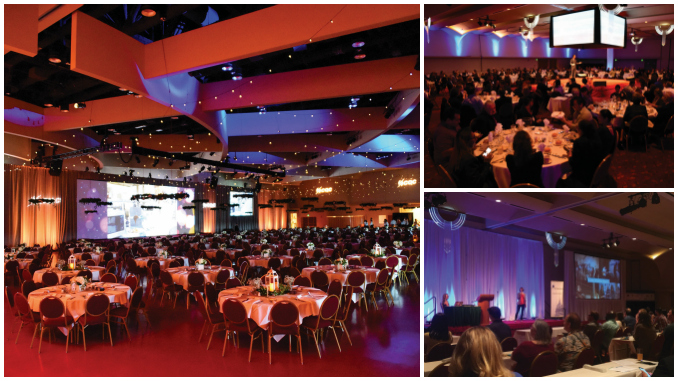 A Tale of Three Meetings
07/11/2019
By Jen Bradley
One meeting planner. One venue. Three meetings. It's the exciting world of event planning, and the career can take you from a client looking for a techy board meeting to another needing a large sit-down affair. What are the tips and tricks to making it all seamless and can you use the same space to satisfy every client's desires?
SET THE SCENE
At Monona Terrace in Madison, its Frank Lloyd Wright design automatically provides each event a plethora of architectural features which are appealing to guests and meetings planners alike, says Laura MacIsaac, director of sales for the venue.
"Our facility is inspiring, but we want to always be welcoming to people, proactive and detail-oriented," she explains.
However, MacIsacc adds room rental is room rental, and events all start with the same basics: tables, chairs and perhaps food service. "Where you start to see distinction is when the client starts to say: 'These are the experiences we want translated through this facility.'"
Libby Gerds and Molly Walsh are co-founders of Madison-based Groundwork Events, an event planning company the duo began six years ago. They have worked hand-in-hand with the Monona Terrace staff during that time, planning the gamut of events—smaller corporate meetings to 300-person gala events, and larger—held in the same rooms of Monona Terrace but for very different audiences.
ONE-DAY CONFERENCE
During a one-day professional conference, Gerds says the main goals were to provide takeaways in professional development, but also business networking connections. This group is heavily rooted in the technical field and to them, technology is very important, she explains.
"Once we define the goals, our next step is to be sure the space is structured in a way to achieve them," Gerds adds. "The room is set in such a way that people can have their laptops in front of them, and power is run to all of those tables, to make sure they can plug in throughout the day."
Her partner, Walsh, adds that the team also makes sure the power is run to the first three or four rows first to manipulate the environment and participation for the event, encouraging people to sit closer. The speakers are experts in their field, so a reliable AV system is important, while backdrops and big decor aren't as much.
Music, though, is. "We try to match the background music to the audience and for this, want people to walk in and think this is going to be a cool event," Gerds adds.
She says for these types of tech meetings they try to direct a nice portion of the client's budget toward the networking breaks—food, coffee, snacks—making sure people have time to eat and mingle at the same time, always a networking time during a professional conference.
EMPLOYEE APPRECIATION GALA
In the same space, Walsh adds, an employee appreciation gala works perfectly, but with very different goals. "Those are always fun to plan, because people are in a really good mood and the audience is the employees, who are made to feel appreciated," she says.
She explains that the room is set up and looks much different. The music is more upbeat and fun, a little softer so people can mingle—and drinks/food are always set up to be easily accessible. The lighting in the room is also important, and she says at Monona Terrace, this change is simple: uplight the walls with any color and project the company's logo on the wall, ceiling or floor. The linens are matched to the décor, and the same space which held a tech-based meeting is transformed into a party that provides a carefree night of dancing, food and fun.
SIT-DOWN DINNER
Monona Terrace can accommodate up to 1,000 for a sit-down dinner. It can be hard to make an event of that size feel intimate and welcoming without spending hundreds of thousands of dollars, says Gerds.
She says that to accomplish this for a business dinner, they may need to use extra spaces in the Terrace to host cocktail hour separately, or for a large employee appreciation event, a child care area was set up for employees' children.
"It's always nice to have a big reveal for an event of this size," Walsh adds. For one large event, the exhibition hall was split in two, where one-third was a space for cocktails and then an open-curtain reveal led guests to the elaborately decorated dining area. The entire ambiance was enhanced and made cozier by hanging decorations from the tall ceilings closer to the tables.
This kind of event requires more timing management, with multiple food times, tables, linens, decorations and establishing the flow of people around the facility. Walsh says they've worked together with Monona Terrace staff to come up with some great reveals and other ideas, even bringing cars onto the floor for a giveaway at a very large employee appreciation event.
"They're excited about doing new and interesting things, even with the AV team," Gerds adds. "We actually strung string lights across the ceiling, and no one had ever done that before."
LESSONS LEARNED
When asked about lessons learned, this duo says good communication can't be understated.
"We have lots of meetings," Walsh adds. "We know questions to ask, especially things our clients might not be thinking about. For example: When you walk in, where do you put your coat? How do you get a drink? We care about that kind of thing, rather than hope the client or the attendee figures it out."
Gerds says the team encourages clients to spend their budget dollars toward their event goal. By that, she says, if the goal is to make employees feel appreciated, proud and honored to work for the company, "there are certain perks you should not keep from them. They should not have to pay for parking, or little things throughout the night. Buy fewer drinks and less formal food if need be, but enough that they leave feeling full and satisfied."
She adds that other clients with corporate events may need to invest in the actual speakers and high-quality AV systems. "It typically all evens out; it's just a matter of spending on meeting your goals," Gerds notes.
They also say that anything is possible, and that instead of telling a client they have a crazy idea, the team listens and works with them to see how it can happen, if even on a smaller scale.
"Try to get the client to articulate their big goal before making any decisions," Gerds advises. "We've often found that if they aren't clear about 'why' they want to do this, the 'how' is much harder."
MacIsaac agrees. She says asking the right questions up front, as well as making sure clients can meet their individual goals are important keys to a successful event.
---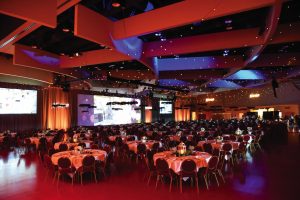 In this photo, one can see how the hanging decor from the ceiling of the huge exhibition hall space makes the room seem more intimate. This was a 1,000-person employee appreciation event.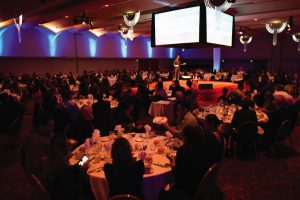 Here a ballroom space was set for a charity event with silent auction.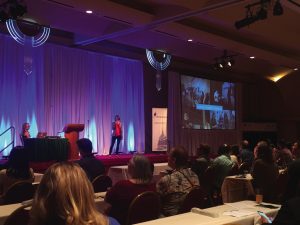 This is a conference held in the same event space. See how the mood has changed from the employee appreciation event to the conference.
KNOW YOUR GOALS
The goals shift as the type of meeting and the crowd changes. Here are suggestions on how you might customize things to a specific type of event or demographic.
TECH CROWD
If the meeting is technical in nature, consider the following ideas:
Power to the Tables: Technology professionals typically bring their laptops and personal devices to the meeting. Make it easy for them to keep their electronics charged.
Reliable AV: Speakers at these events will likely have PowerPoint presentations and other audio visual needs. Make sure to plan for them.
Music with a Vibe: Match background music to the crowd. For these professionals, pick cool, trendy music that charges things up.
Breakout the Food: Provide food, coffee and snacks at regular network- ing breakouts giving attendees time to mingle and network.
Dump the Décor: When your budget is limited, put your money into the things that matter to this demographic: AV and technology.
EMPLOYEE APPRECIATION EVENT
If the goal is to show your employees some love, consider the following:
Make a Little Music: Upbeat music played softly in the background lets people mingle and talk, while enjoy- ing the sound. Later, a DJ or band can play so the crowd can dance.
Focus on F&B: Always make the food and drinks easily accessible.
Do Decorate: Show your appreciation through lavish décor and matching linens.
Light the Way: Light up the place to set the mood. Make the walls a splashy color and even highlight the walls with the company's logo in lights.
Pump up the Perks: Paying for parking, giving tickets for a free cocktail or two or a small gift at the table makes employees feel special.
SIT-DOWN DINNER
When the goal is to provide a seated dinner for a large crowd, consider the following:
Consider the Cocktails: Move the cocktail hour to a separate and more intimate area before the dinner to allow guests to mingle.
Double the Décor: Make the decorations larger than life and elabo- rate. This can make a large space appear cozy and intimate.
Light Things Up: Consider string lights to set the mood.
Give Gifts: Giveaways or a small raffle can bring life to the party.
Watch the Time: Time management is critical to ensure smooth sailing when it comes to dinner, drinks and entertainment.