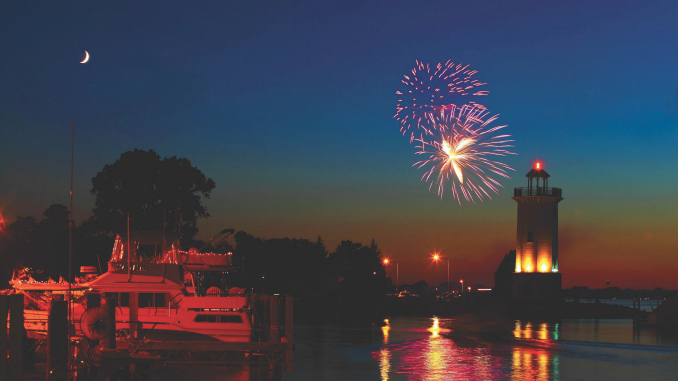 Destination Fond du Lac
04/04/2019
By Jen Bradley | Photo Courtesy David Uselmann/Travel Wisconsin
At the foot of iconic Lake Winnebago, Fond du Lac offers an affordable, central location nearly equal distance from Green Bay, Madison and Milwaukee.
"We're not geographically centrally located, but one fact I find stunning is that 70 percent of Wisconsin's population can get to Fond du Lac within an hour's drive," says Craig Molitor, president/CEO of Destination Lake Winnebago Region (formerly known as the Fond du Lac Convention & Visitors Bureau). "This allows us to attract more people to meetings and give them a lot to do while they are here, at the foot of the lake. It is a classic hub and spoke scenario; we really are at the center of it all!"
Molitor took over leadership of the organization nine years ago and undertook a branding initiative for Fond du Lac and the Lake Winnebago region. Through this process, he and his team identified four pillars which make Fond du Lac a premier destination community: affordability, accessibility, attractions and Lake Winnebago in its own right.
Mary Denis is proud to say that she and other Fond du Lac tourism professionals have spent the last decade studying meeting trends and matching the city's meeting products to those trends. As the director of sales for Destination Lake Winnebago Region, she believes the city and surrounding area offer the industry stunning spaces as well as unique experiences.
THE CONFERENCE DISTRICT
First and foremost, meetings demand space—something Fond du Lac has to offer. A four-star luxury property, a completely renovated and modernized conference center facility, and a unique art-focused venue offer a variety of price points, experiences and amenities. In addition, a variety of other accommodations complete a generous profile for meeting planners.
The buzz around Fond du Lac this spring is the re-opening of Hotel Retlaw, which has undergone a $25 million renovation. "The property is absolutely stunning," says Molitor of the hotel, originally built in 1923. It is in the heart of the downtown district and has 10,000 square feet of obstruction- free meeting space, the largest being the iconic Crystal Ballroom, which can accommodate up to 400 people.
Hotel Retlaw has 121 guest rooms and offers a full-service spa, Espresso Café & Wine Bar, Players Club Sports Tavern and Jazzmine's—a farm-to-table brasserie with live music.
Another option is the longtime go-to for meeting planners in Fond du Lac, the former Holiday Inn. Today, this venue is the stunning Radisson Hotel and Conference Center. Molitor says this facility has gone through monumental changes in recent years, including all new guest rooms and public spaces, as well as meeting and banquet rooms. It can accommodate groups up to 600 guests and each of the 12 meetings rooms boasts free Wi-Fi, modern audio/visual equipment and onsite catering. Total meeting space exceeds 13,000 square feet and the facility offers 133 guest rooms.
The Radisson is owned by the Wisco Hotel Group, which also owns the Holiday Inn Express and Comfort Inn, among other properties across the state. These three Fond du Lac properties plus several other limited-service flagged properties are often referred together as the Fond du Lac Conference Center District, which offers an ideal set up for events of all sizes.
A third and creative option for meeting space is the Thelma Sadoff Center for the Arts, just blocks away from Hotel Retlaw and a few short miles away from the Radisson's convenient location near Interstate 41. Affectionately called THELMA, this former Masonic Temple was renovated and expanded in 2013.
THELMA offers a unique space for meeting planners and can host events for eight to 250 people. It has large meeting rooms, breakout areas, bars, outdoor spaces and three floors of art exhibits to peruse. THELMA's Great Hall is a memorable venue for any event, while Café 1906 is a comfortable training room or lunch area. The Fountain City room also is an Art Deco space ideal for any formal or informal gathering.
"We always had a great destination, but with the recent renovations in these full-service properties, we now have the hotel and meeting space to complement the awesome list of attractions, activities and experiences Fond du Lac and the Lake Winnebago Region has to offer," says Molitor.
VARIED ATTRACTIONS
Denis brings Milwaukee and Door County-based destination marketing experience to Fond du Lac. She knows meeting planners look beyond face-to-face interactions and seek to add in experiences for their attendees. "Meeting planners look beyond the ordinary," she says. "They like to offer their delegates attractive off-site venues and special experiences in order to boost attendance and leave lasting memories."
Fond du Lac and the Lake Winnebago area can deliver on those things, she says.
When it comes to outdoor recreation, the area's hiking trails, golf courses and parks all bring visitors out and about after being in conferences or meetings. The big draw in Fond du Lac, of course, is one of the country's largest inland lakes, which offers a variety of outdoor fun in all seasons.
Lake Winnebago is well known for its fishing and water sports, but also award-winning lakeside supper clubs. Two farm-to-table experiences are within a short drive north on Highway 151—at LaClare Farms and Meuer Farm.
Denis explains that at Meuer Farm, meeting planners can arrange for groups to visit, eat locally sourced meals prepared by a gourmet chef and then tour the farm for an authentic agritourism experience.
At LaClare Farms, goats and world- renowned goat cheese are the highlights. Visitors can do "goat yoga" on summer weekends, then dine inside for lunch during the week, Sunday brunch or even a private event meal prepared by the farm's James Beard-renowned chef, who returned to the area to offer others local cuisine.
"I think our organization's close relation- ship with the owners of the farms, vineyards and distilleries make us rather unique to some other destinations," Denis says of the agritourism aspect. "It seems to really be resonating with meeting planners. They need the basics, but also want something different."
While the main hotels and other restaurants offer quality food options, she says it's nice to also have unique attractions for groups visiting the area.
These are all high points for meeting attendees who travel with their families, which she says is becoming more common each year. Fond du Lac boasts multiple swimming/water attractions (Fondy and Aqua Sports Park); nearby orchards with animals and outdoor activities; the famous Lakeside Park with a zip line, train, petting zoo and carousel; and more.
The nearby Horicon Marsh provides sunset cruises and other outdoor activities, as does Vines and Rushes vineyard, just a bit north in Ripon.
"The area offers many unique places to have off-site lunches, team building events or cocktail parties. We are also excited by the recent opening of Ledgerock Distillery for locally sourced and crafted spirits," says Molitor.
DOWNTOWN DISTRICT
Molitor and Denis both agree the revitalization occurring in Fond du Lac's Downtown District in recent years has been appealing to meeting planners.
"Our Downtown District is a resurging area within the community where historic meets contemporary and green space sidles up to urban hip in a vibrant mashup of fun," Molitor explains. "There's a bike and walking path through the community, and our downtown in the last three to four years is really starting to spring to life with eclectic food and beverage venues and a world-class lodging facility."
Darcie Holte, national sales manager at Destination Lake Winnebago Region, says that evening entertainment and nightlife in the Downtown District is becoming a draw for meeting professionals. Rooftop dining at a local restaurant, outdoor plazas and the upcoming Retlaw Player's Club offer one-of-a-kind experiences for guests.
The arts scene is growing too. THELMA brings concerts and art exhibits, while other art galleries on the main street offer gallery nights as well. Art classes can be done in a workshop form, and even brought to a meeting space itself.
"Fond du Lac offers a customer experience that is unparalleled," says Denis. "People coming from the major cities always notice that. They notice the care and pride people have in our community. Legendary Wisconsin hospitality is important to us, and we talk to meeting planners about that."