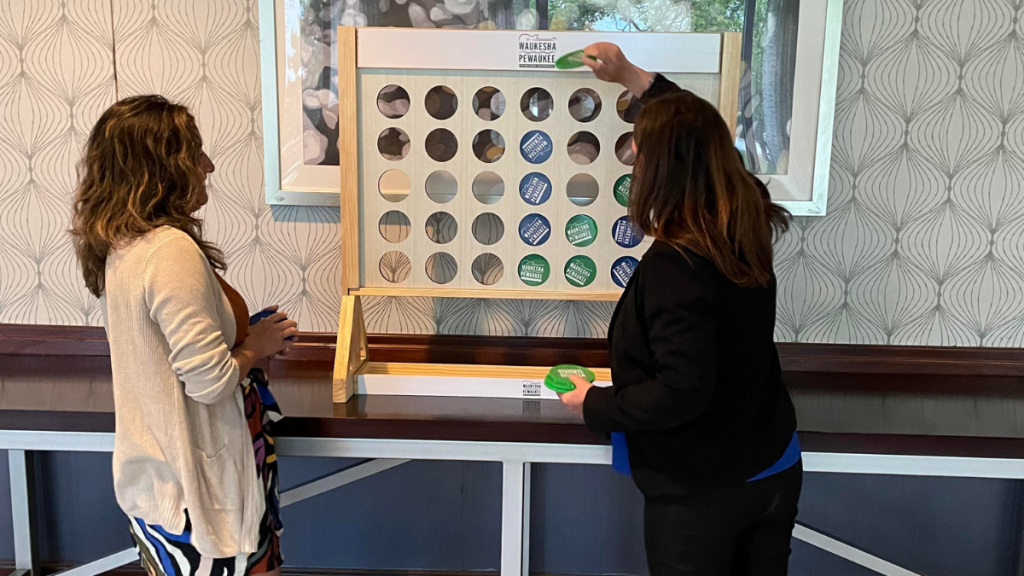 Elevate Your Group Experiences: Discover Fun Activities and Savings Galore in Waukesha Pewaukee
11/10/2023
Located between Milwaukee and Madison (off I-94) within southeast Wisconsin's Lake Country, Waukesha & Pewaukee are welcoming communities where cities meet and people do, too!
Waukesha Pewaukee offers groups more than 100,000 square feet of flexible meeting space, 1,300+ guest rooms, complimentary group games (putting greens, bags and Connect Four) to use indoors or out during breaks at partner hotels and more than 20 area group entertainment options. Choose from group activities like creating art or culinary delights, rock climbing, go karting, laser tag, axe throwing, brewery and wine flights and tastings; historic site tours, golf and more.
When planning your next event, consider the great outdoors at The Ingleside Hotel. At The Ingleside Pavilion, groups will enjoy a more private meeting space, surrounded by Village Park, a 2.5-acre versatile space with a walking trail and an open-air band shell – a great location for picnics, receptions, and other social gatherings. The Frank Lloyd Wright inspired Holiday Inn will be under renovation in the months ahead, with a fresh new look by the end of 2024. Providing the same great service you have come to know, the Marriott Milwaukee West will now offer updated menus, both banquet and at BLVD Kitchen and a freshened exterior in the coming new year.
Downtown Waukesha also has several new openings planned in 2024: The Cobblestone Hotel, with 60 sleeping rooms and a steakhouse restaurant. North Pillar Brewing Company will be opening in the former historic Weber Brewing Company building and will incorporate food trucks into its operations. And calling all Beatles fans: Let It Be, a recreation of The Cavern Club in Liverpool where the Beatles first performed on stage, will be opening and will serve Wisconsin craft beer along with a pub menu and live music.
Now through the end of 2023, book a group or meeting valued at $5,000 or more and choose from a variety of tiered perks including:  one complimentary room per 25 actualized, three complimentary suite upgrades, complimentary hotel screen packages, discounted audiovisual rates, and complimentary event space. Contact Monica at (262) 542-0330 or [email protected] for details.
Learn more at visitwaukesha.org/meet-more.