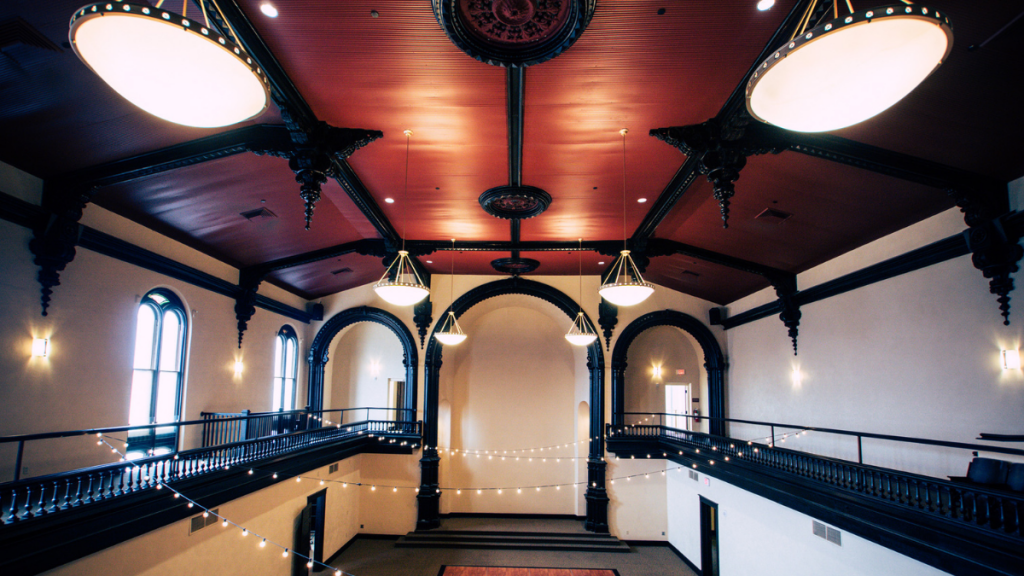 Janesville Is Home to a Variety of Unique Facilities Ideal for Your Next Meeting
10/01/2023
Pictured: The Venue
Janesville is a south-central Wisconsin community located less than an hour from Madison or Milwaukee and less than two hours from Chicago. Its convenient location and variety of meeting settings make it the ideal place to gather. The community has traditional meeting venues, and also offers non-traditional options filled with character and inspiration.
The Rock County Historical Society campus has several unique spaces in a historical setting ideal for special events, from small private gatherings and meetings to mid-size corporate events. The Carriage House is a historic three-story building outfitted with an elevator and audiovisual equipment. On-campus historic tours of the Lincoln-Tallman House Museum, and exhibits on Pauline Pottery, Pickard China, Parker Pens and more are available for your group to experience.
Rotary Botanical Gardens is one of the area's most lovely and inspiring settings to hold a meeting or retreat. It is home to 20 acres of gardens, many with international themes. The venue includes 2,540 square feet of meeting space that can be divided into smaller spaces. Accessible from this area is a large patio surrounded by spectacular garden views. There is also a sunlit atrium perfect for dinners and receptions. Garden tours and horticulture talks can be included.
An especially unique and historic site is the Janesville Performing Arts Center. The building houses a 633-seat theater ideal for keynote sessions, plus three smaller meeting rooms. Theatrical classes can be added for a team-building exercise. The facility also has an in-house art gallery your group can utilize.
The Venue, located in the heart of Janesville's downtown, was once a church and features tall, elaborate ceilings and large windows. Its location offers easy access for nearby team-building outings or after-hours exploration that could include classes, tastings, and public art or historic district tours.
Vibrant downtown Janesville is rich in history and culture, with historic buildings featuring lovely architecture and incredible public art. There are many dining options, some with meeting rooms, such as the Bodacious Shops, a trio of shops (Bodacious Brew, Bodacious Olive and So Chopped) in a restored Italianate building made of Cream City brick, with small meeting rooms and an inviting patio that overlooks the river.
The 12,000-square-foot Celtic House is located on the southern edge of Janesville at the Glen Erin Golf Course. Adjacent to the meeting space is a large deck that overlooks the rolling hills of the lush green golf course. Nearby, Southern Wisconsin Regional Airport has several conference rooms, airplane hangars, and runway space for larger events.
A new convention center is in the works for Janesville. The project will repurpose a former retail space at Uptown Janesville mall into three distinct venues. Those spaces will be a 20,000-square-foot convention center, a dedicated ice rink, and another area that will be ice part of the year and used for other sports or conferences the rest of the time. The convention center will be located just off I-39/90 and will include free parking with easy access to nearby dining, entertainment, and hotels.
Contact:
Lori Johnson, Director of Meeting & Group Sales
(608) 757-3171 | [email protected]
janesvillecvb.com