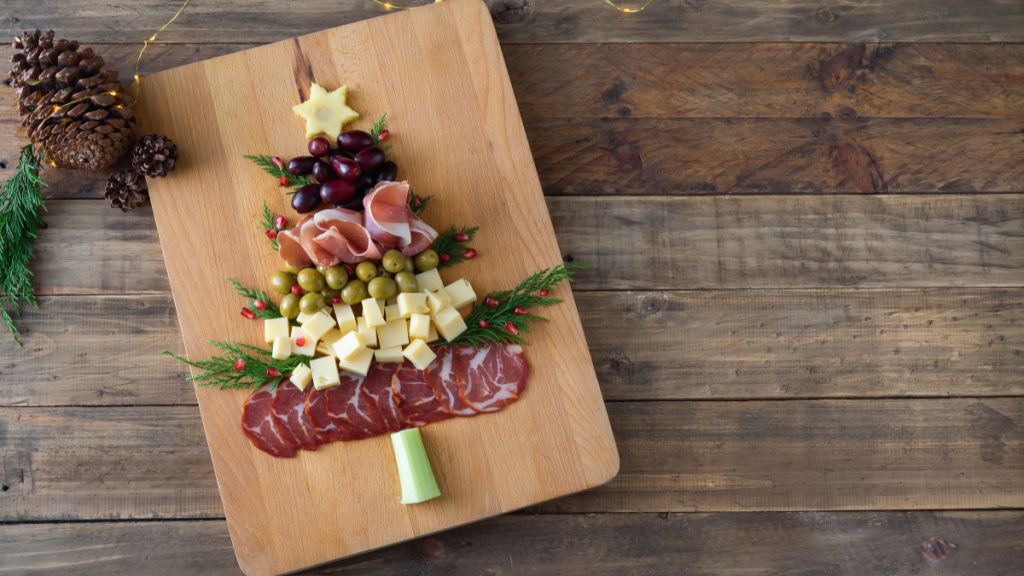 Put Local Holiday Fare with Flair on the Menu
09/27/2023
By Kristine Hansen
Cheese and charcuterie boards. Craft beer. Cranberries woven into savory and sweet dishes. Foods and beverages with local roots add further zing to any holiday party. At the same time, you can support the state's small businesses, farms, beverage producers and food purveyors.
First, start with drinks to serve during a happy hour or opening reception. Wisconsin is loaded with craft breweries that continually rack up awards at competitions and have been in production for decades.
One of the more popular brews, especially with out-of-state guests, is New Glarus Brewing Company's Spotted Cow, a year-round, saison-style ale only available in Wisconsin. It's so popular that cases are sold at Mitchell International Airport for visitors to take home. While on the larger-production side, Leinenkugel's is still fondly linked with Wisconsin, and its Sunset Wheat, with notes of orange and blueberry, and a tart, citrusy finish, is available between October and January.
Milwaukee's Lakefront Brewery was the new kid on the block when it launched in 1987, but it continues to brew beer named for neighborhoods, like its Riverwest Stein and Eastside Dark lagers. It also launched a gluten-free beer (New Grist) and non-alcoholic versions of some of its favorites.
For the wine aficionados, Wisconsin is a fun detour, offering something other than California or European options. For instance, Wollersheim Winery in Prairie du Sac — with France-born Philippe Coquard as winemaker — earns accolades for its Prairie Fumé, with a slight sweetness (but not too sweet) borne out of American Seyval grapes. A new winery brand, dubbed the American Wine Project and launched by a Napa Valley winemaker veteran who grew up in Madison, is based in Mineral Point and seeks to highlight the cold-climate grapes that thrive in Wisconsin soil, with fun and witty labels to match.
An obvious food to serve at a holiday party is cheese that folds in local milk for a true taste of Wisconsin. But what's not so obvious is the diversity among cheesemakers here. Crave Brothers Farmstead Cheese's Italian selections (mozzarella balls are delicious on a skewer with cherry tomatoes and fresh basil) can send you skewing Italian. So can Sartori's BellaVitana cheeses (such as Merlot and Black Pepper) on a cheeseboard. And don't miss BelGioioso's Parmesan as well.
Cheese can also be a key ingredient in hot dishes to share, from macaroni and cheese to pizza. Work with your catering manager or chef to localize the menu with specialty cheeses. The mac doesn't have to include cheddar: What about a Marisa, French Fontina or Gran Canaria from Carr Valley Cheese in La Valle, or the Cloverleaf Reserve blend of white cheddar and Alpine Style Gruyère aged to perfection from Renard's Cheese in Sturgeon Bay? Likewise, mix up your pizza with not just mozzarella, but a dash of gorgonzola or goat cheese.
There are many Wisconsin products to select from to complement cheese as well. Potter's Crackers in Fitchburg are hand-rolled, hearty and organic, featuring local ingredients like cranberries, rye and onions for its line of crisps and classics. Another snack idea for a holiday party is seasoned pecans from Fortune Favors in Madison. They're available in three flavors — The Everything (sweet and savory), The Classic (sweet and salty) and The Spicy (spiked with chili).
To round out a roster of appetizers to pass at a holiday party, smoked fish makes a great alternative to shrimp cocktails. Whitefish tends to be the most common smoked fish in Wisconsin, and Rushing Waters Fisheries in Palmyra produces smoked salmon that has a lot of fans. Smoked fish can be either eaten solo, or combined with cream cheese and a few other ingredients for a spreadable cheese or vegetable dip.
Wisconsin is the top-producing state for cranberries. You can tap into that homegrown tartness starting with dried cranberries on a salad or cheeseboard, or in a squash dish. You can also substitute cranberry juice in place of almost any fruit juice for a cocktail concoction in perfect pitch with the holiday season. Cosmopolitans made with cranberry juice, vodka and lime are a festive addition to the bar, for example.
In lieu of mocktails, consider serving Wisconsin- made sodas. Sprecher Brewing Co. in Glendale has root beer, cream soda, grape soda, ginger ale, cherry cola and orange dream, which sippers of all ages enjoy. Baumeister Soda's flavors are eclectic, while also featuring the classics: root beer, orange, cherry, cream and grape. Its newest flavor — cherry — is a love letter to Wisconsin's Door County cherries.
---
Kristine Hansen is a freelance writer based in Milwaukee. She writes about food and drink, design and travel for a mix of regional and national audiences. Her clients include ArchitecturalDigest. com, Fodors.com, Vogue.com, Midwest Living magazine and Milwaukee magazine. She recently also published the "Wisconsin Cheese Cookbook," which is available on Amazon.com.