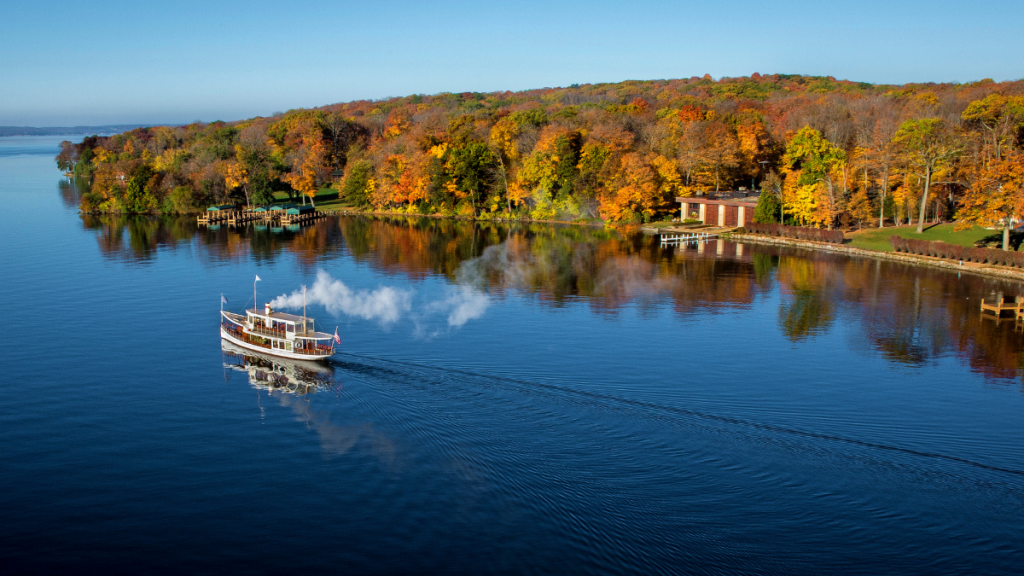 Destination Lake Geneva Area
09/27/2023
By Shelby Deering | Photo: © Lake Geneva Cruise Line
With a population of just over 8,500, Lake Geneva may appear to be a small town, but when it comes to meetings and events, it holds water.
First, there's no shortage of venues or activities in the Geneva Lake area. As Deanna Goodwin, vice president of marketing and communications at Visit Lake Geneva, points out, every season holds something special for
everyone, including 10 championship golf courses (some even designed by the likes of Arnold Palmer and Jack Nicklaus), beautiful beaches and many lakes, natural areas and cruise boats, including one of the country's few remaining U.S. Mail Boats.
But with all its bucolic scenery, it's hard to believe that this resort community is also located near so many metropolitan destinations. However, Nicole Slemin, multi-property director of sales at Geneva National Resort & Club, The Ridge Hotel and Paloma Resort Properties, says, "Lake Geneva is drivable from not only Chicago and cities in Wisconsin, but Minnesota, Iowa, Indiana and Nebraska as well."
Boasting over 169,000 square feet of total meeting space and stunning waterside views, it's no wonder that the region attracts upcoming hot-ticket events like the Tavern League of Wisconsin's Spring Conference & Trade Show, and the Wisconsin Governor's Conference on Tourism.
Noting Lake Geneva is an ideal place for attendees to bring along their spouse or family, Amy Amann, executive assistant and meeting planner at SPX FLOW in Delavan, says the area "has the feel of a small town where everyone knows each other. The people show genuine kindness to visitors. It's enjoyable to walk through downtown and visit the unique shops, take a stroll along the lakefront or go for a boat ride to learn about the city."
Amann has helped plan many different types of meetings in the area, including board of director and commercial team meetings, and channel partner and end-user trainings, with groups ranging in size from 15 to 150.
Terri Bain, director of sales at Delavan's Lake Lawn Resort, says that the local dining and activities "appeal across the board — from casual gatherings to formal business meetings and conferences." Goodwin describes Lake Geneva as carrying a sophisticated, yet laidback, coastal feel, and says the city has long been nicknamed the "Newport of the West" and the "Hamptons of Chicago."
"Today, Lake Geneva is a place where history and tradition culminate in a genuine warmth and hospitality, welcoming visitors for both business and leisure all year-round," according to Goodwin.
Venues with a View
A couple of notable venues to consider for your meeting or event include Geneva National Resort & Club, and The Ridge, which share a collective 20,000 square feet of flexible meeting space. "Paloma Resort Properties, Geneva National Resort & Club, and The Ridge can accommodate groups from 5 to 500 people, depending on the event space setup," Slemin explains.
More specifically, Geneva National Resort & Club features over 10,500 square feet of event space, including two ballrooms, the Grand Ballroom at more than 4,000 square feet and the Legends Room at 1,960 square feet. Slemin adds that nearly all of Geneva National's event space has natural light and views of Lake Como. Meanwhile, The Ridge boasts of around 10,000 square feet of event space, including the 4,000-square-foot Aspen Ballroom with an outdoor patio, large grassy area and traditional Wisconsin woodburning fire pit.
At each property, the banquet culinary teams handle all food and beverage for on-site events, which can include custom menus to meet a variety of dietary needs. Plus, Slemin says that both Geneva National and The Ridge have plenty of complimentary on-site parking for groups of all sizes. "This also includes shuttles, buses and crew vehicles," she says. And while you're there, don't miss an unforgettable meal at any of the properties' many restaurants or take in some live music.
You'll have team-building activities aplenty at these locales as well. Think private yoga sessions, building your own miniature golf putting course, bocce ball, mixology classes, wine tastings, outdoor sport rentals and boat rides with the Lake Geneva Cruise Line.
Another venue to ponder? Lake Lawn Resort in nearby Delavan, with its 32,000 square feet of meeting space. This includes the conference center that holds the main ballroom, which overlooks a courtyard and the lake, and other spaces scattered throughout the resort. "There's also our floating venue," Bain mentions. "The Lake Lawn Queen is a 76-foot, two-level cruise boat that can accommodate 78 people."
Lake Lawn also offers a wide range of on-site catering options, complimentary, high-speed WiFi, an on-site audiovisual company and easily accessed parking. Resort shuttles are available for local transportation individually or for groups.
While staying at Lake Lawn, grab a Starbucks coffee at the Isle of Capri Café, enjoy casual dining at the Lookout Bar & Eatery or dine at the newly opened 1878 on the Lake for an upscale culinary experience. Seasonal live entertainment is also available. Once your guests have gotten their fill of delicious eats, activities at the resort include watersports, boat cruises on Delavan Lake, golf at Majestic Oaks, indoor and outdoor swimming, cross-country skiing, and salon and spa treatments at Calladora Spa.
While resorts are altogether accommodating in this area, you may want to think about a smaller, even more charming scale for your event. Enter Lake Geneva's Horticultural Hall, an ivy-covered building featuring a great hall that can hold 160. Or take the group to the courtyard for some flower-filled ambiance.
Having held meetings at Lake Lawn Resort, Grand Geneva Resort and The Abbey Resort, Amann says that the Geneva Lake area is a great place to host a meeting because of the "endless options. You won't have trouble finding a venue that can meet your needs or off-site activities for your attendees to enjoy," she says. "They can attend a meeting and go home feeling like they just had a special getaway to a beautiful, historic area."
Grand Geneva Resort offers spaces for everything from small executive meetings to large-scale conventions. The Forum Convention Center is the largest with over 13,000 pillarless square feet. But for the perfect fit, many of the property's event spaces can further be combined or split, depending on the number of attendees. And if you're looking for a venue highlighting the Wisconsin countryside, Grand Geneva presents its Outdoor Pavilion with 5,400 square feet.
The Abbey Resort also impresses guests with harbor views and 90 acres of manicured grounds for a lakeside, resort-style setting for your meeting or event. It boasts 40,000 square feet of flexible indoor/outdoor meeting space, including a conference center with over 6,000 square feet.
Memorable Activities
As if there weren't already enough activities to do on site at the area's many resorts, you can look beyond the resorts' borders to diversions found throughout Lake Geneva and beyond. The crown jewels of this region are its stunning golf courses and luxurious spas, which are always homerun activities to offer during or after meetings.
Then there are the places where you can eat and sip the afternoon or evening away, including award-winning restaurants like Sopra, lakeside eateries such as Pier 290 and The Getaway, or locally flavored breweries and wineries like Topsy Turvy Brewery, Geneva Tap House and Staller Estate Winery.
There are also a number of points of interest that, according to Goodwin, are all group- and meeting-friendly. They include the gorgeous, 21-mile Geneva Lake Shore Path that wraps around the lake, Yerkes Observatory, which houses the world's largest refracting telescope, Black Point Estate and Gardens, one of the area's myriad mansions (but can only be reached by boat), and the Tristan Crist Magic Theatre for an evening of sleight of hand and captivating illusions.
In fact, Amann confirms, "Many of the groups want to golf," but as for other activities, "we usually try to work in a charter on one of the Lake Geneva Cruise Line boats. We have gone to the Tristan Crist Magic Theatre and the Lake Geneva Clue Room escape rooms downtown with smaller groups. Most recently, we had an event at LG Axe Throwing."
All of these activities can come together with the help of Visit Lake Geneva. "Meeting planners appreciate Visit Lake Geneva's personal service, with an emphasis on site visits, in-depth destination tours and plenty of pre-event recommendations," Goodwin says. "Our goal is to give each planner options that meet and exceed their event objectives and also delight their attendees."
Amann says the one activity that's an absolute must in the area is getting out on the tour boats: "Whether you host a private event on one of the boats or enjoy a public tour, it's the best way to enjoy the lake itself and learn about the history of the area. It's the thing that all my attendees rave about after the meeting."
This is just one way to experience the spirit of Geneva Lake area. As Bain says, "The Geneva Lake area is filled with businesses and people who are passionate about hospitality and tourism. As an event planner, be sure you take advantage of our Number 1 resource — our people."
---
Shelby Deering is a Madison-based lifestyle writer contributing to national and regional publications, such as Country Living, Good Housekeeping and Experience Wisconsin.